| | |
| --- | --- |
| Frustrated Chad Kelly meets with Morris and Swinney, says future is now | |
---
| | |
| --- | --- |
| Thursday, December 19, 2013 10:32 AM | |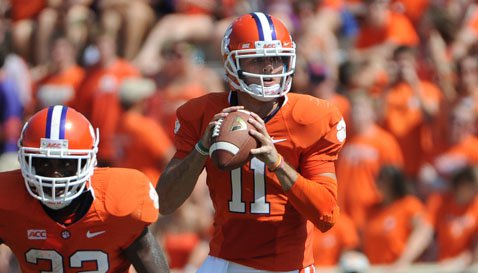 CLEMSON – The future is now for Chad Kelly

Chad Kelly
RS Fr. Quarterback
#11 6-2, 210
Buffalo, NY
View Full Profile .
The red-shirt freshman from Niagara Falls (NY) has always been accustomed to immediately contributing on the field, so sitting behind a veteran quarterback and being sidelined with an injury was a completely new experience – an experience that led to a lot of frustration.
A season worth of frustration came to a head when Kelly failed to see the field in Clemson's final home game against The Citadel, leading to an hour and a half meeting the Clemson head coach Dabo Swinney

Dabo Swinney
Head Coach
View Full Profile and offensive coordinator Chad Morris

Chad Morris
Offensive Coordinator / QBs
View Full Profile prior to the South Carolina game.
It was that meeting that made Kelly realize that his time to lead the Tigers was coming and if he wanted to take advantage of the upcoming opportunity, he needed to start preparing now.
Kelly met with media following Wednesday's practice and said that his passion for football and the lack of playing time in The Citadel game led to high emotions and that a meeting with Swinney and Morris is just what he needed.
"Y'all all know that I didn't get in the Citadel game and I was very upset and emotional," Kelly said Wednesday. "I like to play football and that's what everybody likes to do. Me and him (Morris) and Coach Swinney kind of bumped heads a little bit. We sat down and talked for an hour and half and it really opened up my mind and got my mind right. I talked to my parents right after and I was like it's a new beginning from here on out. I only have to deal with it for a month and a half longer until the quarterback job is wide open."
Kelly saw limited action during the season, playing 55 snaps in five games; however, during the meeting, Morris told Kelly that if he would get his mind in the right place and continue to work hard that his future as a Clemson quarterback was very bright.
"Me and Coach Morris had a sit down talk last week to kind of go through everything that I needed to do," Kelly said. "I've got my mind very good right now after talking to him about what he sees in the very near future and how he wants me to act and play as a player and take what's given to me."
After the meeting, Kelly said his entire mindset is different and he wants to make the most of bowl practice and get off to a great start in the battle for the starting quarterback position for 2014.
"Definitely, I've never been the type to sit on the bench for two years so it's frustrating going out there and not being able to play every Saturday," Kelly said. "Even coming out to practice after that talk, I've changed my attitude a whole 360 degrees after hearing what he's got to say and how he believes in me and what he wants to see change."
Kelly knows that he will be battling Cole Stoudt

Cole Stoudt
Jr. Quarterback
#18 6-4, 205
Dublin, OH
View Full Profile and newcomer Deshaun Watson next season, and he said that he is using that as motivation to work even harder during the practices leading up to the Orange Bowl.
"Getting ready for the future. Coach also said that these are the most important practices of your career because you are going into a situation next year where the job is open," Kelly said. "We also have to help Tajh get better because he's about to leave for the NFL and do the best he can. We just have to push each other and every day keep fighting."
Kelly completed 10-of-17 passes for 58 yards and carried the ball 16 times for 117 yards and touchdown, and he thinks that he has the right combination of running and throwing abilities to be the man for Chad Morris' offense for the foreseeable future.
"He loves running the quarterback and I feel like I can run the ball, and I feel like I can throw the ball, so hopefully it goes in my favor," Kelly said. "That's how all of us think, so we'll just see how it goes."