| | |
| --- | --- |
| Fajgenbaum hoping to snap up NFL job | |
---
| | |
| --- | --- |
| Friday, February 21, 2014 12:03 AM | |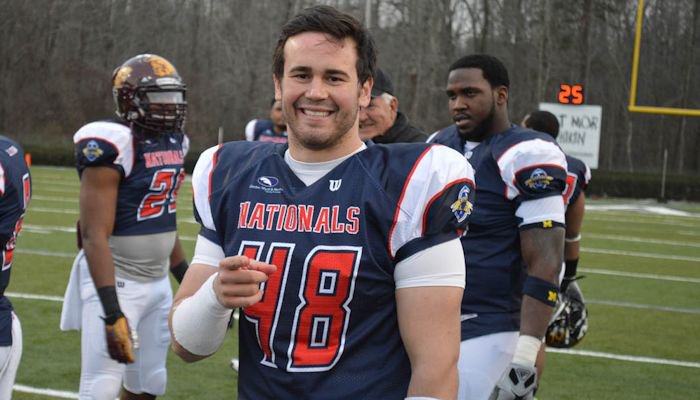 Following last weekend's College All Star Bowl at Furman, former Clemson longsnapper Phillip Fajgenbaum

Phillip Fajgenbaum
Long Snapper (2009 - 2013)
#52 6-0, 220
Raleigh, NC
View Full Profile was signing autographs for fans when he was approached by a high school football player who was asking for pointers and tips about how to get better at his craft.
In true Fajgenbaum fashion, he stood there patiently, giving advice and pointers where possible. After all, not every high school football player wants to be a snapper, right?
"He said he was a snapper from around here, and he was asking me advice on technique and form," Fajgenbaum told TigerNet this week. "There isn't a lot of instruction for kids who want to grow up and be a snapper, so whenever I can, I try to help people out and do the best I can."
Fajgenbaum himself didn't set out to be a long snapper, either, but not has his sights on seeing if the profession can earn him a job in the NFL. He was the backup long snapper on his high school team, but an injury to the starter during a game his junior year pressed him into duty.
That summer, Fajgenbaum attended a Shane Hackney camp in Atlanta, and despite his inexperience, wound up beating most of the college players who were there. The one he didn't beat – the one he wound up tied for first place with – was Clemson long snapper Charles Roediger.
"I kind of realized then I had a knack for it, and Shane suggested some things I could do to continue to get better," Fajgenbaum said. "I thought I could play college football, and I went to a few all star camps and did really well there, and I would talk to Charles occasionally about it and kind of pick his brain. He told Clemson about me."
Fajgenbaum talked to Clemson head coach Dabo Swinney

Dabo Swinney
Head Coach
View Full Profile about a position with the team, and eventually came to the Clemson as a preferred walk on.
"I took the same path as Chandler Catanzaro

Chandler Catanzaro
Punter / Kicker (2009 - 2013)
#39 6-2, 195
Greenville, SC
View Full Profile ," he said. "Coach Swinney told me that once I started, he would put me on scholarship. He was true to his word and he kept that promise to me. It was an amazing experience for me. There aren't a lot of coaches out there willing to take the risk of putting a long snapper on scholarship. I will always be grateful to him."
Fajgenbaum turned that initial leap of faith into not only a scholarship, but also three solid years of contributing to Clemson's success on the field.
"If I ever meet a guy who has the natural ability to snap, I tell them to take it seriously," he said. "I never grew up dreaming I would be a long snapper. I wanted to be the star linebacker, but because I am not the biggest guy or fastest guy (6-1, 225), that didn't happen. I got to Clemson and these guys are freaks and they are so athletic. Snapping is a great way to continue your career and it is a great way to make it to the next level. That is the best part of being on the team, is knowing you contributed. I might not have had the biggest job, but at the end of the day I can say that I contributed to the win."
Fajgenbaum said that playing the College All Star Bowl gave him a chance he might not have otherwise gotten.
"That was a great experience for me. I got to meet a ton of awesome guys that I have played against or I've seen play on television," he said. "But I also got to meet a ton of scouts that I wouldn't get to meet otherwise. It gave me a lot of exposure I otherwise wouldn't get. It was a lot of fun – I got to take the Wonderlic, and that was exciting and made me feel important. It was good to get that attention and meet the teams I otherwise wouldn't get to meet. But it also reaffirmed to me that I can do this at the next level."
Fajgenbaum is so serious about making it at the next level that he is working out at XPE Sports in Boca Raton in an effort to increase his football ability.
"I don't hear about a lot of snappers training for Pro Day," he said. "They are just working with their snapping coaches. But I am working on becoming a better athlete. I started working with Tony Villani – he is a Clemson guy and such an awesome person. I think I might be the only snapper who has ever done that. I know I can snap as well as anyone in the country, and I am willing to do whatever it takes to make it. If I can get down and cover on punts, that makes me more valuable to my team and to my teammates. It means you aren't a man down. I am working on becoming a better athlete and football player."