---
| | |
| --- | --- |
| Tuesday, November 25, 2014 9:51 AM | |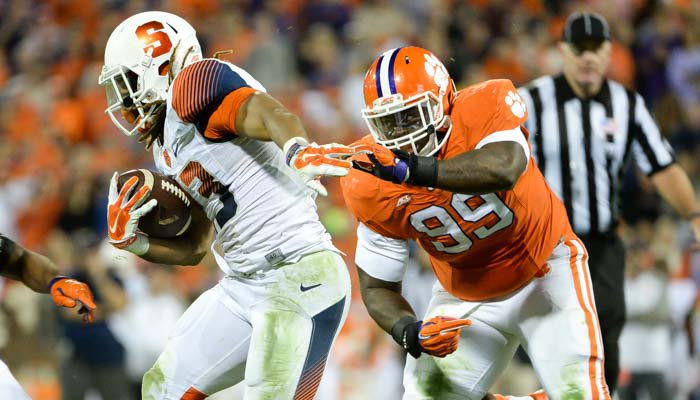 CLEMSON – When most players join the Clemson football team they don't understand the Clemson – South Carolina rivalry until after they've played in it.
DeShawn Williams

DeShawn Williams
Sr. Defensive Tackle
#99 6-1, 292
Central, SC
View Full Profile , however, is the son of a former Clemson football player and grew up just a few miles up the road from Clemson University and he has understood since day one what's at stake when the Tigers square off against the Gamecocks.
That history and familiarity has made the last five years all the more difficult for the Daniel High School product.
The senior defensive tackle said he and his teammates know all too well what's at stake and that he would love to be part of the senior class to turn the tide in the rivalry.
"Yeah, I'm a hometown kid so I grew up on this rivalry. My dad played in it, but it's not about me," Williams said Monday. "It's about this team and for this senior class to be the first class to beat the Gamecocks in the last five years would be a great accomplishment. It's not about me. It's about the team and we know that we have to play hard because we know who we're going up against."
Despite the Gamecocks' 6-6 record, Williams said getting a win won't be easy because of all of the offensive weapons South Carolina head coach Steve Spurrier has at his disposal.
"They're the same as last year. You have guys stepping up," Williams said. "Last year, you didn't know too much about Cooper and now he's their everything. He's a wildcat guy. They have Shaq Roland still. They have that big tight end. Mike Davis is still Mike Davis and he runs hard. They have a lot of weapons that you just can't point to just one guy.
"They are a typical SEC offensive line. They're going to try to run the ball and overpower you. A.J. Cann - I've known about him since my freshman year. He's from Bamberg so Martin Aiken

Martin Aiken
RS So. Defensive End
#53 6-2, 255
Smoaks, SC
View Full Profile has been in my ear. They are a big offensive line. This game is going to be won in the trenches, I believe."
But if the nation's number one defense comes to play as they have during the previous 11 games, the Tigers will have plenty of opportunities to get their first win since 2008.
"It would but we have to have a great performance because if we don't it's going to be a long day," Williams said. "They have so many weapons. It starts up front. They have Mike Davis and the backup Brandon Wilds. They have Shaq Roland and Pharoh Cooper. The list goes on. We have to play our A game. If we play our A game, the odds are going to be in our favor."
Clemson had its opportunity to end the streak last year in Columbia but the Gamecocks found a way to win, frustrating the senior defensive tackle and his teammates.
"It's frustrating when you have them right there in your grasp and they find a way to win," he said. "Dylan Thompson is a great quarterback. Connor Shaw was a great weapon with his legs. With a guy like that, you have to hold him to a minimum but he got loose on us last year. Dylan showed two years ago - we didn't know he was going to start that game and then he came in and showed what he was capable of going against a hostile environment. We have to respect him and what he's done."
But for Williams and the other 33 seniors on Clemson's roster, the time is now to put a mark in the Tigers' win column.
"We've never been a part of a team owning somebody for five years but we want to get that taste out of our mouths," he said. "Enough is enough. We have to make up our minds to just play. They're [South Carolina] doing something right, so much respect to them.
"You can feel it. We haven't had meetings yet but after that Georgia State game, it was right on to South Carolina. We know what type of game this is. There's no playing around. We ain't got time for that for this game. It's all about business. We know the task at hand in this game. Enough is enough. We're just trying to take a step forward."