| | |
| --- | --- |
| Ellington almost misses NFL draft call | |
---
| | |
| --- | --- |
| Saturday, April 27, 2013 5:58 PM | |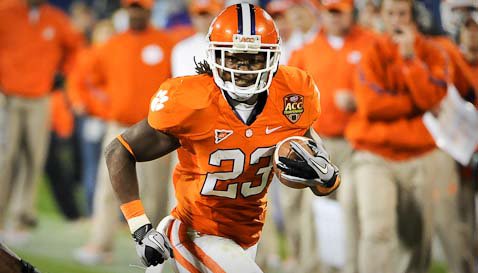 Andre Ellington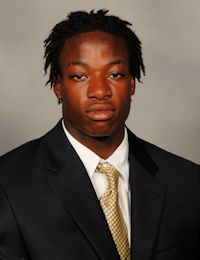 Andre Ellington
Running Back
#23 5-10, 195
Moncks Corner, SC
View Full Profile felt like he was getting more and more stressed out as each pick was announced during Friday and Saturday's NFL Draft, so at one point Saturday afternoon he set his phone down and left the house to go and get some fresh air.
As luck would have it, he picked the worst time to leave his phone unattended.
Ellington's long wait to be drafted ended Saturday afternoon when the Arizona Cardinals selected Ellington in the sixth round as the 187th pick of the draft. Some services had Ellington going as high as the second round while most had him in a third round slot, so he was understandably concerned when his name failed to be called.
"There has been a lot of stress on my shoulders," Ellington told TigerNet shortly after he got off the phone with the Cardinals brain trust. "I sat around all day and I was wondering what was going on. I couldn't figure it out. I was stressed out."
As a result of the stress, he took just a few minutes away from the television and the phone to clear his head. That was when the call came through, and he almost missed it.
"I kind of just left my phone sitting around," Ellington said. "My best friend is [former Tiger and current Tennessee Titan] Jamie Harper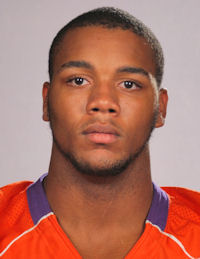 Jamie Harper
Running Back
#8 6-0, 235
Jacksonville, FL
View Full Profile , and he heard the phone ringing and he grabbed it. He was calling for me, and I came around the corner, and it was the Cardinals on the phone. That phone call was filled with a lot of joy."
Ellington had 212 carries for 1081 rushing yards and eight touchdowns a year ago when he was a first-team All-ACC selection. It was his second consecutive 1000-yard season. He finished his career with 3,436 career rushing yards, fourth best in Clemson history and just 111 behind Spiller, who was named to the NFL Pro Bowl last year.
However, health concerns may have led to his drop, and he said the call from the Cardinals actually came before they made the pick.
"They were just asking me how I was feeling and how my health was," Ellington said. "They told me that they actually had a pick coming up in a few picks, and they were interested in me. They said that they know Coach [Robbie] Caldwell pretty well, and Coach Swinney, and they told them I was fine. Then they actually called me back right before the pick and told me my name had been turned in and that they were happy I was a part of the team."
The Moncks Corner native finished his Clemson career fourth all-time in rushing yardage, trailing only Raymond Priester, James Davis

James Davis
Running Back
# 6-0, 205
Atlanta, GA
View Full Profile and C.J. Spiller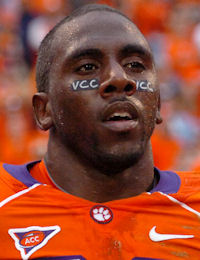 C.J. Spiller
Pro Running Back
#28 5-11, 195
Lake Butler, FL
View Full Profile . Ellington red-shirted the 2008 season and spent 2009 in a rotation with both Spiller and his buddy Harper.
Ellington said he is glad the stress is finally over.
"It was really stressful," he said. "But I knew that God had a plan for me. Just having position people around – my friends and my family – kept me positive. They tried to keep me worry-free and they told me it would happen before I knew it. Coach Swinney was texting me and telling me to stay calm and positive, and I even received a text from C.J. This is just a great feeling."
Ellington said the Cardinals are a team he has watched with admiration over the past few seasons.
"I don't know too much about them, other than they are a great team with a lot of weapons on offense," he said. "I love how those guys compete. I got caught watching them on Sundays, and they were always out there competing. I am just fortunate to be a part of that organization."
Ellington said he feels one hundred percent healthy for the first time since the beginning of last season.
"Everything has been going good for me," he said. "I took time out and sat around Clemson and got my leg right. I worked out with [strength and conditioning] Coach [Larry] Greenlee and he got me feeling right. I am ready to go."
And stress free.