| | |
| --- | --- |
| Dabo Swinney season wrap - Part 1 | |
---
| | |
| --- | --- |
| Saturday, January 11, 2014 3:16 PM | |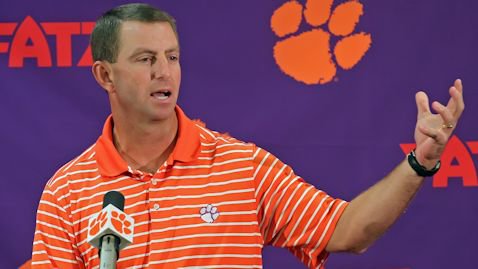 CLEMSON – Clemson head coach Dabo Swinney

Dabo Swinney
Head Coach
View Full Profile met with the media prior to Saturday's home basketball game against Duke to recap the 2013 season and answer questions about personnel issues, juniors leaving early, Chad Morris

Chad Morris
Offensive Coordinator / QBs
View Full Profile and the South Carolina rivalry.
Due to the fact that he covered so much ground, we are doing this as a notes piece.
Opening statement
"Good to be back in Clemson and good to be back with the guys. We had a team meeting this week to get these guys back refocused on the new year. It's what you do. You start over every year. It's always fun to have that first team meeting. It's always good to have that first meeting. Those seniors that have been here four or five years are no longer in the room and you immediately kind of notice that in some different spots. It's exciting because it's a new beginning. We start back Monday as far as our offseason program. We've moved on. It's about getting ready all over again to go do something special.
"Tonight we will go celebrate our 2013 football team with our banquet. It's always a special team because it's a formal, final special time to be together as a football team and really celebrate our seniors and the other guys that had special performances throughout the year. That's what this banquet will be about tonight. We are saying goodbye to a very special group of seniors and looking forward to being with them tonight. "
The 2013 season
"The season was a great season. We finished in the Top 10 in back-to-back years. It's been a long time since that's happened. It's the first time to win 11 games two years in a row. Just a lot of accomplishments from this group. Winning the Orange Bowl was a huge deal, especially from where we were two years ago. That eight month off-season where every time I got with you guys or got with somebody outside of this media base, it was always about the Orange Bowl, it was about that one moment. Everybody wants to talk about a moment. It was really special to be able to celebrate with those guys because the great majority of those guys were in that locker room two years ago because we were obviously a very young team.
"Just the culmination of what we've accomplished over the last two seasons. It was unthinkable to a lot of people two years ago outside of that locker room that we would be back and have the success that we would bring with us. I'm really proud of our guys. Obviously we want to win them all, but we didn't get that done. At the end of the day, you have to give your opponent some credit. We lost to two really great football teams. We lost to the number one team in the country that was undefeated and we lost to the number four team. It's unfortunate that the number four team was our in-state rival and it's unfortunate that the team we lost to that won the national championship is our big ACC rival.
"At the same time, they've got great football teams. I love how our guys competed and how they fought all year with consistency. Those particular games we didn't get it done. We did some good things, but we didn't win. Big picture wise, I think that we are in good shape. I love the guys that we have coming back. I'm excited about the recruiting class that we are putting together and for the most part are almost finished with. I'm really, really excited for what's coming down the pipeline for 2015 as we really focus on that recruiting cycle. It's a good time to be a Clemson Tiger. I'm really proud of our staff. I think we have tremendous chemistry and that's part of the reason we have been able to sustain some success. I look forward to getting back going. We'll be on the road a lot in the coming weeks. We've got the convention starting tomorrow and we'll get back to recruiting this week. We'll have official visits over the next few weekends. We've got a lot going on. Once we get through signing day, we'll really turn the page, get back to self-evaluation, and get ready for spring ball. It'll be here before you know it."
Quarterback battle
"We've got a great situation here. Somebody asked the other day, if I'd consider playing two. Well sure, but there's the old adage that if you don't have one, you have none. That may be very true, but the situation here is that we have some really good players and some great talent at that position, but there's always competition. We can let them go compete. Everything counts. When you have a situation like this- it's your academics, it's your leadership, how you respond to coaching, it's performance, it's practice. Everything counts when you have to make a tough decision. I'm really looking forward to it because I think we have great candidates. I see these guys working.
"I've seen Chad Kelly

Chad Kelly
RS Fr. Quarterback
#11 6-2, 210
Buffalo, NY
View Full Profile out on the field doing drills by himself. I had to go do a little video over in the indoor practice facility, and there's Cole Stoudt

Cole Stoudt
Jr. Quarterback
#18 6-4, 205
Dublin, OH
View Full Profile working by himself, doing drills. Those are things that you like to see because you know you've got guys that really want to be the guy and that they are going to go above and beyond to give themselves a chance to win the job. And then you throw in Deshaun Watson, who is as talented of a guy as we've ever signed here. It's exciting. At the end of the day, we are going to have a guy ready to go when it comes time to play, but we've got a long way to go before we figure all of that out."
Would he consider playing two quarterbacks?
"I wouldn't concede anything, but once you go through the whole situation, if you have a clear-cut starter, then that's the way it is. If you don't have a clear-cut starter and you've got two guys that bring different strengths and you need that combination to win – you look at Duke and the year they had and they played two different quarterbacks in different situations. Ideally, you'd like to have one guy that's clear cut and it's obvious, but who knows, but at the end of the day if you've got a couple of guys that can go win for you, I don't have any problem with that. There's just way too much to get settled before we can even think about that."
Vic Beasley

Vic Beasley
RS Jr. Defensive End
#3 6-3, 225
Adairsville, GA
View Full Profile
"I've talked to him and I've talked to his mom as well. He's going to be here today and I'm going to find out what he's going to do. That's been the plan. He will meet with me and let me know what he's going to do. He's kind of a little bit torn. Everybody wants to have the opportunity to play in the NFL, but he also knows that he can greatly improve himself with another year in school and all of that and he would like to finish. He's close to graduating. At the end of the day, he's got to make the decision and whatever he decides, we support him. But, he does have to make a decision. If he's coming back, he has to get back going in school. If he's not coming back, then he's got to get his eyes set going forward and get himself ready for that process."