| | |
| --- | --- |
| Cold Tigers fall to Seminoles in ACC home opener | |
---
| | |
| --- | --- |
| Thursday, January 9, 2014 10:04 PM | |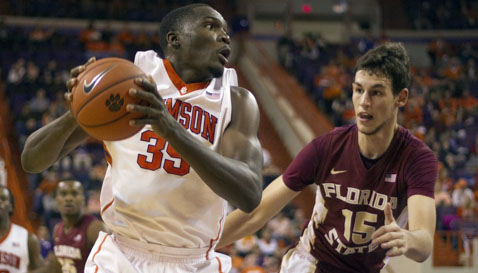 CLEMSON – Fresh off a win over Boston College on the road to open Atlantic Coast Conference play and with Duke on the horizon less than 48 hours later, the Clemson basketball team needed a solid effort and a win in Thursday night's home game against Florida State.
They got the opposite, and Florida St. (10-4, 1-1 ACC) rolled to an almost too easy 56-41 win over Clemson Thursday night in Littlejohn Coliseum, dropping Clemson to 10-4 and 1-1 in the conference.
Things got so bad that Clemson head coach Brad Brownell

Brad Brownell
Head Coach
View Full Profile waved the white flag with Clemson down by 13 with just over a minute remaining in the game. The numbers were ugly – the Tigers had more turnovers (18) than field goals (15-for-50), and committed almost as many fouls (14) as they had buckets form the floor. Florida St. scored 25 points off of Clemson turnovers, while Clemson managed just five points off turnovers. Florida St. also outscored Clemson 44-16 in the paint.
Ian Miller scored 15 points and Aaron Thomas and Devin Bookert had 10 apiece as Florida State held Clemson to its fewest points this season. Clemson was led by K.J. McDaniels

K.J. McDaniels
Jr. Forward
#32 6-6, 200
Birmingham, AL
View Full Profile , who had 14 points. No other Clemson player scored more than six.
"It was a bad day at the office," Brownell said. "I want to thank our fans and students for coming out and supporting us, but we couldn't do anything to get them up and help us. I thought we defended well and at a very good level. Eventually in the second half we just wore down emotionally and they pulled away, obviously."
The first half was a ragged affair – the Tigers scored the first two points of the game and held FSU without any points until the 14:47 mark, but the Seminoles then went on a 13-0 run to take the 13-2 lead. The Tigers got six points from Nnoko and managed to trail just 21-16 at the break, but Clemson had more turnovers (8) and fouls (8) than field goals.
The Tigers went six minutes late in the first without a point, finally getting back on the board when Adonis Filer

Adonis Filer
So. Guard
#3 6-2, 190
Chicago, IL
View Full Profile hit two free throws with 1.8 seconds remaining in the half.
The Tigers got within 50-41 in the final four minutes, but Baron Bojanovsky broke free for a dunk and Clemson trailed by double digits the rest of the way.
Brownell said the Tigers simply didn't execute well enough to win.
"When you play a team that has bigger, stronger and more athletic players at almost every position, it comes down to basketball execution," he said. "Obviously tonight we didn't execute, and our mainline players didn't play very well. We forced some things, and turned the ball over and we were our own worst enemy."
McDaniels said he thought Florida St. did a better job of communicating on the floor than the Tigers.
"We just didn't talk, for whatever reason," McDaniels said. "They communicated a lot better than we did. I don't think their length bothered us – they are the same team we played last year – but we just didn't talk out there tonight, and I don't know why. But we have to put this in the past and get ready for Duke. It's a quick turnaround, and sometimes that is a good thing."
The Seminoles' five straight wins, including all three over Clemson last season, tied the longest mark by either school in the basketball rivalry.
Clemson's point total matched the second-lowest of Brad Brownell's four seasons as coach. The only fewer points came in a 68-40 loss to Duke a year ago. The Tigers host Duke at 2 p.m. in Littlejohn Coliseum Saturday.
Clemson vs. Florida State Game Notes
TEAM
Clemson scored just 41 points Thursday, its lowest production offensively since also scoring 41 at Virginia last season.
Clemson scored 16 in the first half, its lowest output since also posting 16 in the opening half last season against Miami.
The Tigers' 23.1 percent shooting in the first half was their lowest since shooting 20 percent at Virginia last season.
Clemson had a season-high 18 turnovers. Florida State converted them into 25 points, a 20-point advantage for the Seminoles.
Clemson had more turnovers and the same amount of offensive rebounds (15) as its field goal total for the game.
The Tigers held the Seminoles to 56 points. Florida State entered the game averaging 74.9 points per game offensively.
Clemson held Florida State to just 1-of-11 three-point shooting. It was the third time under Head Coach Brad Brownell an opponent made only one from long distance.
INDIVIDUAL
K.J. McDaniels led Clemson in scoring (14) and rebounding (7), while adding a pair of blocked shots in 32 minutes.
Josh Smith, a sophomore forward, earned his first career start Thursday and grabbed five rebounds in 23 minutes.
Jordan Roper and Rod Hall, who combined to average 21 points per game entering the contest, were held to 10 on 4-of-14 shooting Thursday.
If you can't see the PDF below, click here to open it.