| | |
| --- | --- |
| Clemson is coming? Not anymore | |
---
| | |
| --- | --- |
| Friday, February 5, 2016 7:59 AM | |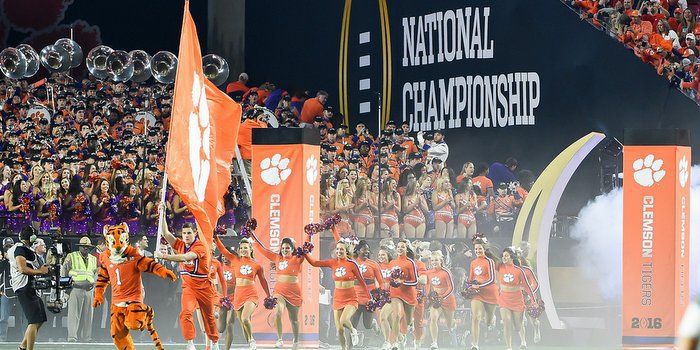 Before the College Football Playoff National Championship Game in Glendale early last month, I walked along the sidelines and noticed a familiar face, a face that wore one of the broadest smiles I've ever seen: former Clemson and current New Orleans Saints linebacker Stephone Anthony.
We exchanged pleasantries – and I shot a quick video of Anthony and Grady Jarrett wishing Clemson luck – and then settled into conversation. I reminded Anthony of his pledge on National Signing Day – all the way back in 2011 – that "Clemson was coming."
He smiled again and said, "Clemson isn't coming, anymore. They're here."
Yes, they are.
Anthony said he wished that Clemson could have made it back to an ACC Championship Game or played for a title during his four years on campus, but he noted that his efforts and the efforts of players like DeShawn Williams, Grady Jarrett, Vic Beasley and others set the stage for what Clemson is accomplishing right now. They learned how to win, taught it to the younger players and now winning is not just celebrated – it's expected.
It would be easy – and wrong – to dismiss Clemson's ascension into the college football elite as a fluke. Indeed, there were doubters right up until the final gun sounded against Alabama in Glendale, but what we witnessed that night was a program that wasn't just knocking on the door of greatness – they were bursting through the door in an orange fury.
The Tigers have been on the brink for a few seasons. I remember standing on the practice fields a few years ago as the sun set in the distance, the beginnings of the indoor practice facility beginning to take shape in the background. Swinney – off camera and candid as he tends to be when it's just conversation – told me that if teams (including his rival) were going to get Clemson, "they better get us now. We aren't going to be an easy get right now. But if they want to beat us, they better get us now. Because it won't be easy in the future. I can guarantee you that."
His words – and the words of Anthony – now loom prophetic.
The Tigers signed yet another Top 10 recruiting class Wednesday, and there weren't any bold proclamations or hyperbole from anyone involved. You don't have to tell people you're on your way when you've already arrived.
I thought it was interesting that so many people – hey fans will be fans – focused so much energy on the one player Clemson didn't get instead of focusing on the players Clemson did get. Perhaps it was because they enrolled early, but the Tigers signed the nation's No. 2 defensive tackle in Dexter Lawrence. They signed two 5-star linebackers who will contribute right away. They got help in the secondary, and K'von Wallace? He's gonna be star sooner rather than later.
Clemson's recruiting has now reached a point where players like Diondre Overton, Cornell Powell and Tavien Feaster don't cause much of a reaction. There are stars all over the place. Like winning, recruiting at a high level isn't a surprise. It's expected.
I sat talking with a friend late Wednesday – long after all the dust had settled – and we talked about an offense that features Deshaun Watson and Wayne Gallman and Adam Choice and Tavien Feaster. How about Mike Williams, Artavis Scott, Hunter Renfrow, Deon Cain, Cornell Powell, Diondre Overton and Trevion Thompson on the outside? Who are you going to cover? Oh yeah, maybe the nation's best tight end will play in Clemson next season. His name is Jordan Leggett. Want to double him down the middle? The receivers will be open. Want to shut down that side? Beware of someone coming out of the backfield. Defensive coordinators will live on Xanax and whiskey next year because the Tigers also have an offensive line that matches the skill players.
Defensively? Athletes are everywhere. Once again, Brent Venables will have to help them along, help them grow up, but he did that last year. It turned out ok.
This team won't just be dangerous next season. Sure, Watson will leave after his junior year. No one will blame him. But a pretty cool customer named Kelly Bryant is ready to step in. And oh, by the way, a guy named Zerrick Cooper was just signed. After that? Two of the nation's top quarterbacks for 2017 have already given verbal commitments.
And this 2017 class is just heating up. It has the potential to be a top-five class.
Clemson has the talent to make another run next season. Maybe they will and maybe they won't. Teams need to stay relatively healthy and get a little luck along the way. But this past season? It wasn't the only window of opportunity. Next season won't be the last, either. The window is wide open for the foreseeable future.
Why is the window open? Because you feel safe leaving those windows open when you've arrived at your destination. You're right Stephone. Clemson's isn't coming. They've arrived.