| | |
| --- | --- |
| Brownell previews year three | |
---
| | |
| --- | --- |
| Wednesday, October 10, 2012 3:42 PM | |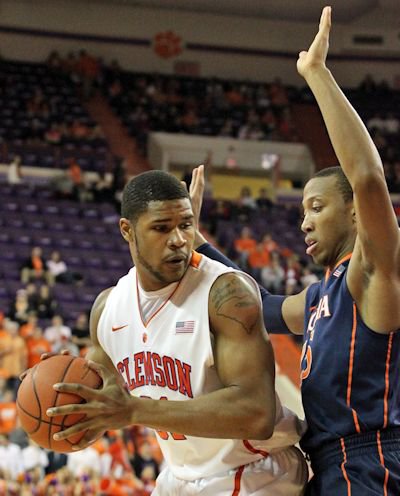 SUNSET, SC – A year ago at Clemson head coach Brad Brownell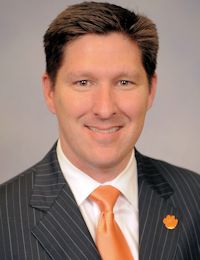 Brad Brownell
Head Coach
View Full Profile 's first press conference of the season, I asked him how he was going to replace two key seniors – and scorers – in Jerai Grant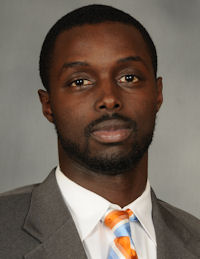 Jerai Grant
Forward
#45 6-8, 230
Bowie, MD
View Full Profile and Demontez Stitt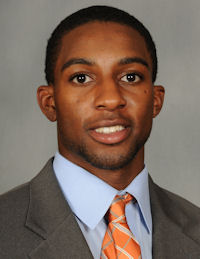 Demontez Stitt
Guard
#2 6-2, 180
Matthews, NC
View Full Profile and break five freshmen into his lineup.
Wednesday, it was deja-vu as we asked Clemson's third-year head coach how he expects to replace Tanner Smith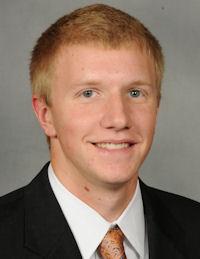 Tanner Smith
Sr. Guard
#5 6-5, 210
Alpharetta, GA
View Full Profile and Andre Young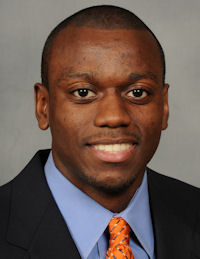 Andre Young
Sr. Guard
#11 5-9, 175
Albany, GA
View Full Profile , and he reminded us that this year's team is even younger than last season's squad – he has 11 freshmen and sophomores on his roster, with just two upperclassmen in Devin Booker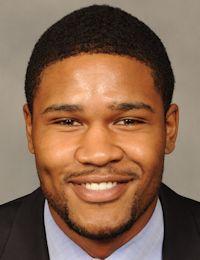 Devin Booker
Sr. Forward
#31 6-8, 245
Whitmire, SC
View Full Profile and Milton Jennings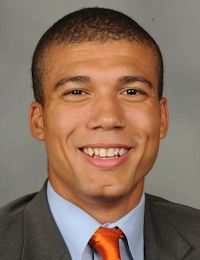 Milton Jennings
Sr. Forward
#24 6-9, 225
Summerville, SC
View Full Profile .
As a result, Brownell said that both his offense and defense will be simpler this season.
"The one thing is we are simplifying things with our team because we are so young," Brownell said prior to the start of his annual golf outing at The Reserve at Lake Keowee. "We can't be as intricate as I like to be in certain situations, probably on both ends of the court. We've just got to start with basketball and try to get good at it, so the guys aren't thinking so much that they can't play. I want them to be able to play hard. I want them to be able to understand what we're trying to do, so we are trying to simplify some things. As the year goes on, we'll add more to it, to give us a little more than a vanilla package."
Brownell said any coach would rather have older players.
"The competition in practice is going to be good," Brownell said. "I'd much rather have four seniors and three juniors - we know who's in what, the freshmen are coming in and they're playing six minutes, if they're lucky. I think that's when things are good. This isn't an ideal third-year, from that standpoint. But, having said, there's a lot of excitement."
Booker and Jennings are the top two returning scorers – Booker averaged 10.5 points and seven rebounds last season, while Jennings checked in at 9.7 points per game and 5.6 rebounds per game.
"I like the fact that we have two grown men that are coming back - physically --with Milt and Devin," he said. "We're not going to get shoved around. We've got two guys that have been at the level and have had success enough to compete and know what to expect."
Bernard Sullivan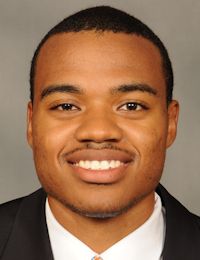 Bernard Sullivan
So. Forward
#22 6-7, 225
Gastonia, NC
View Full Profile was expected to log crucial minutes last season, but struggled with asthma, and Sullivan told us Tuesday that he is 100 percent to begin the season after a summer of medications and treatment.
Brownell echoed that sentiment.
"I'm looking for Bernard to be a very productive player for us," he said. "I think his strength his better, his conditioning is miles better. He's a powerful driver of the basketball. I think his ball skills are pretty good. I think his shooting is improving. It's going to be a little new for him. This is almost like his rookie year."
Joining Sullivan in the post are freshmen Landry Nnoko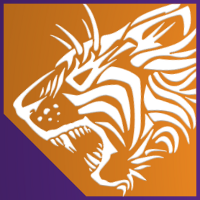 Landry Nnoko
Fr. Center
# 6-11, 220
Montverde, FL
View Full Profile – who has only played for three years – and wide body Josh Smith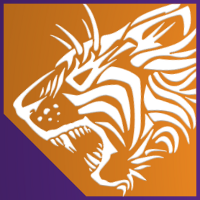 Josh Smith
Fr. Forward
# 6-8, 250
Charlotte, NC
View Full Profile .
"Landry and Josh are both very eager," Brownell said. "They're both hard workers. Josh isn't maybe the prototypical size that you would love, but he's physical and likes to throw his body around. That's hard to find these days. Landry can really run. He's got the length at 6-10 and the size at 240 to contribute as a freshman."
Added into the mix is BYU transfer Damarcus Harrison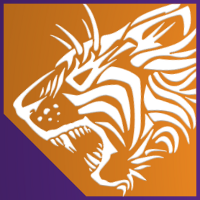 Damarcus Harrison
Guard
# 6-5, 200
Greenwood, SC
View Full Profile , who was recruited heavily by Brownell out of high school.
"Getting Damarcus eligible was big, because we were going to be really thin with Devin Coleman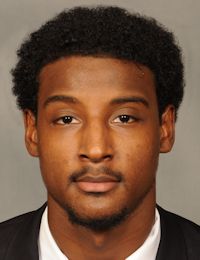 Devin Coleman
So. Guard
#15 6-2, 200
Philadelphia, PA
View Full Profile being out for the year with the torn Achilles and Jaron [Blossomgame] not healthy," Brownell said. "We don't have much else at that two, three wing spots. To be able to get Damarcus eligible was a huge shot in the arm for us, to continue to have three guys working at those two spots. For competition, experience and just depth, you need it."
T.J. Sapp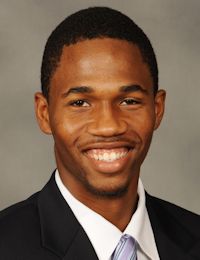 T.J. Sapp
So. Guard
#1 6-2, 195
Fort Lauderdale, FL
View Full Profile and K.J. McDaniels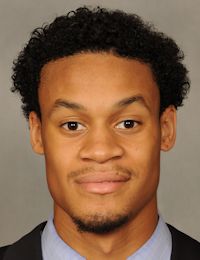 K.J. McDaniels
So. Guard
#32 6-6, 195
Birmingham, AL
View Full Profile bring experience to the outside – McDaniels has eye-popping athletic ability and was a spark off the bench last season.
"Both guys got some good experience as freshmen," Brownell said. "T.J. started out very well and really understood what we were trying to do, much faster than the other freshmen early on. He probably wore down as the year wore on, and didn't play quite as well at the end. I think K.J. was just the opposite. It took a while to really figure things out and understand what we were trying to do, as far as basketball-wise. I said, from when we recruited him, he'll be as talented as anybody we'll recruit, because he's athletically very gifted."
The point guard spot will be manned by Rod Hall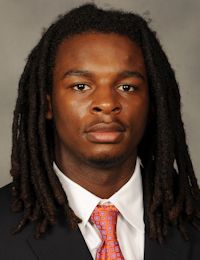 Rod Hall
So. Guard
#4 6-1, 210
Augusta, GA
View Full Profile – more of a pass-first type of guard – and freshmen Jordan Roper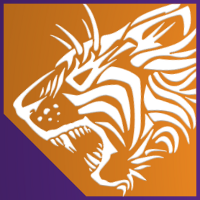 Jordan Roper
Fr. Guard
# 6-1, 165
Columbia, SC
View Full Profile and Adonis Filer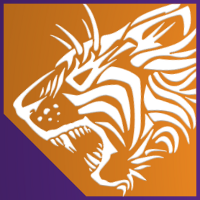 Adonis Filer
Fr. Guard
# 6-3, 190
Fitchburg, MA
View Full Profile .
"Rod certainly understands what we're trying to do, certainly has a college ready body. Adonis is physically ready to play and a very good on-ball defender," Brownell said. "I think Jordan, maybe, is better than the other two - a little bit - at making baskets. He's clever.
"But he's wispy, very thin --slight. He's done a good job of working hard, to put on seven or eight pounds since he got here. He does find ways to make some baskets at times, but he'll have a ways to go, in terms of how we want to play, and get comfortable with how we play. That won't be as easy for him or Adonis, really."

Tags:
Adonis Filer
,
Andre Young
,
Bernard Sullivan
,
Brad Brownell
,
Damarcus Harrison
,
Demontez Stitt
,
Devin Booker
,
Devin Coleman
,
Jerai Grant
,
Jordan Roper
,
Josh Smith
,
K.J. McDaniels
,
Landry Nnoko
,
Milton Jennings
,
Rod Hall
,
T.J. Sapp
,
Tanner Smith