---
| | |
| --- | --- |
| Thursday, November 3, 2011 8:05 PM | |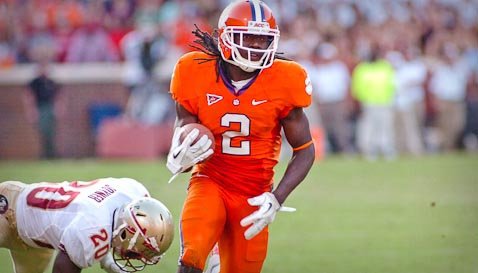 CLEMSON – The 2011 football season was seen by many as a rebuilding year for the Clemson football program, and with good reason.
A new offensive coordinator and system, a first-time starting quarterback in sophomore Tajh Boyd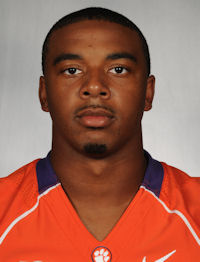 Tajh Boyd
RS So. Quarterback
#10 6-1, 225
Hampton, VA
View Full Profile and 42 freshmen and sophomores having to play pivotal roles were the main reasons given. Instead, the Tigers sit at 8-1, are ranked 11th nationally in the BCS and have a chance to win the ACC Atlantic Division title with a win in a week against Wake Forest.
With that in mind, head coach Dabo Swinney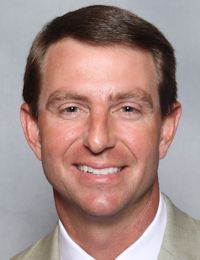 Dabo Swinney
Head Coach
View Full Profile said the Tigers are indeed ahead of even his plan, and that success has extended even into recruiting.
We've probably exceeded expectations in having the chance to win our division with a sophomore quarterback," Swinney said. "This year, we've been recruiting and getting things the way I want it. I'm very proud of where we are, but we still have a long way to go, big picture wise. We are probably a little bit ahead of where I thought we would be. To see our quarterback play the way he has the first year that he's the starter, and to see some of the young guys like Sammy Watkins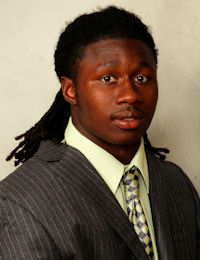 Sammy Watkins
Fr. Wide Receiver
#2 6-1, 200
Fort Myers, FL
View Full Profile and what they've done is great."
Swinney said that he thinks the program is on solid footing for the next several years, and is glad Clemson fans were patient through last season's 6-7 record.
"I'm excited about where we are going," he said. "This is all a process. I don't need a lot of patience, just a little bit. We are getting this program on very solid footing to where we can be a national contender and have a national presence every year. That starts with having all areas of your program in synch and putting good [recruiting] classes back-to-back-to-back-to-back.
"We've never really done that at Clemson. There's this perception out there that we've always done that and I don't know where that comes from. We've had a great class here and there and a great player here and there, but not since the eighties have we had classes back to back and really built the program through recruiting."
Last season's recruiting class is already paying dividends with players like Watkins, and Swinney said he sees a similar recruiting class for 2012 and beyond.
"I think the last two classes have been solid," he said. "I think the last class was great. I think the next class has the chance to be great. And I think our 2013 class may have the chance to be as good as we've signed. We met on that all morning- met on our 2013's. That's where we are as a program. That is where you want to be. There aren't that many 2012 [recruits] out there.
"We are really dialed in on 2013. We have to get our January and spring plan together for evaluations and early offers so we can make good decisions. We have to develop them. As you know, we have a lot of guys that we have to develop, and there are some growing pains that come with that as you saw Saturday night, but that's just part of it."
The Tigers already have 20 verbal commitments for the 2012 recruiting class, and with the recent losses of players like Demont Buice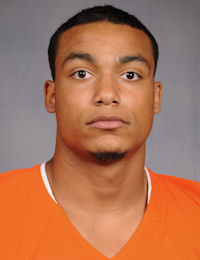 Demont Buice
RS Fr. Running Back
#24 6-1, 225
Gadsden, AL
View Full Profile , Bryce McNeal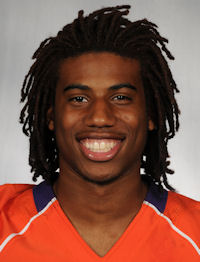 Bryce McNeal
RS So. Wide Receiver
#11 6-1, 180
Minneapolis, MN
View Full Profile and Desmond Brown

Desmond Brown
RS Fr. Safety
#45 5-11, 185
Centre, AL
View Full Profile , the number of available slots may be as high as 24.
"I don't' want to throw a number out there. It changes," Swinney said. "Just like this year, you've had some attrition that we didn't' plan on. If you look at it now, it's not going to be a very big class and that's why we have to sign the right guys. We will probably stay somewhere between 20-to-24 guys, but it has to be the right guys. We aren't just going to sign guys- they have to be the right guys that absolutely meet our standards and our criteria."
He said that he could look into the crystal ball and see a 2013 team that will finally be built like he has planned for.
"I just think that we will be in a position where we will have a bunch of talented juniors and seniors, with the opportunity to develop guys the right way and not play them until they are ready. Sometimes you have to, but that's just the way it is. That's what really excites me the most. We are going to be a junior and senior-laden football team, and the freshmen and sophomores are going to be developing and that's the way it should be. If you look at the great teams out there, that's how it is. You might have a great player show up here and there that will change a position. You want to develop the guys. If you recruit the right guys and develop them the right way, then you have a chance for some consistency."