---
| | |
| --- | --- |
| Wednesday, April 16, 2014 12:04 PM | |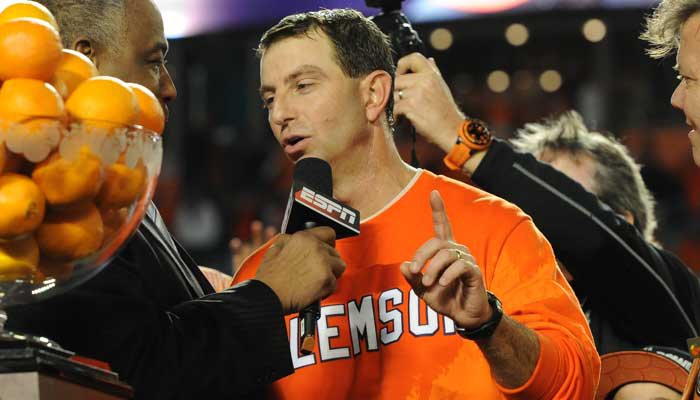 CLEMSON – Seven to one.
No, it's not the final score of a baseball game, and it's not the latest odds on a random sporting event. It's Clemson's goal for this season.
Now, let me explain.
Clemson head coach Dabo Swinney

Dabo Swinney
Head Coach
View Full Profile has brought up that line – seven to one – a few times this spring in talking about the development of his team and the goals for this season. The first time I heard it I was pretty sure I knew what he meant, but the interview ended and he rushed off without me being able to ask further about it.
The second time he mentioned it, I turned to Clemson football SID Tim Bourret, and he confirmed what Swinney was saying. Clemson finished the year ranked 7th nationally in the final USA Today poll, and the goal for this season is to be number one.
That phrase hit home a little more Monday when Swinney dismissed quarterback Chad Kelly
Chad Kelly
RS So. Quarterback
#11 6-2, 210
Buffalo, NY
View Full Profile from the team. I went back into one of the interviews we did with Swinney last week, and it was obvious then that he felt like he has the talent to make a title run, but he needed to make sure that all of his players believed in the team concept.
"We've got to become a very disciplined team," Swinney said. "We're not trying to make up much. That's the challenge. We're trying to go from seven to one. How do we do that? One of the things is that we've got to care more. We have to care more about getting my job done. Care more about my teammates. Care more about the consequences when I don't get my job done. We've got a bunch of guys that I think care deeply about this game and care deeply about their teammates and this team, but we've got to have more."
The beginning of spring practice was marked by the revelation that a "countdown clock" had been set up in a few of the meeting rooms, counting down the days until Clemson plays South Carolina in Death Valley. A lot of people saw that as proof that Swinney has let the rivalry – and five-game losing streak – with the Gamecocks get in the way of bigger goals.
I don't think so.
Early on in the spring, following one of the scrimmages, Swinney brought up "7 to 1" and mentioned that he thinks this 2014 squad has a chance to be special.
"We've got the makings of being a really good team," he said. "It's fun and it's exciting to be building this team. We've got a lot of really good players across the board, and they know what we are trying to do here. It isn't a secret. We just have to take that next step."
Can the Tigers take that next step? The two losses last season were to the team that finished ranked No. 1 (FSU) and No. 4 (South Carolina). The road to any title shot or to making the four-team playoff will go through those two teams again.
The good news for the Tigers is that they won't be picked to win the Atlantic Division title or the ACC by the ACC media during the ACC Kickoff in July – that honor will belong to Florida St. And rightfully so. They are the champs, they have one of the nation's best young quarterbacks in Jameis Winston and a plethora of talent across the board. They host Clemson in Tallahassee this year. All of the odds are in their favor.
Last season, the Tigers were the media darlings of the ACC Kickoff. Clemson received 95 out 120 ACC Championship votes. Why? They had the experienced quarterback and they hosted Florida St. in Death Valley. Sound familiar? It doesn't mean it will happen, but it does mean that anything can happen, and Swinney has the Tigers and what looks like a stingy, Top 10-type of defense pointed in the right direction.
The two times the Tigers have been picked to win the Atlantic and the ACC – in 2008 and 2013 – they fell short of expectations. This team plays better when people and the media doubt them, and there is no question that the ACC will be all about the Seminoles (again, with good reason) in 2014.
Swinney said that he has let his team know from the outset what the expectations are this season.
"I talk to the team about 7 to 1 and that means we finished seventh in the final USA Today poll last year," he said. "What do we have to do to challenge to be #1? I talk to the team about that all the time."