| | |
| --- | --- |
| Orange Bowl teleconference | |
---
| | | |
| --- | --- | --- |
| Monday, December 5, 2011, 9:57 AM | | |
Dabo Swinney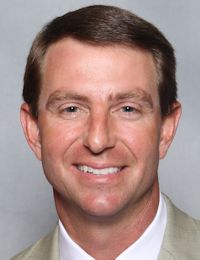 Dabo Swinney
Head Coach
View Full Profile opening statement:
Thank you for the opportunity to play in the Discover Orange Bowl. We are excited about the opportunity to represent the ACC, but also to return to the site of our program's greatest moment- the 1982 Orange Bowl where we won the national championship. Congratulations to coach Holgersen and his staff. He has done a great job this season in leading his team to a BCS bowl in his first year. That is a great accomplishment that doesn't happen very often. I'm looking forward to spending quality time with our team and to a great ball game in Miami.
Dana Holgersen opening statement:
We are excited for the opportunity to go to our first Orange bowl. We have been to three BCS bowl games and this will be our first trip to south Florida. Florida is obviously an important recruiting territory for us. This should be a great matchup- the co-Big East champions and the ACC champions. Congratulations to Dabo. After, eight games, everybody was riding Clemson after his post-game celebration moments. Both teams have pretty good offenses. We are both pretty good teams, but the only way to win a championship is with quality defense. Both Clemson and West Virginia fans are excited about coming to south Florida. It should be a great matchup.
Phillip Price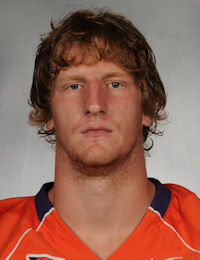 Phillip Price
RS Sr. Offensive Tackle
#79 6-5, 315
Dillon, SC
View Full Profile and Mike Bellamy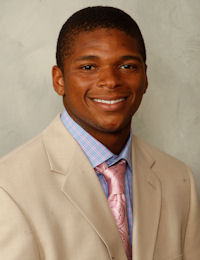 Mike Bellamy
Fr. Running Back
#5 5-10, 175
Nocatee, FL
View Full Profile update:
Swinney: Phillip re-tweaked that same knee. He will be ready to go in a month. A month is a long time. This is exactly what the doctor ordered for our team. This will give the guys time off to rest and get fresh legs. Bellamy is suspended indefinitely. He has not been has focused as I'd like him to be. Hopefully, this will give us a chance to try to get him dialed back in.
Both Teams have only met once-1989 Gator Bowl:
Swinney- I didn't know that. That is surprising. There are a lot of connections. Tommy Bowden who was here before me was a West Virginia graduate. They have a great tradition. I was actually watching Chester McGlockton's, who recently passed away, game in the Gator Bowl against West Virginia when Major Harris was the quarterback
Game being a shootout:
Swinney: These are two very capable offenses and have both had some success, but just when you expect one thing, the other happens. All we can do is get our plan ready and prepare. We play best when our guys are accountable for getting their jobs done, when they are where they're supposed to be, and when we take care of the ball. With a month off, their heads may not be in the games so we have to find a way to keep them focused. I don't think it will be a 6-3 game like other games you will see.
Holgersen: Offense is what people like to see, but the only way to win is to stop people. The turnover margin is the biggest thing in football. Both defenses are similar. The one that gets the most stops and creates the most turnovers will probably win the game.
It's the first post-season game for a lot of people on your roster:
Swinney: We have 29 freshmen that played this season which I think is the most in the country. We have 42 overall on the roster. They've played in 13 games now. It's not like they haven't been exposed to the preparation and the way we do things. You have to balance it work and rest. You can't overwork the guys. We'll challenge those young guys to get better with what we call JV practices. We'll try to have a little fun too and give them the opportunity to enjoy the experience. You have to make sure you do a good job the schedule.
More on the Orange Bowl
When: January 4th, 2012 at 8 p.m. on ESPN.
Where: Sun Life Stadium
Who: Clemson vs. West Virginia
The Tigers have played in three Orange Bowl games, last appearing in the game in 1982. With its 22-15 victory over Nebraska in the 1982 Orange Bowl, Clemson capped off a perfect 12-0 season and was named National Champion. The Tigers also earned trips to the Orange Bowl in 1951 and 1957. In their first trip, the Tigers defeated Miami 15-14. In 1957, Clemson fell 27-21 to Colorado.
Highlights of the 1951 Orange Bowl
Clemson backup defensive guard Sterling Smith nailed Miami halfback Frank Smith for a safety late in the game to give the Tigers a 15-14 win over the Hurricanes.
The hometown 'Canes were protecting a 14-13 lead with six minutes to go when Harry Mallios returned a punt 79 yards for an apparent score. But penalties moved Miami into a deep hole and on the next play; Smith dropped Smith for the safety.
Both teams had come into the Orange Bowl with only a tie blemishing their schedules.
Clemson led at half, 7-0, thanks to a 76-yard first-quarter march, meanwhile, the 'Canes managed only one first down through two quarters of play.
Clemson took the second half kickoff and used six plays to get Glenn Smith into the end zone with a pass from quarterback Billy Hair. The conversion was blocked and Clemson led, 13-0.
The third period, however, would belong to Miami. Mallios scored the Hurricanes' first points on a 5-yard pitchout play after a 45-yard Smith run. Following an interception, Miami quarterback Bob Schneidenback and receiver Ed Cuter teamed up on a 79-yard pass-and-run play and the Hurricanes suddenly found themselves on top, 14-13.
When Mallios' long punt return was nullified by a clipping call, Miami started deep in its own territory. Two more penalties pushed the 'Canes back to their 4 and on the next play; Smith took a pitchout from Schneidenback and was dropped in the end zone for the safety.
Highlights of the 1957 Orange Bowl
Clemson mounted one of the greatest comebacks in Orange Bowl history, but fell short when Colorado intercepted a pass deep in its territory on the last play of the game.
In that final series, Clemson's Willie Smith recovered a Buffalo fumble at the Colorado 27 with his team trailing 27-21. But the Buff's Bob Stransky intercepted quarterback Charlie Bussey's pass to save the game.
After a scoreless first period, Colorado stormed to three quick touchdowns on short runs by John "The Beast" Bayuk and Boyd Dowler and a 26-yard run by Howard Cook. The Buffaloes narrowly missed a fourth touchdown and went into the locker room with a 20-0 cushion.
An inspiring speech by Clemson head coach Frank Howard, in which he threatened to resign if he didn't get a better effort from his team, followed. His squad responded with three second-half scores on a pair of runs by Joel Wells and another by Bob Spooner. A shocked Colorado squad saw the Tigers take a 21-20 lead with 11:22 to go.
Although leading, Clemson attempted an onside kick, but Colorado recovered. It marched 53 yards in eight plays and went ahead for good on Bayuk's second touchdown of the day.
When the Buffaloes later fumbled at their own 26, Clemson had a final shot to win. Stransky's interception, however, nullified that attempt. Colorado's Wells rushed for 125 yards and Bayuk went for 121.
Highlights of the 1982 Orange Bowl
Top-ranked Clemson won its first national championship and finished with its third perfect season in its 88-year history with a 22-15 win over Nebraska in the 48th Orange Bowl.
After Clemson took a 22-7 lead into the fourth quarter behind three Donald Igwebuike field goals and a Homer Jordan-to-Perry Tuttle score, Nebraska engineered a final run at the Tigers. A 26-yard touchdown by Roger Craig capped a 69-yard drive and Craig's two-point conversion made it a seven-point game with nine minutes to play.
But the Clemson defense, led by All-American safety Terry Kinard and 295-lb. freshman middle guard William Perry, shut down the Big Red on its final drive and the Tiger offense held the ball for over five minutes as time expired.
Craig and Mike Rozier rushed for 161 of Nebraska's 193 yards. Rozier also passed 25 yards to Anthony Steels for a touchdown.
Stats
GAME STATISTICS

 


                               Clemson           Nebraska


First Downs                    17                   13


Rushing Plays                  52                   40


Rushing Yards                  155                  193


Passes Attempted               22                   17


Passes Completed               11                   6


Had Intercepted                1                    0


Passing Yards                  134                  17


Total Offense                  289                  256


Punting/Avg.                   4/18                 6/43


Fumbles/Lost                   3/0                  3/2


Penalties/Yards                7/57                 3/18/64           


 


SCORE BY QUARTERS


Clemson           6          6          10         0          37


Nebraska          7          0          0          8          21


 


SCORING SUMMARY


CL: Igwebuike 41 FG; 


NE: Steels 25 pass from Rozier (Seibel kick); 


CL: Igwebuike 37 FG; 


CL: Austin 2 run (pass failed); 


CL: Tuttle 13 pass from Jordan (Pauling kick);


CL: Igwebuike 36 FG; 


NE: Craig 26 run (Craig run) 


MVPs: Homer Jordan and Jeff Davis (Clemson)

Clemson Head Coach Danny Ford


Nebraska Head Coach Tom Osborne



Notes on West Virginia
West Virginia (9-3, 5-2)
They are 1-1 versus top-25 teams. West Virginia lost to LSU in week four by a score of 47-21. Then, on November 12th the Mountaineers beat Cincinnati on the road 24-21. Clemson and West Virginia have one common opponent and that is Maryland. The Mountaineers beat the Terrapins 37-31.
In College Park, MD on September 17th, Geno Smith threw for 388 yards as the Mountaineers survived a threat from the Terrapins. West Virginia came out fast and furious gaining a 24 point lead. Maryland rallied cutting the lead to 34-31 with just over ten minutes remaining in the game; however, just as the Terrapins had problems stopping Tajh Boyd and company, they couldn't find a way to shut down Smith who extended the lead to seven after a 14 play, 65-yard drive.
On defense, the Mountaineers give up 140 yards per game on ground, good for 51st in the country. West Virginia is 32nd in the country against the pass allowing 199 yards per game. The stout defense is led by 6-1, 240 pound linebacker Najee Goode who leads the team with 84 tackles. He also has four sacks, 12.5 tackles for loss, and an interception. Defensive end Bruce Irvin leads the team with 7.5 sacks and 14 tackles for loss. Defensive lineman Julian Miller also has six sacks and 11 tackles for loss.
The Mountaineers rank 8th in the nation in passing offense gaining 341 yards per game through the air and 100th in rushing with just over 117 yards per game. They averaged just under 35 points per game this season. Junior quarterback Geno Smith leads the West Virginia offense. The 6-3, 214 pound signal caller has completed 314-of-483 passes for 3,978 yards, 25 touchdowns, and seven interceptions. The Mountaineers have a two-headed monster at running back. Dustin Garrison leads the W. Virginia ground game with 742 yards on 136 carries and six touchdowns alongside Shawne Alston who has ten touchdowns and 339 yards. There are two thousand yard receivers who are big targets for Smith in Stedman Bailey and Tavon Austin.
Kicker Tyler Bitancurt has made 16-of-22 field goals and 51-of-53 extra points.
---
| | |
| --- | --- |
| | TigerNet Sponsor: Get your ACC Championship and Orange Bowl gear Our partner store has some great new Dr Pepper ACC Championship and Discover Orange Bowl shirts and hats for sale. A percentage goes to support TigerNet. . Click here to view our store: http://www.footballfanatics.com/partnerid/117 |
---