| | |
| --- | --- |
| NFL Network's Mike Mayock talks Vic Beasley, other Clemson players at NFL Combine | |
---
| | | |
| --- | --- | --- |
| Tuesday, February 17, 2015, 3:15 PM | | |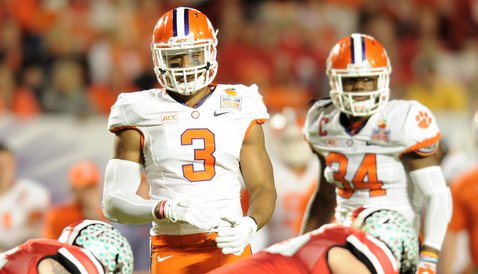 The NFL Scouting Combine gets underway in Indianapolis this week, and several former Clemson defensive players and punter Bradley Pinion

Bradley Pinion
Jr. Punter
#92 6-6, 230
Concord, NC
View Full Profile will be under scrutiny, with former defensive end Vic Beasley

Vic Beasley
RS Sr. Defensive End
#3 6-2, 236
Adairsville, GA
View Full Profile perhaps undergoing the most scrutiny.
The invited Tigers include defensive ends Tavaris Barnes

Tavaris Barnes
RS Sr. Defensive End
#9 6-4, 273
Jacksonville, FL
View Full Profile , Beasley and Corey Crawford

Corey Crawford
Sr. Defensive End
#93 6-5, 276
Columbus, GA
View Full Profile , defensive tackle Grady Jarrett

Grady Jarrett
Sr. Defensive Tackle
#50 6-1, 290
Conyers, GA
View Full Profile , linebacker Stephone Anthony

Stephone Anthony
Sr. Linebacker
#42 6-2, 244
Polkton, NC
View Full Profile and cornerback Garry Peters

Garry Peters
RS Sr. Cornerback
#26 6-0, 194
Conyers, GA
View Full Profile . Punter Bradley Pinion was on the invitation list among the specialists.
Clemson had the most defensive players on the invitation list with six. ACC-rival Louisville was second with five, while Florida State, Oregon, Southern California, Stanford, Texas, UCLA and Washington all had four apiece. Clemson was the only school in the nation with four defensive linemen on the invitation list, two more than any other school. Clemson was also the only school with three defensive ends on the list. The Tigers were one of 12 schools with at least one player invited from each of the three levels of defense.
It's Beasley, however, that many NFL executives want to see. Beasley was a consensus first-team All-American and ACC Defensive Player-of-the-Year in 2014. Among the pass rushers entering the 2015 NFL Draft, Clemson defensive end Vic Beasley continues to be in the discussion as one of the elite players at the position. Beasley averaged one quarterback sack every 42 snaps over his last two seasons for the Tigers, ending his collegiate career as the all-time sack leader in Clemson history (29).
Mel Kiper said that defensive end will probably be the strongest position in the draft.
"In terms of defensive players that are going to go, in terms of pass rushers, there's a lot of them, that's probably the strongest position in this draft is those combo guys that can get after the quarterback," Kiper Jr. said via conference call. "This is the kind of year if you want those types of players; they're out there in high numbers this season."
NFL Network Analyst Mike Mayock told TigerNet during a conference call Monday that Beasley – who profiles as an outside linebacker - needs to show the league he has the strength to stop the run.
"The concern around the league is whether or not he's underpowered," Mayock said Monday. "So it will be interesting to see what he weighs. Is he 240 pounds or is he 230 pounds? And I think that's a difference. How strong is he in the weight room? I know one thing, he's got an ability, a natural quickness and innate ability to rush the quarterback. However, he's got to show more consistent power, especially against the run game."
Mayock said he also worries about Beasley's weight and worries that if Beasley comes in undersized it could hurt him on draft day.
"So a guy like Vic Beasley, who is a gifted, gifted pass-rusher, if he's only 230, and doesn't have the explosion to get under people and play with leverage and power, it's hard to say that he's going to translate to the NFL," said Mayock, who has Beasley ranked fourth among edge rushers. "I think guys have to bring power and strength into the equation, and sometimes that gets overlooked."
However, Kiper said he doesn't see that as an issue.
"Bottom line with Vic Beasley is he has strength," Kiper said. "He plays a lot bigger than he shows in terms of his on-the-paper measurables. He is strong. He is chiseled and he's a guy that's going to surprise offensive tackles with his explosiveness and with his power. You know he has speed and quickness off the edge. He's a natural pass rusher."
Beasley told TigerNet Tuesday afternoon that he has been working out with Tony Villani at XPE Sports in Boca Raton, FL, and that he feels confident the NFL will see his entire skill set this week.
"I just want to show them my abilities," Beasley said. "I know a lot of people are questioning, can he play linebacker and stuff like that. I'm going to do the drills and just go out there and showcase my talent and do the best that I can. I know I'm pretty strong. I'm going to do the bench press and whatever numbers I put up will just be what I can put up."
Mayock also had things to say about Anthony and Jarrett.
"As far as inside linebackers in this draft, I think I've got (Anthony) as number five on my inside linebacker list, and I like him a lot," Mayock said. "I think he's a starting 3-4 inside linebacker or starting Mike. The nose tackle, Jarrett, fun kid to watch. Quickness is his ally. When he's on the move, he's like a pinball in there. He's bouncing off people, getting up the field and creating havoc. Where he gets in trouble is where he's trying to hold the point and a big body gets on him."
There are several other Tigers not invited to the combine looking for jobs come May, but Mayock thinks safety Robert Smith

Robert Smith
Sr. Safety
#27 5-11, 211
St. George, SC
View Full Profile has a chance to get drafted late while linebacker Tony Steward

Tony Steward
Sr. Linebacker
#7 6-1, 236
Hastings, FL
View Full Profile , guard David Beasley

David Beasley
RS Sr. Offensive Guard
#68 6-4, 323
Columbus, GA
View Full Profile and quaterback Cole Stoudt

Cole Stoudt
Sr. Quarterback
#18 6-4, 231
Dublin, OH
View Full Profile will end up being "priority free agents."

Tags: Clemson Football
,
Vic Beasley
,
Tavaris Barnes
,
David Beasley
,
Garry Peters
,
Grady Jarrett
,
Robert Smith
,
Tony Steward
,
Stephone Anthony
,
Corey Crawford
,
Cole Stoudt
,
Bradley Pinion