| | |
| --- | --- |
| News and notes from Monday morning practice | |
---
| | | |
| --- | --- | --- |
| Monday, August 15, 2011, 1:54 PM | | |
AUDIO: Dabo Swinney after practice audio
CLEMSON – News and notes from Monday morning's practice at Clemson.
*Clemson head coach Dabo Swinney praised the work of senior Phillip Price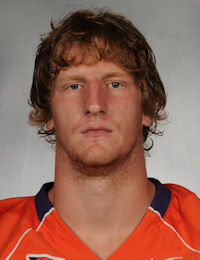 Phillip Price
Offensive Line
#79 6-5, 300
Dillon, SC
View Full Profile , who will more than likely start at left tackle this season.
"Phillip Price has been the most consistent out of all of our linemen," Swinney said. "He has had the best camp out of anybody. He is really, really playing well. He is playing with an edge and a chip on his shoulder. He is trying to be a leader for us."
Offensive coordinator Chad Morris concurred. "Phillip Price is playing out of his mind right now," Morris said. "He has been our most consistent lineman, and Antoine [McClain] has been the most powerful. But Phillip has been our best lineman so far."
*Swinney said last week that he was almost ready to say some good things about backup lineman Brandon Thomas
Brandon Thomas
Offensive Line
#63 6-4, 300
Spartanburg, SC
View Full Profile , a sophomore out of Spartanburg, but he wanted to watch Saturday's scrimmage first. So, did he have praise for Thomas? No, but he does like the work that a freshman is putting in.
"Nope. Nothing good to say about Brandon Thomas. Wish I did," Swinney said. "He had two or three good days there, but he kind of went backwards on us Saturday. He had a chance to start with Landon Walker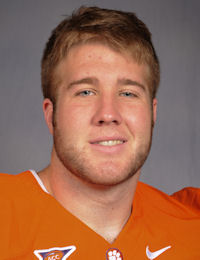 Landon Walker
Offensive Line
#72 6-6, 310
North Wilkesboro, NC
View Full Profile out for graduation. He had some missed assignments. He's a guy that we just have to stay on. He saw the tape and came back and had a better day today.
" Gifford Timothy
Gifford Timothy
Offensive Line
#70 6-6, 335
Middletown, DE
View Full Profile 's stock is way up. We are really encouraged. He still has a lot of work to do. If we had to play today we would have to swing a guy. We are very encouraged by what we have seen from Giff. He and Reid Webster
Reid Webster
Offensive Line
#77 6-4, 290
Woodstock, GA
View Full Profile have made some progress this past week. Reid is primarily working at guard now. "
*He said he also likes what he is seeing out of the wide receivers. " Bryce McNeal
Bryce McNeal
Wide Receiver
#7 6-1, 180
Minneapolis, MN
View Full Profile has been the biggest surprise. Not in his ability," Swinney said. "The biggest surprise is in how he has transformed on the practice field. You can credit some of the young guys for coming in here and raising the bar. He has been incredibly consistent with his effort and focus. That has been his problem. I like what I'm seeing at the wide receiver position. We are going to have good players, good speed, good intangibles, and good toughness."
* Tajh Boyd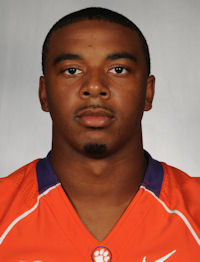 Tajh Boyd
Quarterback
#10 6-1, 230
Hampton, VA
View Full Profile had a good day during Saturday's scrimmage, according to Swinney. "Tajh had a good scrimmage. He made some good throws. He made good decisions. I am very pleased with him. Cole [Stoudt] did not have his best day, but he came back out today and had a better day. He didn't scrimmage like he has practiced."
*It seems like several starting jobs are up in the air, and Swinney said this is a big week for the guys that want to be a starter on Saturdays. "We are starting to hone in a little personnel wise now that we have that first ten days and first scrimmage under our belt. This is a big week for a lot of guys. There are a few guys that have to make a move if they are going to move. We have probably 23 guys on defense that we can really count on. Offensively, we are about there."
*The freshmen apparently did well in their summer classes. "The freshmen did an outstanding job with their two classes they took this summer," Swinney said. "A lot of A's and B's."
*Morris said he thinks his unit was still too soft during the scrimmage. "By no means is it doom and gloom, but we can't start that way. We have to come out with more enthusiasm and be more physical. We are not being physical up front and on the edge. It was just a kind of lackluster attitude, and you want that killer instinct. You have people wanting to come up and lean on guys instead of finishing the block. We have to pick it up and get a fire underneath them."
*Morris said that freshman wide receiver Sammy Watkins
Sammy Watkins
Wide Receiver
#7 6-2, 200
Fort Myers, FL
View Full Profile continues to impress. "He has great acceleration and great ball skills. He is extremely physical. He is playing hard and playing fast. He is still learning everything, but he is getting better every day. He is definitely making a push out there."
* Starting defensive end Andre Branch returned to practice on Monday after missing Saturday's scrimmage with a head injury. Xavier Brewer was out with a sprained foot, while DeShawn Williams and Demont Buice missed action with ankle injuries.