| | |
| --- | --- |
| News and notes from Friday's Swinney camp | |
---
| | | |
| --- | --- | --- |
| Friday, June 15, 2012, 7:01 PM | | |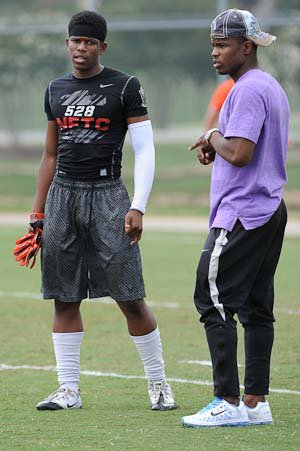 * Dabo Swinney Football Camp Photos IV *
CLEMSON – The football practice fields at Clemson were filled with football campers Friday afternoon. Literally.
A record 465 campers showed up for the first workout of the second session of Dabo Swinney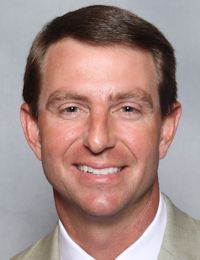 Dabo Swinney
Head Coach
View Full Profile 's camp, including several high-profile prospects that we tried to watch, and around 150 more are expected to show up for Saturday's workouts.
We walked out onto the practice field with 4-star wide receiver Ryan Jenkins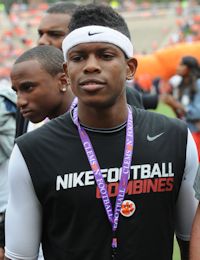 Ryan Jenkins
Wide Receiver
5-11, 177
Alpharetta, GA
View Full Profile out of Lassiter (GA) Marietta, younger brother of current Clemson defensive back Martin Jenkins. Ryan said that he hopes to have a list of his top three schools by early next week, and he plans on announcing his college choice at Nike's The Opening in early July.
Jenkins and his fellow receivers headed off to work with Clemson receiver's coach Jeff Scott, who told the group, "You probably aren't as good as you think you are. But if you buy in to the instruction and coaching, you have a chance to be that good."
Even as the campers were going through the early warm-up, or 'flex' session, it was obvious that Jenkins is just a better athlete than most of the other players, including his fellow wide receivers. Once the actual drills started, Scott made the group simulate getting off the line of scrimmage on the ball snap, and Jenkins' first few steps were quick enough to draw more than a few raised eyebrows.
Martin Jenkins wandered over to watch his brother work out, and Clemson defensive ends coach Marion Hobby made it a point to walk over to Martin and tell him that Ryan was bragging he "would burn Martin" if he came to Clemson.
*Another wide receiver that stood out was De Marcus Robinson

Marcus Robinson
Linebacker
6-3, 215
Memphis, TN
View Full Profile of Peach County (GA) Fort Valley, who has offers from most of the big-time programs in this area. He is the nephew of former South Carolina and Chicago Bear wide receiver Marcus Robinson, who ironically played for Brad Scott at South Carolina.
The younger Robinson is a big receiver (6-2, 200), who might have been the second-quickest of the group despite his size. He also showed quick feet and good hands.
Kendrick Holland, a 2014 wide receiver prospect out of Winter Haven (FL) only has one offer – it's Clemson – but I loved his size (6-4) and his hands as the receivers went through ball-catching drills. I kind of get the feeling he is one of those kids that might be a little under the radar for right now, but not for long.
*An interested observer in the wide receiver group was Mike Williams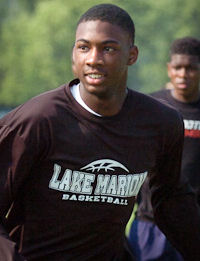 Mike Williams
Wide Receiver
6-5, 205
Holly Hill, SC
View Full Profile out of Lake Marion (SC). Williams will work out on Saturday, but watched all of the drills. He told me that he has grown (just a shade under 6-5), and now has a top four of Clemson, South Carolina, Georgia and Alabama. He said he wants to take official visits in the fall before making a decision.
*I was able to talk with one of the Daniel High coaches about 2014 running back Jae'lon Oglesby, who was offered by Clemson offensive coordinator Chad Morris this week. Oglesby was actually at South Carolina on Friday, but will be at Clemson's camp on Saturday. Ogelsby (5-9, 170) is a player I got to see three times last season, and I always came away impressed with his vision and how well he follows blockers. I obviously went to the Daniel games to see Clemson commit Shaq Lawson, but Oglesby always wound up catching my attention. Word is that he will commit at some point this weekend, and considering that he has three cousins [DeShawn Williams, Nuk Hopkins and Lawson] that will play for Clemson this season, it's a safe bet to say he will be a Tiger. He rushed for 1,750 yards with 28 touchdowns for the Lions during his sophomore campaign, averaging 8.4 yards per carry. He has also been getting a lot of recent interest from Virginia Tech.
*I've mentioned a couple of times that several Clemson players have been on campus this week to either observe or as part of the coaching staff, and it's good to see Jeff Davis, Keith Adams and Scotty Cooper all taking a hand in teaching the linebackers. Also, former quarterback Rodney Williams – who will help Brian Strickland at Mann this fall as an offensive coach – was there Thursday.
*Friday, Eastside (Greenville) head coach Jeff Thomason was in attendance. Thomason played for Clemson from 1985-89 and proudly wore his 1986 ACC Championship ring. He brought several younger players to Friday's camp, but will have strongside defensive end prospect Davaris McGowens at the camp on Saturday. Thomason said McGowens is still learning the game – before last season he hadn't played the sport since 6th grade – but his size (6-5, 230) and athletic ability (he also plays basketball) have intrigued the Clemson coaches.