| | |
| --- | --- |
| Final thoughts: National Signing Day | |
---
| | | |
| --- | --- | --- |
| Thursday, February 5, 2015, 5:32 PM | | |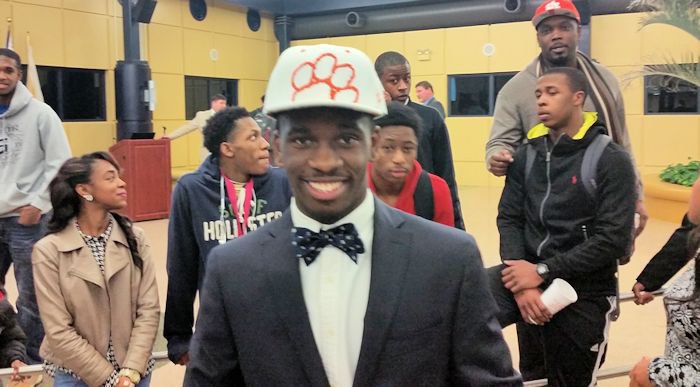 CLEMSON – Another National Signing Day has come and gone, and football fans everywhere are left holding onto the promise of spring practice. Unless you're at Duke, which starts spring practice this Friday and will hold their "spring game" on February 28th.
Clemson's spring practice begins on March 2nd and the spring game will be held on what we hope is a balmy April 11th (probably a little warmer than Durham in late February….yikes). However, we can still look back on the excitement of another signing day, a day when Clemson head coach Dabo Swinney

Dabo Swinney
Head Coach
View Full Profile said the Tigers got everybody on their list. He's compared NSD with Christmas in the past, and if that's the case then Santa brought everything the Tigers needed and wanted.
I did a radio show in Savannah yesterday afternoon, and the host asked me where the holes were in the Clemson class….who did the coaches miss out on that they really wanted? The quick answer…….they got who they wanted and there were no signing day heartbreaks or kids going to another school despite Clemson holding a spot open. When was the last time you can remember that happening?
It was also nice to wake up this morning and see Clemson's iconic logo plastered all over the various internet sports pages – free advertising to be sure – and see all of the different media outlets predicting a big run in Clemson's future.
Swinney has the coaches in place. The facilities are in place. The roster is as stacked – top to bottom – as it has been in decades. The schedule is in place. Now all you have to do is follow the edict of the late Al Davis – Just win, baby.
It's going to be fun to watch around here the next few years.
*I hobbled over to Tavien Feaster

Tavien Feaster
Running Back
6-0, 190
Spartanburg, SC
ESPN:


View Full Profile 's announcement ceremony, and Feaster used the old hat trick to create a little bit of drama (go watch our video if you haven't already). Someone sent me a link to a rival message board talking about the "classless move" of the hats. Really? A kid who has had no drama in his recruitment to date and is committing a year early so he can escape the normal recruiting process? Maybe he should have committed and de-committed a few times. Maybe that's a little classier.
Once the ceremony was over, I talked to a few of the Spartanburg people (thanks for the hospitality) about what made the difference for Clemson in Feaster's recruitment. I was told that Jeff Scott

Jeff Scott
Asst. Coach (WR) / Recruiting Coord.
View Full Profile and Tony Elliott

Tony Elliott
Assistant Coach / Running Backs
View Full Profile were over at Spartanburg every chance they got and simply outworked all of the other coaches. I was told that South Carolina, Tennessee and even Auburn had been in recently (Gus Malzahn even brought Will Muschamp) but it was simply a case of too little, too late.
Feaster's dad, Terrance, told me that he was a Gamecock fan "before all of this started" and said you get a different perspective of the two schools when you see them from the inside looking out. I later saw a picture of the Clemson coaches posing with a poster of Feaster and Swinney holding a sign that says "you're next" during all of the signing day excitement. That kind of thing works wonders with recruits – certainly better than having to look at their names on index cards – and it shows just how much the game of recruiting has changed. The good news is that Clemson is changing with the times, and we'll have a story here in the next few days about the Tigers' cutting edge marketing and recruiting endeavors.
*Who in this class will play this season? Still way too early to tell, and the learning curve is different for each player. For instance – Deon Cain

Deon Cain
Wide Receiver
6-2, 200
Tampa, FL
ESPN:


View Full Profile has played a lot of quarterback in high school and still has to come in over the summer and learn the nuances of how to play receiver on this level. That includes blocking. He's going to be really, really good but it might take a little more time than a lot of people assume.
However, I would think the Tigers are deep enough at linebacker, defensive back and tight end to allow some of those positions to redshirt. The defensive line spots are open – Albert Huggins

Albert Huggins
Defensive End
6-3, 280
Orangeburg, SC
ESPN:


View Full Profile , Christian Wilkins

Christian Wilkins
Defensive Tackle
6-4, 290
Suffield, CT
ESPN:


View Full Profile , Clelin Ferrell

Clelin Ferrell
Defensive End
6-5, 220
Richmond, VA
ESPN:


View Full Profile and Sterling Johnson

Sterling Johnson
Defensive Tackle
6-5, 275
Clayton, NC
ESPN:


View Full Profile will all have their shots – and so are the offensive line spots. You would think that one of the young quarterbacks has a chance to avoid a redshirt, and Cain and Ray-Ray McCloud

Ray-Ray McCloud
Wide Receiver
5-10, 180
Tampa, FL
ESPN:


View Full Profile might compete for a spot on the active roster. Spring practice will be fun to watch, but some of those skill guys won't be here until mid-summer and will scratch for playing time from the start.