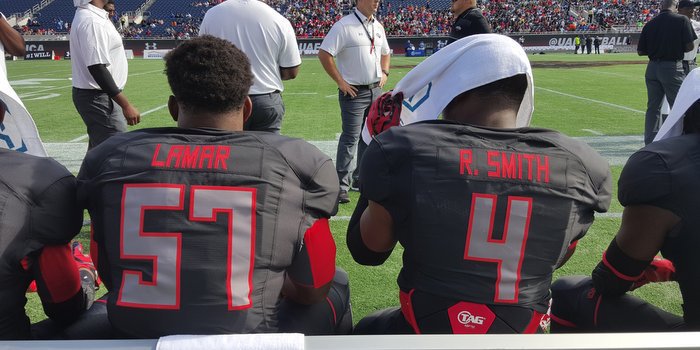 | | |
| --- | --- |
| Clemson's NSD: Five takeaways | |
---
| | | |
| --- | --- | --- |
| Friday, February 5, 2016, 2:01 PM | | |
Clemson closed the 2016 recruiting cycle with another nationally-ranked recruiting class, and it was full of stars. But the stars don't even begin to tell the entire story.
The Tigers' class could have been rated higher with more prospects, so if you have a bigger class, and it's full of stars your team gets the higher rating. However, the real story behind Clemson's class goes beyond stars and rankings – the Clemson coaching staff filled needs and filled those needs in spectacular fashion.
With that in mind, here are five takeaways on National Signing Day:
1. These guys are closers
The majority of Clemson's stellar class was already in the books by the end of the regular season, but the coaches landed big Dexter Lawrence in early December and it set in motion a flurry of activity. The coaches pinpointed their needs on the big board and identified who would be number one and then number two, etc. In many cases, the coaches wound up with their number one guy. Head coach Dabo Swinney studied business and worked in sales, so he knows how to close a sale. This staff went out and managed to get the guys they wanted, and it went right to the wire with big offensive lineman John Simpson of Fort Dorchester. This staff is the Mariano Rivera (forgive me) of recruiting.
2. Late night run
There's nothing quite like realizing you need something from the store, and it closes in ten minutes. You make the mad dash and you either make it or you don't. Swinney mentioned earlier this week that Clemson's coaches had to assume their juniors in the secondary would return – you can't give out scholarships that aren't there, he said – and had to scramble to find players to fill the openings left by Jayron Kearse, Mackensie Alexander, T.J. Green and Jefferie Gibson. The staff jumped on K'Von Wallace and Isaiah Simmons and Trayvon Mullen and landed all three. Incredible.
3. Fill those trenches
Part of the storyline for Clemson football in the past has been a lack of punch up front on the offensive line. No longer. The coaching staff had been able to nab a quality lineman here and there, but the recruiting class from a few years ago started a rush that included Mitch Hyatt and Jake Fruhmorgen last year and continued with Sean Pollard, John Simpson, Tremayne Anchrum, Chandler Reeves and Cade Stewart. As for the defense – Dexter Lawrence leads a class that includes Nyles Pinckney and Xavier Kelly. This team is built to win on the lines of scrimmage.
4. Elite?
Yes, Clemson now has to be considered among the nation's elite programs. It isn't a surprise when Clemson lands a 5-star prospect or the nation's number one player at a given position. Clemson can and does compete with schools like Alabama, Florida St., LSU and Ohio St. Like I mentioned in number one, this staff has a bunch of closers who simply go out and land the guys they want. And there are times when the guys they want are maybe not highly-rated or have a bunch of stars – they get players that they see have potential and develop them. Elite? Yes. Clemson is now one of those teams.
5. Small numbers
Lawrence was rated as the nation's number two defensive tackle prospect, and he's very deserving of that honor. But he was also the nation's number two prospect overall. Rahshaun Smith is the nation's sixth-rated player, Tre Lamar is No. 16 and Cornell Powell is No. 36 according to Rivals. According to ESPN, Clemson has 11 of the nation's top 300 players – Lawrence (6), Trayvon Mullen (18), Smith (21), Feaster (53), Lamar (89), Diondre Overton (135), Kelly (154), Pollard (173), Zerrick Cooper (217), Simpson (232) and Pinckney (261). Those are small numbers compared to how many recruits signed NLI's on Wednesday. Those are great numbers considering Clemson's class size. And 2017? Might be even better.

Tags: Clemson Football
,
Nyles Pinckney
,
Dexter Lawrence
,
Tre Lamar
,
Trayvon Mullen
,
Sean Pollard
,
Zerrick Cooper
,
Rahshaun Smith
,
Diondre Overton
,
Cornell Powell
,
John Simpson
,
Xavier Kelly
,
Tremayne Anchrum
,
Chandler Reeves
,
Isaiah Simmons
,
Cade Stewart