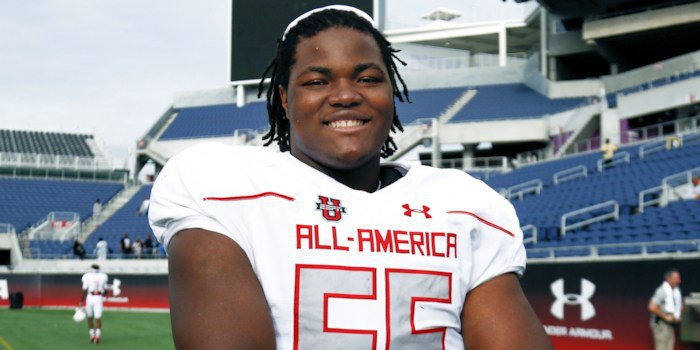 | | |
| --- | --- |
| Clemson looks to finish 2016 class strong, continue recruiting success | |
---
| | | |
| --- | --- | --- |
| Saturday, January 30, 2016, 8:30 AM | | |
The Clemson coaching staff is hosting a bevy of elite juniors this weekend, and many of them will sign on the dotted line this time next year saying they're headed to Clemson. In the minds of the fans, however, 2017 can wait for a few more days.
The 2016 National Signing Day is next week and while much of Clemson's class is done the Tigers are still waiting on a few key players that could mean the difference in a top ten class and a top five class. That starts with the nation's number one ranked player, defensive tackle prospect Rashan Gary out of Paramus (NJ) Paramus Catholic.
Gary is on Clemson's campus this weekend and he will announce his decision next Wednesday at 1 p.m. on ESPN2. Another big announcement will be held earlier that morning when ESPN 300 cornerback Trayvon Mullen of Coconut Creek, Fla., announces his decision at 9 a.m.
The Tigers are also still in the hunt for 3-star defensive back K'von Wallace, 4-star offensive lineman John Simpson and 4-star safety Romeo Finley. How many of those players the Tigers sign will determine their place in the final team rankings.
But are those team rankings important? Does it really matter where your team finishes in the final rankings?
Yes it does. Alabama finished atop the recruiting rankings – according to ESPN – in 2012, 2013, 2014 and 2015. Is it any surprise they've turned stellar recruiting into four national titles in the last seven years?
In the ACC, Florida St. has also had a solid run of recruiting and they've turned that into a title run and ACC Championships. The Seminoles finished sixth in 2010, but were number one in 2011, number two in 2012, number nine in 2013, number three in 2014 and number two in 2015. They are rated fourth this season.
Clemson hasn't finished lower than 13th in the final rankings since 2010. The Tigers finished second in 2008 – the class that included Da'Quan Bowers, Dwayne Allen, Kyle Parker, Antoine McClain and Jamie Harper – but that year was an aberration. Clemson finished 18th in 2007, 19th in 2009 and 13th in the C.J. Spiller class of 2006.
Clemson finished 19th in 2010 – a good finish despite a 6-7 record and a desultory loss in the bowl game – but rebounded to finish eighth in 2011 with the Stephone Anthony, Tony Steward and Sammy Watkins class. Anthony famously touted during his commitment ceremony that Clemson was coming, and he was right. According to Rivals, however, the Tigers finished eighth nationally, a better representation of the true talent in the class.
The Tigers have racked up a 46-8 record over the last four seasons, and it's been on the backbone of recruiting that hasn't been solid: it's been superlative.
The Tigers finished 10th (ESPN) and 14th (Rivals) in the 2012 class with players like Jay Guillermo and Travis Blanks. That class was notable because there wasn't a 5-star to be found. In 2013, Clemson finished 13th nationally (ESPN and 14th by Rivals) with the addition of Shaq Lawson (after a year at prep school, he was originally in the 2012 class), Mackensie Alexander, Ben Boulware, Jordan Leggett, Wayne Gallman, T.J. Green, Jayron Kearse and Mike Williams. Alexander was the lone 5-star, but there were 15 4-stars that made up the backbone of this year's ACC Champion.
There were also seven 3-stars, but those include Green, Cordrea Tankersley, Jadar Johnson and Korrin Wiggins. Sometimes the stars don't matter.
Clemson finished 12th according to ESPN and 13th according to Rivals in 2014, but it included some kid named Deshaun Watson. That class is notable in that five of the signees are no longer with the program – Jae'lon Oglesby, Kyrin Priester, Demarre Kitt, Korie Rogers and Jefferie Gibson.
The Tigers were fourth nationally in 2015 according to both ESPN and Rivals. That class included Christian Wilkins, Deon Cain, Ray-Ray McCloud, Mitch Hyatt and Austin Bryant. All of those players played a role in last season's 14-0 start and will be mainstays next season.
So what's next? Clemson is currently ranked eighth by both Rivals and ESPN and is solid if they don't add another piece. Five-stars like Rahshaun Smith, Dexter Lawrence and Tre Lamar lead the way for a class that includes playmakers like Diondre Overton, Cornell Powell and Tavien Feaster while reloading on the offensive line with Sean Pollard and Chandler Reeves. Xavier Kelly is a 4-star defensive end who will likely play early.
Yes, the rankings matter. As the coaches like to say, it's not about the X's and O's it's about the Jimmy's and the Joe's. Clemson is getting Jimmy and Joe, and they're good. How good will this class be? We'll know Wednesday evening.

Tags: Clemson Football
,
Dexter Lawrence
,
Tavien Feaster
,
Romeo Finley
,
Tre Lamar
,
Trayvon Mullen
,
Sean Pollard
,
Rahshaun Smith
,
Diondre Overton
,
Cornell Powell
,
John Simpson
,
Xavier Kelly
,
Chandler Reeves
,
Rashan Gary