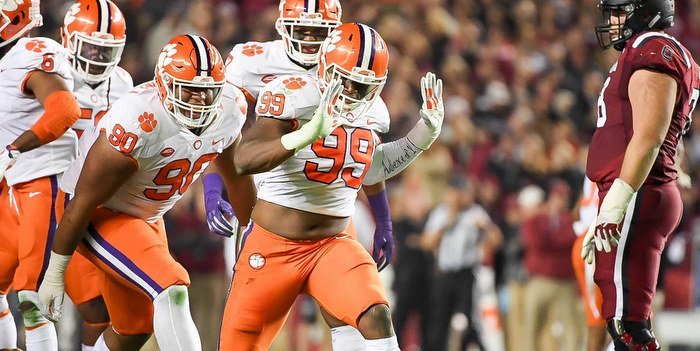 | | |
| --- | --- |
| Twitter reacts to Clemson's 34-10 win over South Carolina | |
---
| | | |
| --- | --- | --- |
| Sunday, November 26, 2017, 1:49 PM | | |
Clemson extended its rivalry streak to four consecutive wins in dominating fashion over Palmetto Bowl foe South Carolina.
The 34-10 win combined with upset losses in the top two spots moved Clemson to No. 1 in the Coaches Poll.
The win was the 100th in Dabo Swinney's career, and one with some emotion to it, as he was called for a flag after calling on the referees to do something about the South Carolina students throwing objects on the field.
Clemson improved its series record over the Gamecocks to 69-42F-4.
Twitter, including some former players and current recruits having some fun with it, had plenty to say about the Tigers at 11-1:
Proud to be a part of @ClemsonFB where Coach Swinney cares more about the development of men than the numbers on a scoreboard. Win with class, lose with class...Either way, honor God, respect others, & be #ALLIN

— Dalton Freeman (@D_Freeman55) November 26, 2017
My shocked face that South Carolina fans are throwing things on the field pic.twitter.com/CqCYfIWyhj

— Michael Palmer (@MGPalms) November 26, 2017
"#TheyWerentMuchBetterThanUs #NeverAgain" pic.twitter.com/ub0qv1UN3c

— Ben Boulware (@benboulware7) November 26, 2017
Always has & always will be the little brother. pic.twitter.com/2Zq3SCPpTA

— Ben Boulware (@benboulware7) November 26, 2017
NeVEr aGaiN!?????? pic.twitter.com/zxbLqIOfCe

— Mike Jones Jr (@_mjones24) November 26, 2017
Them boys wasn't dancing tonight ???????? #SorryNotSorry https://t.co/C4tWlZ3dou

— Xavier Thomas (@atxlete) November 26, 2017
Y'all get it yet ??? ?????? pic.twitter.com/BEPn7kqSuG

— Xavier Thomas (@atxlete) November 26, 2017
I almost feel bad for beating up on our little brothers down in Columbia but we have to teach them who runs the state #Clemson???????????

— Artavis Scott (@ArtavisScott) November 26, 2017
Here you go Carolina .. I just got it from target ...but ??you can have it #ClemsonvsUSC pic.twitter.com/uHbm6xBsO6

— Ricky Sapp (@Sapp91) November 26, 2017
Clemson- when healthy I think they are the best team in country, Kelly Bryant throwing will Be the key as they look to beat Miami, Defensive from is most talented even though they don't always play the best

— Booger (@ESPNBooger) November 26, 2017
My top 4 as of today
1 Clemson
2 Oklahoma
3 Auburn
4 Wisconsin

As always I really enjoy the interaction with u guys Championship week is gonna be fun

— Booger (@ESPNBooger) November 26, 2017
When you look at Clemson's wins, there is absolutely a scenario where they lose to Miami and still get in. They'd probably be ahead of Bama and Ohio State.

— Dan Wolken (@DanWolken) November 26, 2017
My top 10:
1. Oklahoma
2. Clemson
3. Auburn
4. Wisconsin
5. Georgia
6. Alabama
7. Miami
8. Ohio State
9. USC
10. Penn State

— Mark Schlabach (@Mark_Schlabach) November 26, 2017
Final regular season #DKtop8

1. Wisconsin (earned it)
2. Oklahoma (best player)
3. Clemson (strong finish)
4. Auburn (best team)
5. UCF (can't get respect)
6. Bama (down year)
7. UGa (win and in)
8. Ohio St (whodunnit?!?!)

— Danny Kanell (@dannykanell) November 26, 2017
1. Clemson
2. Auburn
3. Oklahoma
4. Wisconsin
Also in control of own destiny:
Miami
Georgia#CFP

— Mike Greenberg (@Espngreeny) November 26, 2017
My top 4 w/ 1 week left
1-@AuburnFootball
2-@ClemsonFB
3-@OU_Football
4-@FootballUGA
Next 4@BadgerFootball (Best OSU & you're in
@AlabamaFTBL (Need a lot of help to have a chance)@CanesFootball (Despite loss-beat Clem & in)@OhioStateFB (Beat Wis debate w/ Bama/ ACC loser

— Kirk Herbstreit (@KirkHerbstreit) November 26, 2017
Here's how to arrive at this Top 6:

• Let's ignore the head-to-head Clemson win
• Ignore Auburn's TWO losses
• Ignore UGA's 23-point loss
• Ignore Wisconsin being undefeated
• And STILL give Alabama credit on brand alone pic.twitter.com/pzkBC6u0AW

— Pick Six Previews (@PickSixPreviews) November 26, 2017
He scored a 61-yd touchdown AND won at rock, paper, scissors...

Hunter Renfrow, ladies and gentlemen. pic.twitter.com/blIYmmk8Qm

— Clemson Football (@ClemsonFB) November 26, 2017
That Hunter Renfrow is going to have to put that accounting career on the back-burner for a while. He's got some pro ball to play. #clemson #nfl

— Charlie Whitehurst (@cwhitey6) November 26, 2017