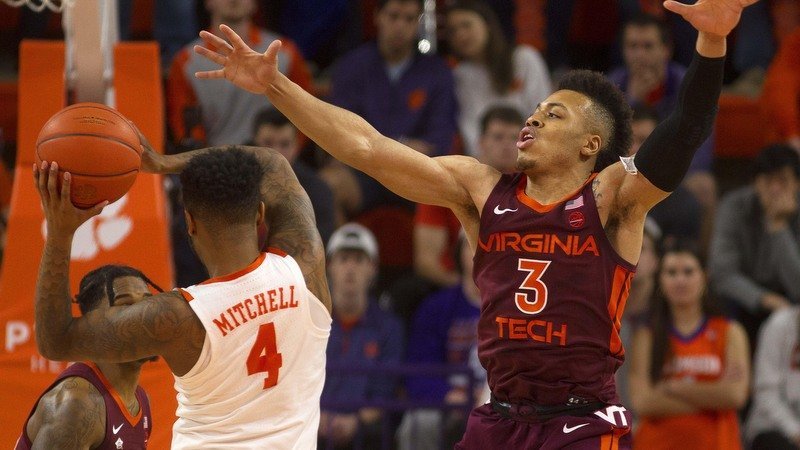 | | |
| --- | --- |
| Four in a row: Mitchell scores 22 as Tigers knock off No. 11 Virginia Tech | |
---
| | | |
| --- | --- | --- |
| Saturday, February 9, 2019, 2:13 PM | | |
CLEMSON – Virginia Tech's second-half cold streak enabled Clemson to maintain its hot streak.
The No. 11 Hokies went over eight minutes without a field goal late in the second half, and Clemson's Shelton Mitchell scored a game-high 22 points as the Tigers won their fourth consecutive ACC contest in a 59-51 victory Saturday afternoon at Littlejohn Coliseum.
Clemson improves to 15-8 overall and 5-5 in the ACC (after a 1-5 start), while Virginia Tech loses consecutive games for the first time all season and falls to 18-5 overall and 7-4 in the league.
Mitchell also set a career-high in 3-pointers, hitting 5-9 from beyond the arc. Marcquise Reed scored 15 as the only other Tiger in double figures, but Elijah Thomas tied his career-high (set earlier this week) with seven blocks. The win ends a four-game losing streak to the Hokies. The Hokies shot a meager 28.3% from the field (15-53).
"It's been a great week for our team and we obviously capped it off with a good performance today," head coach Brad Brownell said. "I really thought Shelton Mitchell was a difference maker, especially early shooting the ball. That really helped us. Defensively, I thought our guys did a really good job. I thought we were a little bit tired and had a couple of guys that weren't feeling great and we gutted it out. They are hard to play against on both ends and our guys hung in there and battled today and I thought our first shot defense was good. Just really pleased with the way our team played today."
Mitchell said extra practice has been key for him.
"I've been getting in a lot of extra reps, more than I have, ever, probably. I've always shot a lot but I've doubled that up and am just shooting even more," Mitchell said. "The more reps I get the more comfortable I feel shooting. This was a big win. This was our third game in six days, and to sweep the whole week and close it out against a team like Virginia Tech and hold them to 51 points feels good."
Virginia Tech head coach Buzz Williams said the Tigers were prepared for the Hokie offense.
"All credit to coach (Brownell) and their program and their staff. I thought they defended us really well," Williams said. "You could tell that they were prepared for all of the different things that we tried to do. They are arguably the hottest team in the league. They are playing at a very high level. Maybe their record indicated they started out slow, but they also played some of the best teams in the country."
Clemson and Virginia Tech got off to a sloppy start in the second half going a combined 3-of-13 from the field.
After a Mitchell layup, Clemson led the Hokies 39-34 with 14:42 to play, but with Reed, Simms, and Thomas all on the bench with three fouls, Virginia Tech went on a 6-2 run over the next three minutes to cut Clemson's lead to 41-40 with just over 11 minutes remaining.
Reed responded with a three in the corner, beginning a 12-4 run by Clemson that saw freshman Hunter Tyson, Reed and David Skara hit threes, giving Clemson a 53-44 lead with 3:05 to play.
Nickeil Alexander-Walker and Kerry Blackshear, Jr. each hit a pair of free throws to cut Clemson's lead to 53-48 with just over two minutes to play.
The Tigers got big free throws from Mitchel and Reed down the stretch, and the Hokies went eight minutes without a field goal as the Tigers pulled away for the eight-point win.
Mitchell on offense and Thomas on defense were a lethal combination for the Tigers in the first half.
Mitchell was five-of-six from beyond the arc and had 18 points, while Thomas had five blocks – giving 13 over the last three games- on the defensive end. The Tigers made seven three-pointers in the half. Virginia Tech had only given up seven threes in its previous two games combined.
Clemson started the game 0-for-5 but played great defense from the outset holding the Hokies to just five points.
Thomas got the Tigers going with a jump hook in the lane. Mitchell followed with a falling-down three from the left wing and foul to spark a 14-0 run by the Tigers, including 12 points – three from beyond the arc – from Mitchell to give Clemson a 14-5 lead.
Clemson turned the ball over twice aiding Virginia Tech in an 8-0 run to cut the Tigers' lead to 16-13 with 11:09 to play in the first half.
Threes by Simms and Mitchell opened Clemson's lead to 22-15 with 7:39 to play in the half but Virginia Tech would cut the lead to just one at 22-21 with back-to-back threes of its own.
The Hokies and Tigers paced each other over the final six minutes of the half as the Tigers went to the locker room with a 33-29 lead.
The Tigers face a rough stretch over the next two games, traveling to Miami on Wednesday and Louisville next Saturday. Clemson doesn't return home until Feb. 19th against Florida St.