---
| | | |
| --- | --- | --- |
| Thursday, September 19, 2013, 8:04 AM | | |
Thursday Thoughts
Good Times and Bad Times Don't Last Forever
I am absolutely enjoying the positive publicity Clemson is receiving this football season.  You can't turn on a TV and watch ESPN or any other major network without having Clemson come up.
This certainly beats the alternative.  It wasn't too long ago the shoe was on the other foot.  The hot seat has moved away from Clemson and is now at other power houses.  Clemson has been replaced with Texas, Southern Cal and Nebraska.  
My advice is to enjoy this while it lasts.  This kind of success is not here to stay.  I do believe the football program is in great shape and the future is very bright.  But I also know that nothing lasts forever.  Alabama is on top now, but that won't always be the case.  Southern Cal looked unstoppable during Pete Carroll's days but the Trojans are not even close to that status today.  Nebraska won two national titles with Tommie Frazier at quarterback but seem a million miles away from their next title.
So I am going to enjoy every bit of this success and all of the spoils that come with it.
Famous Jameis
I watched FSU for most of its first two games and I am very impressed.  Jameis Winston is a phenom at quarterback.  The running backs were already excellent, but coaches have moved Karlos Williams there and now the team looks loaded at the position.  The Seminoles have a good offensive line, a very good tight end and a deep corps of receivers.  In fact, I think FSU may be better than Georgia on offense.
Maryland Improved Thursday Thoughts
Speaking of offense, Maryland looks like one of the nation's most improved teams.  The Terps are better at their skill positions with the return of C.J. Brown at quarterback and terrific wide outs like Stephon Diggs and Deon Long.  This is a team that could be a factor in the Atlantic Division.
Basketball Magazines
I am enjoying this football season but was disturbed to see the basketball preview magazines that came out this week.  The two I read had Clemson ranked 14th in the 15-team ACC.  
Sammy
I keep waiting for Sammy Watkins
Sammy Watkins
Jr. Wide Receiver
#2 6-1, 205
Fort Myers, FL
View Full Profile to break out again and think Thursday night is a great opportunity for him.  One thing to watch, though, is the way teams will play Watkins.  Defenses have often decided to not let Watkins beat them deep.  I look for more of the same with NC State.
Grobe
Remember when Jim Grobe had Wake Forest rolling?  That also seems like a million miles ago.  Wake Forest might be the worst team in the ACC this season.  The loss at Boston College was followed up with a home loss to Louisiana-Monroe.  Is Grobe on the hot seat?
Soccer
Congrats to Mike Noonan and the Clemson men's soccer team.  The Tigers are undefeated and ranked fourth in the country this week.  Noonan has worked hard to rebuild this program and is excited to have so much depth and balance in this year's squad.  It's great to have two top five teams at Clemson this fall.
Doug Kingsmore
I got a chance to ride by the baseball stadium this week.  They have made great progress on the new surface.  
GameDay
ESPN GameDay heads to North Dakota this week and they will be present for an FCS game for only the second time ever.  I wonder how the atmosphere will compare to what the crew saw in Clemson a few weeks ago?
Snap Total
The best part of the SC State game was the number of reserves that played a high snap total.  Here is a look at several reserves and the numbers of snaps they played against SC State:
QB-Stoudt 32, Kelly 11, Schuessler 7
RB-Brooks 13, Davidson 37, Howard 26
WR-Green 28, Hopper 51, Humphries 34, Rodriquez 8, Williams 33
TE-Cooper 16, Leggett 21, McCullough 18
OL-Anthony 43, Battle 52, Davis 32, Destefano 58, Guillermo 57, Jones 9, MacLain 35, Region 7
DL-Aiken 19, Byers 26, Dodd 23, Gore 7, Lawson 29, Reader 33
LB-Boulware 24, Burrell 32, Jones 33, Steward 11
DB-Jenkins 23, Johnson 26, Jones 13, Kearse 21
The Brad Hughes All-State Insurance Agency
Prayer List
We have started a prayer list on the blog.  Here are the guidelines:
If you are offended by prayer or prayer lists then I apologize in advance.  The blog is free and the prayer list will be on the bottom of the page so you don't have to read it.
If you would like to add someone to the list please email me at mickeyplyler@hotmail.com
*Please let me know when it is appropriate to take the person off of the prayer list.
Those who need our prayers include: Finn Brookover, Jo Ann Bachman, Kenneth Bryant, Pruitt Martin, Got Igers and his family, David Rowland, Leonard, Gillespie and his family, Jim S., Daniel Rosborough, the Huffman family, Nancy Winkler, John Reeve, Vinnie Brock, Kaitlyn L., Susan Miller, Joyce Harley, Steve Proveaux, Jeffrey Greene, the Hutto family, Sherl Drawdy, Caleb Kennedy, Teresa O'Connor, Matt Jacobs, Perrin Seigler, Candee Massee, Lindsey Jordan, Sam Catoe, Tyler Felch, the Nicolopulos family, "the Jacksonville, FL guys," Kim Sims, the Coyle family, Ryleigh Tedder, Steve Lee, Kelly Trakas, Jimmy Moore, the Thomas V. Family, Emary Claire Young, Kitty Bowers, Julie Locke, the Scheider family, Lauren Kittles' family, Frank Gentry, Joyce Bussey, Stacey McKeown, Dale Childs, Larry Lentz, Jr., Carl Sharperson, Scott Hannon, William Perry, Tyler Swaney, Lillian, Mark Feit, David Frame, Chad Berry, the family of Matthew M. Watson, the Dowis family, Shervin Messer, Alan Putnam, the Olivers, Lee Tate, Ronnie Abrams, Eddie Greene, the Jackson family, Bill Vader, Jim Taylor, Tina DeWitt, Rock Horne, Christopher Tuten, Bobby Wayne Thomas, Emma and Danielle Carothers, Robert Ditty, Mr. and Mrs. Murray Smith, Dot Cartee, Ayden Mills, Millie Heatley, Lynn Martin and family, Michael Pinson, Jake David family, Angie Crowley, Ira, Mike Tolson, Poly Wells, Dr. Muriel Bishop, Jack Cunningham, Emily Jefford Meister, Zachary Stoller, Aaron Clackum, Pat James, Cortney Moore, William Moore, Angelia and Savannah Anderson, William Ross, Meredith Legg, Scott Johns, Frank Carroll, Brandon Thompson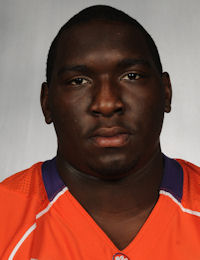 Brandon Thompson
Defensive Tackle
#98 6-2, 310
Thomasville, GA
View Full Profile , Alvin Sammons, Georgine McAlhaney, Glen Davis, Mike Price, Clay Childers, Aaron Knight, Danielle Johnston and family, Nicholas Abrams, Lana Kuykendall, Gary, Gary G., William Huggins, Jim Bennett, Chantz Fowler, Ethel McElveen, Michele Gurganus, William Gentry, Lewis Usher and Tanya Sanders,  Shon Cooper, Nick Collins, Amanda Peake, Danny Hammond, Chip Turner, Nick Collins, Allen Steen, the Sturkey Family, the Lance family, Nick Chrisley's family, Allison Williams, Lt. Kyle Walker, Summer and Joel Johnson, Nicole O'Donnell, James O. Johnson, Joy Pruett and family, Bill Schmidt, Jack Bailey, the Gardner family, Charles Turner, Kathy Bartholomew, Ray Sanders, David and Robin Blocker, J.R. Ray, Kenneth Kowe, Lauren Sielicki, Doug Bailey and family, Jenna Phipps, Mark Lawrence, Harlan Sullins, Peter Laboy, Kat and Carlisle Jones, Elizabeth Galloway and family, Anita McDonald, Willard Harryman, Liz Surratt, Molly Senn, Jackie Shearer, Richard Sellers, Tim Drisdelle, Edward Easterling, Dawson Bourne, Susan and Mike Brown, Julie Goodman Marshall, Willard and Dorothy Harryman, Justin Jernigan, Jack  Cunningham,  Mia Daughtery, Tee Senn, Jim Lanier, and our great country and the men and women in uniform that protect and serve it every day, plus their families.