---
| | | |
| --- | --- | --- |
| Thursday, October 11, 2012, 12:51 PM | | |
Thursday Thoughts
Terry
Clemson brought in Georgia commitment Tramel Terry this past weekend for an official visit. The athlete from Goose Creek, SC is rated as the state's fourth best prospect. Terrry committed to Georgia as a junior but de-committted soon after. He recommitted to the Dawgs again this spring but Clemson continued to recruit him and the Tigers now have a chance after a very good official visit. Terry is being recruited as an athlete by the Tigers but can play running back, wide receiver or cornerback. Clemson running back coach Tony Elliott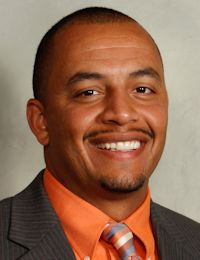 Tony Elliott
Assistant Coach / Running Backs
View Full Profile has done a terrific job of keeping the Tigers in the game here and now could be his position coach in January when Terry becomes an early enrollee.
Dabo's Response
This week Steve Spurrier was at it again when asked the Gamecocks trip to LSU this weekend. "Most our players have never been to Death Valley," Spurrier joked. "That is the Death Valley isn't it? Is there another one around?"
Dabo Swinney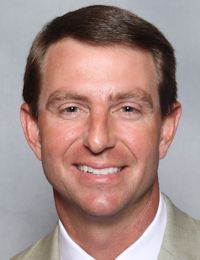 Dabo Swinney
Head Coach
View Full Profile was asked about Spurrier's comments following Clemson's Wednesday practice. "I heard about that. It's amazing people are interested in Clemson so much," Swinney said. "For the record, the original Death Valley is right here. In case anybody has any doubts, its right here. That's the original Death Valley. I am pretty sure that is accurate, but I can see where he might have a little confusion. Our guys have never been to USC. California is a long way from here. I can see where there might be a little confusion there – two Death Valleys and two USC's, but there is only one real one. That is classic Spurrier. When he is winning, he will say anything he wants."
My take is this is typical Spurrier and Dabo. Spurrier is going to get little jabs in when he can and his team is winning right now. But Dabo has enough pride in his program and he will defend it.
Much will be made of this but I think you have to consider the audience. Spurrier was speaking to reporters but he was talking to his fan base. Fans eat this stuff up. When Dabo answered, he was speaking for his audience or his fan base. No big surprises here but it is pretty fun. At least it beats the Sparky Woods and Ken Hatfield days.
Sammy
I think Sammy Watkins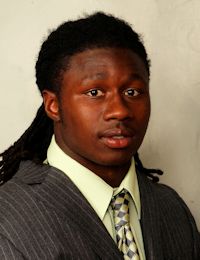 Sammy Watkins
So. Wide Receiver
#2 6-1, 205
Fort Myers, FL
View Full Profile will really benefit from an open date this week. Sammy looks a little under weight and looked a little tired last week. I think we may see a re-energized Sammy in the second half of the season. I also think we will see Clemson utilize him down the field more often in the second half. Look for a second half explosion from Sammy.
Swoffy
I seldom turn down a chance to take a swipe at ACC commissioner John Swofford and today is no different. The ACC is getting pounded in the media and rightfully so. Virginia Tech, Georgia Tech and Virginia are disappointments so far. Miami has been pounded out of conference. NC State lost to Tennessee. Boston College is awful.
Granted much of the blame can't go directly to Swofford but he made a grave mistake last year. Swofford and the presidents of the ACC had a chance to invite West Virginia who was begging to get into the ACC. Instead Swofford and crew turned down WVU and instead eventually invited Pittsburgh and Syracuse. The Panthers and Orange are two bad teams again this season while the Mountaineers are ranked in the top five in the country and have the nation's leading Heisman candidate. My guess is that Swofford and the ACC would not be taking a beating if they had a top five team and three teams in the top 13 in the country.
Streaks
Danny Ford owned North Carolina but had his troubles with NC State. Tommy Bowden dominated South Carolina but had trouble with Boston College. When Dabo Swinney took over Clemson had spent a few years struggling with the Eagles, Wake Forest and Maryland but that is not the case now. His nemesis has been South Carolina.
To be fair, Boston College is a shell of the team Bowden used to face but South Carolina is better the last three years than they have been ever been. I think you have to look at the strength of each team each year, not the program.
Community Support
I want to thank everyone for their support of the Ryan Harless Foundation. We hope to see you Monday at Carolina Springs Golf Club for our kick off party from 7-10 pm. Tune in to WCCP all day as we broadcast from the 100-hole golf marathon and have some really cool Clemson auction items. For more information check us out at www.ryanharlessfoundation.com.
I just wanted to leave you with something pretty cool. I have said the past few days that if you want to feel bad about our world, our country or our state then turn on the news or read a newspaper. But if you want to feel good about people, follow me around the last six weeks. I have asked a bunch of people to help our cause and no one has said no. Many people ask how they can help even more.
There are so many good people out there. I have met so many great people during this process. This has once again renewed my faith in people. Thanks for your support.
The Brad Hughes All-State Insurance Agency
Prayer List
We have started a prayer list on the blog. Here are the guidelines:
If you are offended by prayer or prayer lists then I apologize in advance. The blog is free and the prayer list will be on the bottom of the page so you don't have to read it.
If you would like to add someone to the list please email me at mickeyplyler@hotmail.com
*Please let me know when it is appropriate to take the person off of the prayer list.
Those who need our prayers include:Finn Brookover, Mary-Louise Pawlowski (John's daughter), Jo Ann Bachman, Kenneth Bryant, Pruitt Martin, Got igers and his family, David Rowland, Leonard, Gillespie and his family, Jim S, Daniel Rosborough, The Huffman family, Nancy Winkler, John Reeve, Ethel Southard, Vinnie Brock, Kaitlyn L, Susan Miller, Joyce Harley, Steve Proveaux, Jeffrey Greene, the Hutto family, Sherl Drawdy, Caleb Kennedy, Teresa O'Connor, Matt Jacobs,Perrin Seigler, Candee Massee, Lindsey Jordan, Sam Catoe, Tyler Felch, the Nicolopulos family, "the Jacksonville, FL guys", Kim Sims, the Coyle family, Ryleigh Tedder, Steve Lee, Kelly Trakas, Jimmy Moore, the Thomas. V Family, Emary Claire Young, Kitty Bowers,Julie Locke, the Scheider family, Lauren Kittles' family, Frank Gentry, Joyce Bussey, Stacey McKeown, Dale Childs, Larry Lentz, Jr, Carl Sharperson, Scott Hannon, William Perry, Tyler Swaney, Lillian, Mark Feit, David Frame, Chad Berry, the family of Matthew M. Watson, the Dowis family, Shervin Messer, Alan Putnam, the Olivers, Lee Tate, Ronnie Abrams, Eddie Greene, the Jackson family, Bill Vader, Jim Taylor, Tina DeWitt, Rock Horne, Christopher Tuten, Bobby Wayne Thomas, Emma and Danielle Carothers, Robert Ditty, Mr. and Mrs. Murray Smith, Dot Cartee, Ayden Mills, Millie Heatley, Lynn Martin and family, Michael Pinson, Jake David family, Angie Crowley, Ira, Mike Tolson, Poly Wells, Dr. Muriel Bishop, Jack Cunningham, Emily Jefford Meister, Zachary Stoller, Aaron Clackum, Pat James, Cortney Moore, William Moore, Angelia and Savannah Anderson, William Ross, Meredith Legg, Scott Johns, Frank Carroll, Brandon Thompson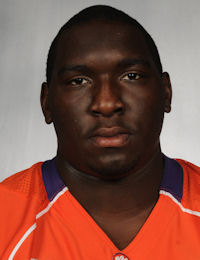 Brandon Thompson
Defensive Tackle
#98 6-2, 310
Thomasville, GA
View Full Profile , Alvin Sammons, Georgine McAlhaney, Glen Davis, Mike Price, Clay Childers, Aaron Knight, Danielle Johnston and family, Nicholas Abrams, Lana Kuykendall, Gary, Billy McLeroy, Gary G., William Huggins, Jim Bennett, Chantz Fowler, Ethel McElveen, Michele Gurganus, William Gentry, Lewis Usher and Tanya Sanders, Shon Cooper, Nick Collins, Travis Patterson, Nick Chrisley, Bud Long, Arthur R. Cressman Sr, Jennifer Chancy, Eden Chandler, Amanda Peake, Danny Hammond, Chip Turner, Nick Collins.

Upgrade Your Account
Unlock premium boards and exclusive features (e.g. ad-free) by upgrading your account today.
Upgrade Now