| | |
| --- | --- |
| So Long, Ole Miss and OSU | |
---
| | | |
| --- | --- | --- |
| Thursday, July 19, 2012, 10:33 AM | | |
So Long, Ole Miss and OSU
I remember the day I heard Clemson had signed to play a home and home series with Ole Miss. It was a few years ago and I was excited because I had always kinda liked Ole Miss. I liked the stripes on the jerseys. I liked the blue jerseys with grey pants but really loved the red ones. I always like the old Col. Reb mascot on the helmets much more than the current script Ole Miss.
There was something about Ole Miss that I was intrigued about even though I have never been to a game in Oxford.
OK. I will admit that really I was really looking forward to going to the Grove and checking out the great tailgating scene.
I was pretty excited too about the Oklahoma State series too but less excited because I knew less about the Cowboys, their facilities and their traditions. The main reason I was not as geeked up about a trip to Stillwater was that the series was to be played in 2019 and 2020. I just have a hard time thinking that far in advance. Heck, I will be 50 years old before that one would take place.
No worries anymore though. The Ole Miss and Oklahoma series have been cancelled as announced yesterday.
Clemson did save the Georgia series for 2013 and 2014.
"We didn't want to get out of that series," Phillips told the Orange & White. "It's a good series. We did save the Georgia series and that was extremely important. But given the realities of other universities at our level, we need to play seven home games.
"A home-and-home situation, we just can't do it. I hate it. I'd like to keep the series. But reality demands in the long term that we keep seven home games every year, with the Georgia series being the exception."
The reality is that Clemson will always play South Carolina on a rotating basis with the even number years in Clemson and the odd numbered years in Columbia.
The ACC changes to a new nine game schedule in 2013 now that Pittsburgh and Syracuse have gotten out of their contract with the Big East starting next July.
The nine game schedule will obviously present huge issues. First is the fact that schools will get five home conference games one year and four home conference games the next season. The competitive balance of that is difficult because it is safe to assume that the teams with five home conference games would have an advantage over the schools with only four.
The other problem it presents is revenue. Phillips is correct when he says schools at this level have to have seven home games. The revenue from home games is a major part of the budget at these types of athletic programs. A seventh home game allows athletic departments to pay the bills. Without a seventh game each year budgets have to be slashed and perhaps some sports would have to be dropped.
Olympic sport coaches understand that if not for football, there would be no volleyball, swimming, track, etc. Football pays the bills of other sports.
On the years where Clemson has only four home conference games the school cannot afford to have another road game which could be the case in some years. It is sad but Clemson athletics would have major budget issues if they had several years where they had only six home football games.
This is a shame but it is where things stand. Almost every Clemson fan I know would much rather go to Oxford, MS or Stillwater, OK than to travel to Pittsburgh, PA or Syracuse, NY. Clemson people have much more in common with the Ole Miss faithful than Pittsburgh or Syracuse fans. Oxford is a much better draw than those Big East schools.
There are three major flaws in the expansion that took place with John Swofford at the helm. First, Pittsburgh and Syracuse make no sense geographically. We have seen how Boston College is not a good fit so we went and added Pittsburgh and Syracuse?
Second is the fact that neither are football schools. Swofford and his people made an expansion move with basketball in mind despite football being the only reason any conference would expand in today's environment.
Every other expansion move so far was a football decision. Every other conference in the country upgraded football first with their expansion. However, Sowfford and his people went with Pittsburgh and Syracuse.
Finally, this expansion is a loser because of the nine game schedule. Nine games does not hurt schools that have their arch rival already in their conference. Virginia Tech has Virginia. UNC has Duke or NC State. But it really hurts FSU (Florida), Georgia Tech (Georgia) and Clemson (South Carolina). Those three schools have to schedule home and home games with their arch rivals and this takes away an opportunity to have a major opponent come in because each needs seven home games and can't afford another home and home series.
So Clemson fans can add another negative example of poor leadership in the Atlantic Coast Conference offices. It was John Swofford who killed the series with Ole Miss, Oklahoma State and any other potential teams of interests in the future. Thanks again!
The Brad Hughes All-State Insurance Agency
Prayer List
We have started a prayer list on the blog. Here are the guidelines:
If you are offended by prayer or prayer lists then I apologize in advance. The blog is free and the prayer list will be on the bottom of the page so you don't have to read it.
If you would like to add someone to the list please email me at mickeyplyler@hotmail.com
*Please let me know when it is appropriate to take the person off of the prayer list.
Those who need our prayers include:Finn Brookover, Mary-Louise Pawlowski (John's daughter), Jo Ann Bachman, Kenneth Bryant, Pruitt Martin, Got igers and his family, David Rowland, Leonard, Gillespie and his family, Jim S, Daniel Rosborough, The Huffman family, Nancy Winkler, John Reeve, Ethel Southard, Vinnie Brock, Kaitlyn L, Susan Miller, Joyce Harley, Steve Proveaux, Jeffrey Greene, the Hutto family, Sherl Drawdy, Caleb Kennedy, Teresa O'Connor, Matt Jacobs,Perrin Seigler, Candee Massee, Lindsey Jordan, Sam Catoe, Tyler Felch, the Nicolopulos family, "the Jacksonville, FL guys", Kim Sims, the Coyle family, Ryleigh Tedder, Steve Lee, Kelly Trakas, Jimmy Moore, the Thomas. V Family, Emary Claire Young, Kitty Bowers,Julie Locke, the Scheider family, Lauren Kittles' family, Frank Gentry, Joyce Bussey, Stacey McKeown, Dale Childs, Larry Lentz, Jr, Carl Sharperson, Scott Hannon, William Perry, Tyler Swaney, Lillian, Mark Feit, David Frame, Chad Berry, the family of Matthew M. Watson, the Dowis family, Shervin Messer, Alan Putnam, the Olivers, Lee Tate, Ronnie Abrams, Eddie Greene, the Jackson family, Bill Vader, Jim Taylor, Tina DeWitt, Rock Horne, Christopher Tuten, Bobby Wayne Thomas, Emma and Danielle Carothers, Robert Ditty, Mr. and Mrs. Murray Smith, Dot Cartee, Ayden Mills, Millie Heatley, Lynn Martin and family, Michael Pinson, Jake David family, Angie Crowley, Ira, Mike Tolson, Poly Wells, Dr. Muriel Bishop, Jack Cunningham, Emily Jefford Meister, Zachary Stoller, Aaron Clackum, Pat James, Cortney Moore, William Moore, Angelia and Savannah Anderson, William Ross, Meredith Legg, Scott Johns, Frank Carroll, Brandon Thompson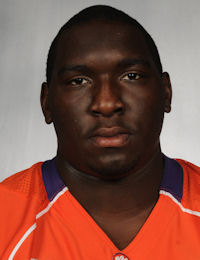 Brandon Thompson
Defensive Tackle
#98 6-2, 310
Thomasville, GA
View Full Profile , Alvin Sammons, Georgine McAlhaney, Glen Davis, Mike Price, Clay Childers, Aaron Knight, Danielle Johnston and family, Nicholas Abrams, Lana Kuykendall, Gary, Billy McLeroy, Gary G., William Huggins, Jim Bennett, Chantz Fowler.

Upgrade Your Account
Unlock premium boards and exclusive features (e.g. ad-free) by upgrading your account today.
Upgrade Now