---
| | | |
| --- | --- | --- |
| Thursday, May 16, 2013, 11:15 AM | | |
Recruiting-Defense
College football coaches are out this month hitting the recruiting trail once again and Clemson's staff is no different. The Tigers' staff has a different situation this year though because they have to be very selective in who they offer due to lack of scholarships.
At this point Clemson is expected to sign around 15 players next February. Clemson has only nine scholarship seniors this year including Tajh Boyd, Rod McDowell, Darrell Smith, Brandon Thomas, Tyler Shatley, Quandon Christian, Spencer Shuey, Darius Robinson and Chandler Catanzaro. Many believe Sammy Watkins could leave school after his junior season, if he returns to the form of his freshman season and attrition almost always hits, so that number is expected to rise.
So far this year Clemson has five verbal commitments but that number could grow in the next few weeks. Yesterday we took a look at the offense. Here is a quick breakdown of the class on the defensive side of the ball at this point:
Defensive End
Like several positions on defense, Clemson is limited in scholarship numbers at defensive end. In fact, they don't have a senior at defensive end this season, so if they sign a defensive end it would be an over sign.
According to Ryan Bartow of tigerilliustrated.com on my radio show yesterday, Clemson is still recruiting some of the top defensive ends in the country. Andrew Williams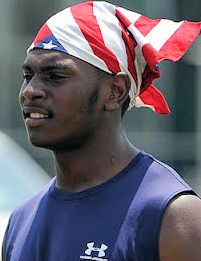 Andrew Williams
Defensive End
6-4, 240
McDonough, GA
View Full Profile McDonough, GA may be at the top of the staff's board. This four-star prospect has Clemson high on his list as well with Notre Dame also being a major factor.Recruiting-Defense
Rick Leonard of Middleton, MD is an intriguing prospect because he has just taken up the game but is loaded with potential. This three-star prospect currently favors Clemson and Maryland.
Lorenzo Featherston of Greensboro, NC is another of the top defensive ends in the South. This four-star prospect has offers from most of the powers in the South as they like his 6-7 frame.
Defensive Tackle
The state of South Carolina is loaded with defensive tackles in this upcoming cycle but unfortunately Clemson does not room to take more than one, if that many. Like defensive ends, Clemson does not have a senior at defensive tackle this season and the numbers are tight at this position.
Perhaps the top defensive tackle in the state is Dexter Wideman

Dexter Wideman
Defensive Tackle
6-4, 275
Saluda, SC
View Full Profile of Saluda, SC. I have seen this four-star athlete play as a sophomore and loved his athleticism. I loved the way he moved his feet and I called him the top sophomore defensive lineman I saw two years ago.
Zeek Rodney

Zeek Rodney
Defensive Tackle
6-1, 265
Rockhill, SC
View Full Profile of Rock Hill, SC is a tackling machine. This is a player that reminds some of Clemson defensive tackle Grady Jarrett because he knows how to be productive using his leverage.
Linebacker
The Tigers will be able to take two or three linebackers in this class. They will lose Spencer Shuey and Quandon Christian next season, so there are two or three spots available here.
I have seen Kendall Joseph

Kendall Joseph
Linebacker
6-1, 230
Belton-Honea Path,
View Full Profile of Belton, SC play many times in his career. This is an active linebacker that makes a ton of plays between the tackles. Joseph could pull the trigger in the next month or so and some think Clemson is in good shape here.
Chris Register
Chris Register
Outside Linebacker
6-4, 210
Greensboro, NC
View Full Profile of Greensboro, NC is another top-ranked prospect in a loaded year in North Carolina. Clemson offered early and this is a main reason Clemson has staying power for this four-star prospect.
Korie Rogers
Korie Rogers
Outside Linebacker
6-2, 200
Buford, GA
View Full Profile of Buford, GA is one of the South's top linebackers. This four-star prospect has the Tigers in his top two or three.
Richard Yeargin

Richard Yeargin
Outside Linebacker
6-4, 225
Fort Lauderdale, FL
View Full Profile
Richard Yeargin
Outside Linebacker
6-4, 225
Fort Lauderdale, FL
View Full Profile III of Ft. Lauderdale, FL is yet another four-star prospect that is high on Clemson. Brent Venables
Brent Venables
Defensive Coordinator / Linebackers
View Full Profile was recruiting Yeargin when he was at Oklahoma and the South Florida linebacker is close to Clemson's defensive coordinator.
Raekwon McMillan
Raekwon McMillan
Linebacker
6-3, 235
Hinesville, GA
View Full Profile of Hinesville, GA is perhaps the highest rated linebacker on Clemson's board. This four-star prospect has been to Clemson on several occasions and really like the Tiger's staff. However, holding off Ohio State, Georgia and Alabama could be tough.
Secondary
Clemson signed eight defensive backs last season and only loses Darius Robinson this year. Therefore the Tigers will be selective in offers to the defensive backs on their board as they will likely take only one cornerback.
Two four-star corners from the Atlanta area are near the top of the board. Wesley Green

Wesley Green
Cornerback
5-11, 170
Lithonia, GA
View Full Profile of Lithonia, GA and DJ Smith Marietta, GA have Clemson offers and are interested in the Tigers. Qua Searcy of Barnsville, GA is a third Peach State corner prospect that has a Clemson offer.
Kicker
Unfortunately Clemson loses one of the nation's top kickers after this season when Chandler Catanzaro graduates. According to Bartow, Alex Spence of West Florence High School in Florence, SC is one of the nation's top kickers and the Clemson staff has already seen him this spring. Spence is scheduled to attend camp at Clemson this summer and could leave with an offer.
The Brad Hughes All-State Insurance Agency
Prayer List
We have started a prayer list on the blog. Here are the guidelines:
If you are offended by prayer or prayer lists then I apologize in advance. The blog is free and the prayer list will be on the bottom of the page so you don't have to read it.
If you would like to add someone to the list please email me at mickeyplyler@hotmail.com
*Please let me know when it is appropriate to take the person off of the prayer list.
Those who need our prayers include: Finn Brookover, Jo Ann Bachman, Kenneth Bryant, Pruitt Martin, Got igers and his family, David Rowland, Leonard, Gillespie and his family, Jim S, Daniel Rosborough, The Huffman family, Nancy Winkler, John Reeve, Vinnie Brock, Kaitlyn L, Susan Miller, Joyce Harley, Steve Proveaux, Jeffrey Greene, the Hutto family, Sherl Drawdy, Caleb Kennedy, Teresa O'Connor, Matt Jacobs,Perrin Seigler, Candee Massee, Lindsey Jordan, Sam Catoe, Tyler Felch, the Nicolopulos family, "the Jacksonville, FL guys", Kim Sims, the Coyle family, Ryleigh Tedder, Steve Lee, Kelly Trakas, Jimmy Moore, the Thomas. V Family, Emary Claire Young, Kitty Bowers,Julie Locke, the Scheider family, Lauren Kittles' family, Frank Gentry, Joyce Bussey, Stacey McKeown, Dale Childs, Larry Lentz, Jr, Carl Sharperson, Scott Hannon, William Perry, Tyler Swaney, Lillian, Mark Feit, David Frame, Chad Berry, the family of Matthew M. Watson, the Dowis family, Shervin Messer, Alan Putnam, the Olivers, Lee Tate, Ronnie Abrams, Eddie Greene, the Jackson family, Bill Vader, Jim Taylor, Tina DeWitt, Rock Horne, Christopher Tuten, Bobby Wayne Thomas, Emma and Danielle Carothers, Robert Ditty, Mr. and Mrs. Murray Smith, Dot Cartee, Ayden Mills, Millie Heatley, Lynn Martin and family, Michael Pinson, Jake David family, Angie Crowley, Ira, Mike Tolson, Poly Wells, Dr. Muriel Bishop, Jack Cunningham, Emily Jefford Meister, Zachary Stoller, Aaron Clackum, Pat James, Cortney Moore, William Moore, Angelia and Savannah Anderson, William Ross, Meredith Legg, Scott Johns, Frank Carroll, Brandon Thompson, Alvin Sammons, Georgine McAlhaney, Glen Davis, Mike Price, Clay Childers, Aaron Knight, Danielle Johnston and family, Nicholas Abrams, Lana Kuykendall, Gary, Gary G., William Huggins, Jim Bennett, Chantz Fowler, Ethel McElveen, Michele Gurganus, William Gentry, Lewis Usher and Tanya Sanders, Shon Cooper, Nick Collins, Travis Patterson, Amanda Peake, Danny Hammond, Chip Turner, Nick Collins, Allen Steen, The Sturkey Family, the Lance family, Marcus Lattimore, Nick Chrisley's family, Allison Williams, Lt. Kyle Walker, Summer and Joel Johnson, Nicole O'Donnell, James O. Johnson, Joy Pruett and family, Patrick Heher, Bill Schmidt, Jack Bailey, Bill Early, Gardner Family, Charles Turner, Kathy Bartholomew, Ray Sanders, David and Robin Blocker, J.R. Ray, Kenneth Kowe, Lauren Sielicki, Doug Bailey and family, Johnnie Walker, Jenna Phipps, Mark Lawrence, Harlan Sullins, Peter Laboy, Kat and Carlisle Jones, Elizabeth Galloway and family, Anita McDonald, Willard Harryman, Liz Surratt, Molly Senn, Jackie Shearer, Richard Sellers, our great country and the men and women in uniform that protect and serve it every day plus their families.