| | |
| --- | --- |
| Loaded Wide Receiver Corps | |
---
| | | |
| --- | --- | --- |
| Tuesday, July 24, 2012, 10:36 AM | | |
Loaded Wide Receiver Corps
What can you as about Clemson's wide receivers that hasn't already been said?
You can make a case that this is the best wide receiver unit in the country.
You can make an argument that is is the best wide receiver unit in school history.
It's hard to imagine a group with this much talent and depth.
Sammy Watkins
Sammy Watkins
So. Wide Receiver
#2 6-1, 200
Fort Myers, FL
View Full Profile
We knew Sammy Watkins had high expectations but did anyone expect him to score the first time he touched the football? His score against Troy started perhaps the best freshman season of any player in school history.
Watkins had 82 receptions for 1,219 yards and 12 touchdowns but his influence on the offense was even bigger. The motion package made defenses pay so much attention to Watkins which helped the other parts of the offense prosper.
The South Florida native had several huge games including 10 catches for 155 yards and two touchdowns against Auburn. He had 141 yards and two scores against FSU. In the Maryland game Watkins 8 receptions for 105 yards and two scores but made a bigger impact with two great kickoff returns. In all Watkins scored in nine games a season ago.
What does Watkins do for an encore? Yesterday he tweeted something about turf toe. Will that hinder his progress? How much time will he miss due to his suspension? How will defenses attempt to limit his production?Loaded Wide Receiver Corps
DeAndre Hopkins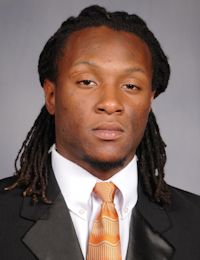 DeAndre Hopkins
Jr. Wide Receiver
#6 6-1, 200
Central, SC
View Full Profile
Hopkins is the perfect compliment to Watkins. He is the possession guy with brilliant hands. As a freshman Hopkins had 51 receptions for 626 yards and four touchdowns. He backed that up with 72 catches for 978 yards and five scores last season.
Last season as defenses tried to stop Watkins, Hopkins excelled. In the final two games of the season Hopkins had 17 receptions for 199 yards.
This spring Hopkins took his game to another level. He improved in the weight room. He also improved his speed and is a much more complete receiver heading into his junior season.
Jaron Brown
Jaron Brown
RS Sr. Wide Receiver
#18 6-2, 200
Cheraw, SC
View Full Profile
There are very few third receivers that are as talented and experienced as Jaron Brown. He has had 31 receptions and 400 yards receiving in each of the previous two seasons. Brown has become more consistent and is now a very good compliment to Watkins and Hopkins. I think Brown becomes a bigger part of the offense since Dwayne Allen
Dwayne Allen
RS Sr. Tight End
#83 6-3, 255
Fayetteville, NC
View Full Profile left for the NFL.
Martavis Bryant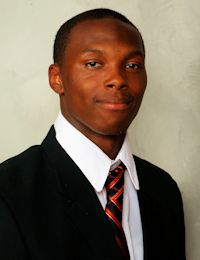 Martavis Bryant
So. Wide Receiver
#1 6-5, 205
Calhoun Falls, SC
View Full Profile
Watkins is the most talented guy in this receiving corps but Bryant might have the biggest upside physically. It is rare to find wide outs with this kind of size that run like Bryant does. As a freshman he only caught six passes for 221 yards and two scores but he showed signs of brilliance and big play capability. Bryant has had a year in the system and should be more comfortable in making the reads and doing the little things more consistently. If he can stay focused and continue to improve, I believe Bryant can play in the NFL for a long time.
Charone Peake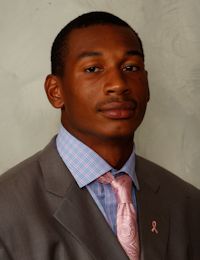 Charone Peake
So. Wide Receiver
#19 6-3, 205
Moore, SC
View Full Profile
I think Charone Peake will make the biggest improvement of all of the wide outs this season. Last year he caught only four passes for 71 yards but a couple of those were vital catches. He also battled injuries a season ago but is healthy and looks ready to burst onto the scene in this offense. Peake is a talent that is physical and can create mismatches in the secondary. Again, I see great things for this talented wide out in 2012.
Adam Humphries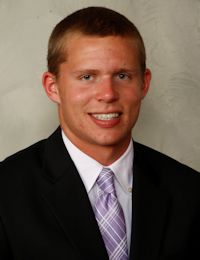 Adam Humphries
So. Wide Receiver
#13 6-0, 190
Spartanburg, SC
View Full Profile
This time last year no one expected Adam Humphries to avoid a red-shirt season. Instead Humphries played a pretty big role in the offense. He was the guy that gave Watkins a few snaps off a game and he played well when given the opportunity. Humphries is a tough receiver who good hands and enough speed to make a few plays. He may never be the focal point of the offense but he is a good player and has a defined role in the offense.
Stanton Seckinger
Seckinger is a lanky receiver prospect with terrific hands. We may see him this season as a tight end on certain sets. He runs better than some thought out of high school but his hands are what gives him a chance to play. It will be interesting to see how his role will expand if he does play more tight end in the future.
Germone Hopper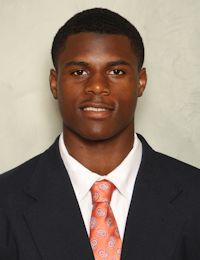 Germone Hopper
Fr. Athlete
# 6-0, 175
Charlotte, NC
View Full Profile
Hopper is the only incoming freshman at this position and he gives the Tigers something completely different in his skill set. This is a terrific open field runner. Hopper can make defenders miss in the open field. He is also a very competitive player that pays close attention to the small details of his assignments. It would be tough for any freshman to break into the rotation because of the talent and depth but Hopper has a chance to compete because of his unique skill set.
In summary this is one of the two best receiving corps in the country in my opinion. Southern Cal is the only other program in the country with this much talent at their receiver positions. It will be interesting to follow the continued development of this electric group of athletes in 2012.
The Brad Hughes All-State Insurance Agency
Prayer List
We have started a prayer list on the blog. Here are the guidelines:
If you are offended by prayer or prayer lists then I apologize in advance. The blog is free and the prayer list will be on the bottom of the page so you don't have to read it.
If you would like to add someone to the list please email me at mickeyplyler@hotmail.com
*Please let me know when it is appropriate to take the person off of the prayer list.
Those who need our prayers include:Finn Brookover, Mary-Louise Pawlowski (John's daughter), Jo Ann Bachman, Kenneth Bryant, Pruitt Martin, Got igers and his family, David Rowland, Leonard, Gillespie and his family, Jim S, Daniel Rosborough, The Huffman family, Nancy Winkler, John Reeve, Ethel Southard, Vinnie Brock, Kaitlyn L, Susan Miller, Joyce Harley, Steve Proveaux, Jeffrey Greene, the Hutto family, Sherl Drawdy, Caleb Kennedy, Teresa O'Connor, Matt Jacobs,Perrin Seigler, Candee Massee, Lindsey Jordan, Sam Catoe, Tyler Felch, the Nicolopulos family, "the Jacksonville, FL guys", Kim Sims, the Coyle family, Ryleigh Tedder, Steve Lee, Kelly Trakas, Jimmy Moore, the Thomas. V Family, Emary Claire Young, Kitty Bowers,Julie Locke, the Scheider family, Lauren Kittles' family, Frank Gentry, Joyce Bussey, Stacey McKeown, Dale Childs, Larry Lentz, Jr, Carl Sharperson, Scott Hannon, William Perry, Tyler Swaney, Lillian, Mark Feit, David Frame, Chad Berry, the family of Matthew M. Watson, the Dowis family, Shervin Messer, Alan Putnam, the Olivers, Lee Tate, Ronnie Abrams, Eddie Greene, the Jackson family, Bill Vader, Jim Taylor, Tina DeWitt, Rock Horne, Christopher Tuten, Bobby Wayne Thomas, Emma and Danielle Carothers, Robert Ditty, Mr. and Mrs. Murray Smith, Dot Cartee, Ayden Mills, Millie Heatley, Lynn Martin and family, Michael Pinson, Jake David family, Angie Crowley, Ira, Mike Tolson, Poly Wells, Dr. Muriel Bishop, Jack Cunningham, Emily Jefford Meister, Zachary Stoller, Aaron Clackum, Pat James, Cortney Moore, William Moore, Angelia and Savannah Anderson, William Ross, Meredith Legg, Scott Johns, Frank Carroll, Brandon Thompson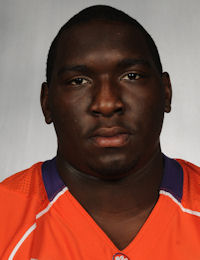 Brandon Thompson
Defensive Tackle
#98 6-2, 310
Thomasville, GA
View Full Profile , Alvin Sammons, Georgine McAlhaney, Glen Davis, Mike Price, Clay Childers, Aaron Knight, Danielle Johnston and family, Nicholas Abrams, Lana Kuykendall, Gary, Billy McLeroy, Gary G., William Huggins, Jim Bennett, Chantz Fowler.