---
| | | |
| --- | --- | --- |
| Thursday, December 27, 2012, 1:58 PM | | |
LSU Preview
LSU enters Monday's Chic-fil-a Bowl with a 10-2 record and ranked seventh in the coaches poll. In my opinion this is the best team Clemson will face this season. LSU is a big, physical football team that is a few points from competing for another national title.
Head Coach Les Miles is a riverboat gambler but he has recruited one of the most talented teams in America and has now won at least ten games in six of his eight seasons in Baton Rouge. The Tigers have won 35 of their last 36 non-conference games under Miles.
LSU has one of the top defenses in the country. LSU is 11th in the country in scoring defense (16.92 ppg), eighth in total defense (296 ypg), nine in rush defense (101 ypg) and 19th in pass defense (194 ypg).
The Tigers are led on defense by a dominating defensive line. Sam Montgomery and Barkevious Mingo are perhaps the nation's best defensive end duo. Montgomery is a first-team All-SEC and third team All-American.
The linebackers are led by superstar Kevin Minter who was a first-team All-SEC and second team All-American. The Georgia native was voted the MVP of this team by his teammates.
The secondary is once again extremely talented. They are led by safety Eric Reid who was a first-team All-SEC and second-team All-American selection.LSU Preview
The offense was 54th in the nation in scoring offense (30 ppg), 78th in total offense (387 ypg), 45th in rushing offense (179 ypg) and 90th in passing offense (207 ypg).
When you think of LSU on offense you think of four big, bruising running backs. Jeremy Hill (6-2, 235, Fr), Spencer Ware (5-11, 225, Jr), Kenny Hillard (6-0, 231, So) and Michael Ford (5-10, 216, So) make up the most talented group of running backs in America.
Hill has 130 carries for 631 yards and 10 touchdowns as a true freshman. Ware has 91 carries for 358 yards and a touchdown. Hillard has 80 carries for 456 yards and six scores and Ford has 69 carries for 393 yards and three touchdowns.
The offensive line is big and physical. It is considered by some to be among the best offensive lines in the country. Left tackle Josh Dworaczyk (6-6, 305, Sr), left guard La'el Collins (6-5, 320, So), center P.J. Lonergan (6-4, 305, Sr), right guard Trai Turner (6-2, 332, Fr) and right tackle Vadal Alexander (6-6, 315, Fr) make up a talented front five.
Zach Mettenberger has played well this season at quarterback. He is 193 of 329 for 2,489 yards with 11 touchdowns and six interceptions. At times Mettenberger has looked like he was ready to be one of the best quarterbacks in the league but he was also inconsistent.
The receiving corps is led by Odell Beckham, Jr who has 40 receptions for 673 yards and two touchdowns and Jarvis Landry who has 52 catches for 536 yards and four touchdowns.
The Bengal Tigers are known for being excellent on special teams but their All-SEC punter Brad Wing is suspended for Monday's game. Jamie Keehn will take his place and is the biggest question mark for LSU entering the game.
Placekicker Drew Alleman is one of the best in the SEC. He was 20 of 28 on his field goals this season.
Beckham, Jr. is a terrific punt returner with 31 returns for 200 yards and two touchdowns.
All of this adds up to a tall task for Clemson Monday night. LSU is favored for a reason. Defensive coordinator John Chavis has stars at all three levels and has another dominating defense that often sets the tone for this team. Offensively LSU could try to pound the ball at Clemson and play keep away from Clemson's fast break offense. Clemson will have to play extremely well in all three areas Monday night to beat one of the top teams in America.
The Brad Hughes All-State Insurance Agency
Prayer List
We have started a prayer list on the blog. Here are the guidelines:
If you are offended by prayer or prayer lists then I apologize in advance. The blog is free and the prayer list will be on the bottom of the page so you don't have to read it.
If you would like to add someone to the list please email me at mickeyplyler@hotmail.com
*Please let me know when it is appropriate to take the person off of the prayer list.
Those who need our prayers include:Finn Brookover, Jo Ann Bachman, Kenneth Bryant, Pruitt Martin, Got igers and his family, David Rowland, Leonard, Gillespie and his family, Jim S, Daniel Rosborough, The Huffman family, Nancy Winkler, John Reeve, Ethel Southard, Vinnie Brock, Kaitlyn L, Susan Miller, Joyce Harley, Steve Proveaux, Jeffrey Greene, the Hutto family, Sherl Drawdy, Caleb Kennedy, Teresa O'Connor, Matt Jacobs,Perrin Seigler, Candee Massee, Lindsey Jordan, Sam Catoe, Tyler Felch, the Nicolopulos family, "the Jacksonville, FL guys", Kim Sims, the Coyle family, Ryleigh Tedder, Steve Lee, Kelly Trakas, Jimmy Moore, the Thomas. V Family, Emary Claire Young, Kitty Bowers,Julie Locke, the Scheider family, Lauren Kittles' family, Frank Gentry, Joyce Bussey, Stacey McKeown, Dale Childs, Larry Lentz, Jr, Carl Sharperson, Scott Hannon, William Perry, Tyler Swaney, Lillian, Mark Feit, David Frame, Chad Berry, the family of Matthew M. Watson, the Dowis family, Shervin Messer, Alan Putnam, the Olivers, Lee Tate, Ronnie Abrams, Eddie Greene, the Jackson family, Bill Vader, Jim Taylor, Tina DeWitt, Rock Horne, Christopher Tuten, Bobby Wayne Thomas, Emma and Danielle Carothers, Robert Ditty, Mr. and Mrs. Murray Smith, Dot Cartee, Ayden Mills, Millie Heatley, Lynn Martin and family, Michael Pinson, Jake David family, Angie Crowley, Ira, Mike Tolson, Poly Wells, Dr. Muriel Bishop, Jack Cunningham, Emily Jefford Meister, Zachary Stoller, Aaron Clackum, Pat James, Cortney Moore, William Moore, Angelia and Savannah Anderson, William Ross, Meredith Legg, Scott Johns, Frank Carroll, Brandon Thompson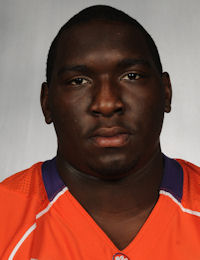 Brandon Thompson
Defensive Tackle
#98 6-2, 310
Thomasville, GA
View Full Profile , Alvin Sammons, Georgine McAlhaney, Glen Davis, Mike Price, Clay Childers, Aaron Knight, Danielle Johnston and family, Nicholas Abrams, Lana Kuykendall, Gary, Gary G., William Huggins, Jim Bennett, Chantz Fowler, Ethel McElveen, Michele Gurganus, William Gentry, Lewis Usher and Tanya Sanders, Shon Cooper, Nick Collins, Travis Patterson, Amanda Peake, Danny Hammond, Chip Turner, Nick Collins, Allen Steen, The Sturkey Family, James Caylor, the Lance family, Marcus Lattimore, Nick Chrisley's family, Allison Williams, Lt. Kyle Walker, Summer and Joel Johnson, Nicole O'Donnell, Jennifer McManus, James O. Johnson, Joy Pruett and family, Patrick Heher, Bill Schmidt, Jack Bailey, Bill Early, Gardner Family, Charles Turner, Kathy Bartholomew, Ray Sanders, David and Robin Blocker, our great country and the men and women in uniform that protect and serve it every day plus their families.