---
| | | |
| --- | --- | --- |
| Thursday, October 4, 2012, 3:30 PM | | |
Home Field Advantage
Yesterday I wrote about how much I was looking forward to seeing the Tigers run down the hill and play once again in one of the nation's toughest venues.
Clemson has a nine game home winning streak. The last time Clemson lost a home game the 29-7 loss to South Carolina in November of 2010.
Clemson went unbeaten at home from November of 1980 to November of 1984. The unbeaten streak reached 25 games but the Tigers were tied twice at home during that time frame.
Clemson's Longest Home Winning Streaks
Clemson's winning streak is the sixth longest ion school history.
13
November 1925 to September 1931
11
October 1989 to October 1991
September 1937 to November 1942
10
November 1949 to September 1952
September of 1982 to November of 1984
9
Current
October 1957 to November 1959
Current Home Winning Streaks
This morning I spent time researching home field advantages and discovered that Clemson is tied for the fifth longest current home winning streak. LSU has a 20 game home winning streak. The last time the Tigers lost in Baton Rouge was October of 2009 when they lost to top ranked Florida 13-3.
20 Home Field Advantage
LSU
19
Wisconsin
18
N. Illinois
11
Michigan
9
Clemson
Baylor
BYU
8
Georgia
7
South Carolina
Louisiana
6
NC State
Virginia Tech
Oregon
5
North Carolina
Nebraska
TCU
Kansas State
Stanford
Southern Cal
Notre Dame
Kent State
Western Kentucky
4
Florida State
Alabama
Mississippi State
Ohio State
Northwestern
Minnesota
West Virginia
Washington
Ohio
Utah State
3
Duke
Purdue
Arizona State
Oregon State
Louisville
Rutgers
Cincinnati
Toledo
Louisiana Tech
San Jose State
2
Miami
Texas A&M
Penn State
Texas
Texas Tech
Utah
Navy
Pitt
Ball State
Miami
Bowling Green
UT San Antonio
1
Tennessee
Missouri
Vanderbilt
Iowa
UConn
Syracuse
Central Michigan
Middle Tennessee
0
Boston College
Maryland
Wake Forest
Georgia Tech
Virginia
Arkansas
Auburn
Ole Miss
Kentucky
Illinois
Indiana
Michigan State
Oklahoma
Oklahoma State
Iowa State
Kansas
UCLA
Arizona
Colorado
Cal
Washington State
South Florida
Temple
Army
Eastern Michigan
Buffalo
Akron
UMass
Idaho
New Mexico State
Texas State
FIU
Troy
Arkansas State
Louisiana Monroe
North Texas
Florida Atlantic
South Alabama
The Brad Hughes All-State Insurance Agency
Prayer List
We have started a prayer list on the blog. Here are the guidelines:
If you are offended by prayer or prayer lists then I apologize in advance. The blog is free and the prayer list will be on the bottom of the page so you don't have to read it.
If you would like to add someone to the list please email me at mickeyplyler@hotmail.com
*Please let me know when it is appropriate to take the person off of the prayer list.
Those who need our prayers include:Finn Brookover, Mary-Louise Pawlowski (John's daughter), Jo Ann Bachman, Kenneth Bryant, Pruitt Martin, Got igers and his family, David Rowland, Leonard, Gillespie and his family, Jim S, Daniel Rosborough, The Huffman family, Nancy Winkler, John Reeve, Ethel Southard, Vinnie Brock, Kaitlyn L, Susan Miller, Joyce Harley, Steve Proveaux, Jeffrey Greene, the Hutto family, Sherl Drawdy, Caleb Kennedy, Teresa O'Connor, Matt Jacobs,Perrin Seigler, Candee Massee, Lindsey Jordan, Sam Catoe, Tyler Felch, the Nicolopulos family, "the Jacksonville, FL guys", Kim Sims, the Coyle family, Ryleigh Tedder, Steve Lee, Kelly Trakas, Jimmy Moore, the Thomas. V Family, Emary Claire Young, Kitty Bowers,Julie Locke, the Scheider family, Lauren Kittles' family, Frank Gentry, Joyce Bussey, Stacey McKeown, Dale Childs, Larry Lentz, Jr, Carl Sharperson, Scott Hannon, William Perry, Tyler Swaney, Lillian, Mark Feit, David Frame, Chad Berry, the family of Matthew M. Watson, the Dowis family, Shervin Messer, Alan Putnam, the Olivers, Lee Tate, Ronnie Abrams, Eddie Greene, the Jackson family, Bill Vader, Jim Taylor, Tina DeWitt, Rock Horne, Christopher Tuten, Bobby Wayne Thomas, Emma and Danielle Carothers, Robert Ditty, Mr. and Mrs. Murray Smith, Dot Cartee, Ayden Mills, Millie Heatley, Lynn Martin and family, Michael Pinson, Jake David family, Angie Crowley, Ira, Mike Tolson, Poly Wells, Dr. Muriel Bishop, Jack Cunningham, Emily Jefford Meister, Zachary Stoller, Aaron Clackum, Pat James, Cortney Moore, William Moore, Angelia and Savannah Anderson, William Ross, Meredith Legg, Scott Johns, Frank Carroll, Brandon Thompson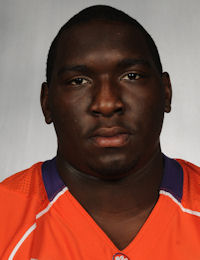 Brandon Thompson
Defensive Tackle
#98 6-2, 310
Thomasville, GA
View Full Profile , Alvin Sammons, Georgine McAlhaney, Glen Davis, Mike Price, Clay Childers, Aaron Knight, Danielle Johnston and family, Nicholas Abrams, Lana Kuykendall, Gary, Billy McLeroy, Gary G., William Huggins, Jim Bennett, Chantz Fowler, Ethel McElveen, Michele Gurganus, William Gentry, Lewis Usher and Tanya Sanders, Shon Cooper, Nick Collins, Travis Patterson, Nick Chrisley, Bud Long, Arthur R. Cressman Sr, Jennifer Chancy, Eden Chandler, Amanda Peake, Danny Hammond, Chip Turner.