---
Hokie High?
I think most of us expected Virginia Tech's offense to struggle in the first half of this season. The Hokies had only three returning starters heading into the season. All-ACC running back David Wilson rushed for 1709 yards last year but is now wearing a New York Giant uniform.
Wide receivers Jarret Boykin and Danny Coale were two of the leading receivers in school history and combined for over 120 catches a season ago but they are gone. The offensive line only had one returning starter as well.
So it is no surprise that Tech is 54th in the country in scoring offense, 68th in total offense, 78th in rushing offense and 52 in passing offense.
The big shock is the numbers on defense. Tech returned 10 starters from a season ago. Derrick and Antoine Hopkins were 300-pound monsters that helped hold teams to 104 yards a game on the ground last year. This year Tech is 73rd in the country allowing 171 yards a game on the ground.
Kyle Fuller is a top NFL prospect at corner and Antoine Exum moved from rover to corner yet the secondary is 36th in the country against the pass allowing more passing yards this season than last.
The Hokies returned all three linebackers including All-ACC star Bruce Taylor, yet they went from allowing 17.6 points a season ago to 22 points per game this season. Virginia Tech is allowing 76 more yards per game this year at 381 compared to the 305 from last year.
It just doesn't add up. This was supposed to be one of defensive coordinator Bud Foster's best units. Instead it is his worst in recent years.
The 22 points per game is a big difference than the 17.6 in 2011, 20.6 in 2010, 15.6 in 2009, 16.7 in 2008, 16.1 in 2007, 11.0 in 2006 and 12.9 in 2005.
The 381 yards allowed per game this season is awful compared to the 305 last season, 362 from 2010, 295 in 2009, 279 in 2008, 297 in 2007, 219 in 2006 and 247 in 2005.
The biggest difference in the defense is rushing yards though. Looking back at the last seven seasons previous to this year Tech allowed 104, 156, 128, 104, 87, 91 and 93 yards per game. This year teams are averaging 171 yards per game on the ground.
Maybe Foster should shoulder more blame. Maybe his schemes have not advanced with the hurry-up spread offenses. It sure looked that way in the two Clemson games a season ago.
Last year former South Carolina defensive coordinator and current head coach at Southern Miss, Ellis Johnson said he hated what the hurry-up no-huddle offenses have done to the game.
Earlier this season Alabama head coach Nick Saban complained about what the offenses have been able to accomplish and how much he hated the direction the game was headed.
But those guys still stopped those offenses most of the time. The same cannot be said for Foster as of late.
Last year I wrote a blog about how I just wanted Clemson to be Virginia Tech. Their program was a model of consistency. Heading into this season the Hokies had won 102 games in a ten year period. Only once during that period did they fail to win ten games in a season. They had been a model of consistency and their program was the best in the ACC.
However since coming into the regular season game with Clemson last October 4-0 and ranked 11th in the country, Tech has gone just 11-6 with two of the losses at the hands of Clemson.
Clemson had lost five in a row to Tech and hadn't beaten the Hokies since 1989 heading into the regular season meeting between the two schools last year. Virginia Tech had outscored Clemson 174-61 in those five meetings. Three of Virginia Tech's victories were against ranked Clemson squads. However, the Tigers won both games last year by a combined score of 61-13.
The Tigers were the better team last year but I think Clemson offensive coordinator Chad Morris
Chad Morris
Offensive Coordinator / QBs
View Full Profile had a lot to do with the domination. In my opinion Morris clearly out coached Foster.
So Saturday is a revenge game for the Hokies. It is a chance to stay in the ACC Coastal Division race. It is a chance to keep the momentum they built last week in the Duke game and it is a chance to stay above .500 at 5-3.
However, if the Hokies lose at Death Valley this weekend then they fall to 4-4 and 2-2 in the ACC. It would be difficult to win the division with a loss. It also may cause some sleepless nights for Bud Foster.
The Brad Hughes All-State Insurance Agency
Prayer List
We have started a prayer list on the blog. Here are the guidelines:
If you are offended by prayer or prayer lists then I apologize in advance. The blog is free and the prayer list will be on the bottom of the page so you don't have to read it.
If you would like to add someone to the list please email me at mickeyplyler@hotmail.com
*Please let me know when it is appropriate to take the person off of the prayer list.
Those who need our prayers include:Finn Brookover, Mary-Louise Pawlowski (John's daughter), Jo Ann Bachman, Kenneth Bryant, Pruitt Martin, Got igers and his family, David Rowland, Leonard, Gillespie and his family, Jim S, Daniel Rosborough, The Huffman family, Nancy Winkler, John Reeve, Ethel Southard, Vinnie Brock, Kaitlyn L, Susan Miller, Joyce Harley, Steve Proveaux, Jeffrey Greene, the Hutto family, Sherl Drawdy, Caleb Kennedy, Teresa O'Connor, Matt Jacobs,Perrin Seigler, Candee Massee, Lindsey Jordan, Sam Catoe, Tyler Felch, the Nicolopulos family, "the Jacksonville, FL guys", Kim Sims, the Coyle family, Ryleigh Tedder, Steve Lee, Kelly Trakas, Jimmy Moore, the Thomas. V Family, Emary Claire Young, Kitty Bowers,Julie Locke, the Scheider family, Lauren Kittles' family, Frank Gentry, Joyce Bussey, Stacey McKeown, Dale Childs, Larry Lentz, Jr, Carl Sharperson, Scott Hannon, William Perry, Tyler Swaney, Lillian, Mark Feit, David Frame, Chad Berry, the family of Matthew M. Watson, the Dowis family, Shervin Messer, Alan Putnam, the Olivers, Lee Tate, Ronnie Abrams, Eddie Greene, the Jackson family, Bill Vader, Jim Taylor, Tina DeWitt, Rock Horne, Christopher Tuten, Bobby Wayne Thomas, Emma and Danielle Carothers, Robert Ditty, Mr. and Mrs. Murray Smith, Dot Cartee, Ayden Mills, Millie Heatley, Lynn Martin and family, Michael Pinson, Jake David family, Angie Crowley, Ira, Mike Tolson, Poly Wells, Dr. Muriel Bishop, Jack Cunningham, Emily Jefford Meister, Zachary Stoller, Aaron Clackum, Pat James, Cortney Moore, William Moore, Angelia and Savannah Anderson, William Ross, Meredith Legg, Scott Johns, Frank Carroll, Brandon Thompson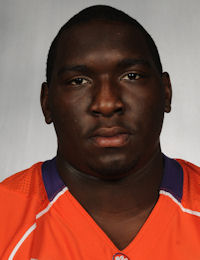 Brandon Thompson
Defensive Tackle
#98 6-2, 310
Thomasville, GA
View Full Profile , Alvin Sammons, Georgine McAlhaney, Glen Davis, Mike Price, Clay Childers, Aaron Knight, Danielle Johnston and family, Nicholas Abrams, Lana Kuykendall, Gary, Billy McLeroy, Gary G., William Huggins, Jim Bennett, Chantz Fowler, Ethel McElveen, Michele Gurganus, William Gentry, Lewis Usher and Tanya Sanders, Shon Cooper, Nick Collins, Travis Patterson, Nick Chrisley, Bud Long, Arthur R. Cressman Sr, Jennifer Chancy, Eden Chandler, Amanda Peake, Danny Hammond, Chip Turner, Nick Collins, Allen Steen.

Upgrade Your Account
Unlock premium boards and exclusive features (e.g. ad-free) by upgrading your account today.
Upgrade Now