---
Furman Preview
Each Thursday we preview the upcoming opponent. I called John Hooper this week to see if he would be interested on writing a preview on Furman for our blog. "SoCon John" knows more about Furman football than anyone I know and he is the perfect guy to write our first ever guest blog. Thanks to SoCon John for a great preview.
Overview
Off to its first 0-2 start since the 1995 season, the Furman football tradition isn't one that often sees itself out of the FCS playoff picture before the conclusion of the opening month of the college football season, but a loss to No. 11 Clemson Saturday would give the Paladins their first 0-3 start since second-year head coach Bruce Fowler was a starting defensive back for the Paladins in 1979.
Furman's losses coming into Saturday's showdown with the Tigers have come by a combined six points, dropping the season and SoCon opener at Samford (24-21) before dropping a triple-overtime affair to Coastal Carolina (47-45) last Saturday in the Paladins' home opener.
Historically, Furman is the most successful Football Championship Subdivision (FCS) school in the state of South Carolina, having won a Southern Conference standard 12 league crowns, and holds the only FCS national title (formerly Division I-AA) among the seven FCS teams in the Palmetto State.
In his second season at the helm of his alma mater, head coach Bruce Fowler is now 6-7 coming into Saturday afternoon's contest at Clemson. Fowler was influenced greatly by former Clemson defensive back and defensive coordinator Bobby Johnson. Fowler coached under Johnson for 18 years at Furman, while serving another nine under his mentor at Vanderbilt.
Another great influence and friend of the Furman second-year head coach is Clemson offensive line coach Robbie Caldwell
Robbie Caldwell
Assistant Coach / Offensive Line
View Full Profile , who Fowler served alongside as an assistant coach at Furman in the mid-1980's (1984-85) and served under as a defensive assistant during Caldwell's one season as head coach at Vanderbilt in 2010.
Offense
Furman operates out of a spread offense, but it's not what would be considered a "true spread" which most fans associate with, utilized at such schools as Clemson, Oregon or on the FCS level, Appalachian State.
Although the Furman offense will feature no-huddle and at times look force tempo, the spread that Furman utilizes has more pro-style elements to it. In many ways, it's a pro style offense on steroids, and it is not a spread offense that will feature the quarterback as a primary running threat, however, that's not to say that Furman will totally go away from the signal-caller as a running threat against Clemson.
As has been the case in the past when facing FBS competition, Furman could scrap its spread offense altogether, giving the Tigers a split-bone or flexbone look on Saturday. In past games against FBS foes, including last season's game at Florida, the Paladins have utilized the single and double wing formations to help compensate for the disadvantages they have in speed and overall athleticism.
Furman enters Saturday's matchup at Death Valley with an offense that has really performed a little bit above expectations through the first two games of the season with the exception of the five turnovers (3 INTs, 2 Fumbles) through the first two weeks.
The Paladins enter Saturday's contest ranking tied for 27th in the FCS in scoring offense (33.0 PPG), 33rd in total offense (399.0 YPG), 50th in rush offense (150.5 YPG) and 25th in pass offense (248.5). Coming into Saturday afternoon's contest, Furman's 248.5 yards-per-game average through the air also ranks second in the Southern Conference to Appalachian State's 280.0 YPG through the first two weeks.
Making his first start under center on Saturday will be local product Reese Hannon. Hannon, a 6-0, 192-pound true freshman from Greer, S.C., had plenty of Furman connections before ever stepping foot on campus, as he is the cousin of former Furman quarterback Justin Hill, who  led the Paladins to a Southern Conference title in 1999
Hannon was sensational in a little over two quarters Saturday against Coastal Carolina, showing why he was a finalist for Mr. Football in the Palmetto State. Hannon is not a burner, but has good wheels, but his most impressive attribute is his arm strength, as well as his ability to improvise and throw on the run.
Wide receiver was one of the positions that was hit hardest by graduation for the Furman offense coming into the campaign. But a couple of stars have begun to emerge among the young crop of wideouts, while a couple of veteran wideouts have begun to live up to their leadership status that they were labeled as coming into the campaign.
Furman's leading aerial option coming into the season was preseason Sports Network First-Team All-America selection Colin Anderson (4 rec, 71 yds, 17.8 YPR).
Anderson, a former walk-on who is one of the best athletes on the offensive side of the ball for the Paladins, ranks second all-time among Furman tight ends in receiving. He enters Saturday's matchup with the Tigers with 64 receptions for 1,114 yards and 11 TDs for his career, averaging 17.4 YPR.
Anderson, who was a high school quarterback in Mississippi, also threw a TD pass last season in the 54-32 loss to Florida. His 40 catches for 696 yards and seven TDs last season were the most by any tight end in the FCS ranks last fall.
At 6-4, 213 lbs, Ryan Culbreath (9 rec, 131 yds, 2 TDs, 14.6 YPR) has NFL size and will be a receiver that FBS cornerbacks are used to seeing line up opposite them on Saturday afternoons, and Culbreath's size and physicality has certainly benefitted him in now his second season as a full-time starter. Not only is Culbreath a tough matchup as a receiver on the perimeter, but the junior split end has proven to be one of Furman's top blockers on the edge.
Former walk-on Will King (13 rec, 205 yds, 2 TDs, 15.8 YPR) is Furman's leading receiving option through the first two games of the season. Like his offensive teammate Anderson, King is a good athlete, having played quarterback as a prep just up the road in Rock Hill for powerhouse Northwestern High School.
King is in his first season as a full-time starter at wideout for the Paladins, and was also a contributor on special teams as Furman's primary punt returner for the first two games, however,  a pair of muffed punts in the first two games has seen that assignment change. King had an impressive performance last week in the 47-45 loss to Coastal Carolina, with nine catches for 116 yards and a TD.
Players that haven't grabbed the headlines, but could prove to be factors in Saturday's contest for the Paladins at wide receiver because of their speed could be starting flanker Gary Robinson (3 rec, 27 yds, 9.0 YPR), and his backup, Daniel McFadden. Both could get the ball in a variety of different ways on Saturday.
Jordan Snellings (2 rec, 25 yds, 1 TD, 12.5 YPR), who will back up Culbreath at split end on Saturday, is the receiver that most say has the potential to be one of the best to ever play for the Paladins. He has the best combination of speed and hands of any of the Furman receiving options, but he is still adapting to the college game, playing just his third collegiate game on Saturday afternoon.
Furman has one of the SoCon's top running backs, in senior Jerodis Williams (35 att, 183 yds, 2 TDs, 5.2 YPC/3 rec, 16 yds), who became the first Paladin running back to rush for 1,000 or more yards since 2003, when he went for 1,055 yards and nine TDs on 111 attempts last fall.
The preseason First-Team All-SoCon selection has rushed for 2,110 yards and 20 TDs on 410 career attempts (5.1 YPC) and currently ranks ninth in school history in rushing. In rushing for 98 yards and a TD in the season-opening loss to Samford, Williams became just the 11th player in program history to rush for more than 1,000 yards in a career. Williams rushed for 133 yards and a pair of TDs in Furman's 54-32 loss in the 2011 regular-season finale to Florida.
Offering a nice compliment to Williams in the Paladin ground game is Hank McCloud (15 rush att, 72 yds, 1 TD, 4.8 YPC/2 rec, 21 yds, 10.5 YPR) who has tremendous speed and runs with an agenda, finding creases and accelerating into the secondary. He is one of Furman's potential game-breakers on the offensive side of the ball.
Coming into the season, one of the units thought to be a weakness for the Paladins was the offensive line, which lost veterans Ryan Lee and Daniel Spisak to graduation. The biggest question mark was at center, as the Paladins had to replace a four-year starter with a walk-on, in Eric Thoni. Thoni has been solid in the first two weeks of the 2012 season, logging 83 plays and contributing nine knockdowns in the 47-45 loss to Coastal Carolina last Saturday.
The strength of the Furman offensive front is the left side, and in particular, running behind preseason Coaches First-Team All-SoCon Dakota Dozier, who Furman offensive line coach Scott Smouse feels has the potential to have a successful career at the next level. The 6-4, 291-pound junior has logged action on 153 plays in the first couple of games of the 2012 season, including grading out at a career-high 92% on 83 plays against Coastal Carolina last week.
The Paladins have surrendered five sacks through the first two games of the 2012 campaign.
Defense
The biggest disappointment through the first couple of games this fall has been the Paladin defense, which enters Saturday afternoon's contest struggling to defend the pass.
Coming into the campaign, the Paladins welcomed the return of eight starters on the defensive side of the football, and the Paladins entered the season with four first or second team All-SoCon selections.
Furman comes into Saturday's contest ranking tied for 65th in the FCS rankings in total defense (383.0 YPG), 90th in pass defense (254.0 YPG), 80th in scoring defense (35.5 PPG) and 44th in rush defense (131.0 YPG).
Clemson fans should expect to see several different wrinkles out of the Furman defense for Saturday afternoon's contest. Primarily this season, Furman has operated out of a 4-3 multiple defense, but with Clemson's offensive prowess in the spread, expect to see the Paladins mix things up on the defensive side of the football, and perhaps drop an extra defensive back and operate out of a 4-2-5 defensive scheme.
One of the reasons you might see that is because Furman has the athleticism at linebacker to drop an extra player into coverage.  That player might be preseason Second-Team All-SoCon linebacker Mitch McGrath (20 tackles, 2.5 TFL, 1.0 sack, 1 INT), who early on in his career, he played as a 'rover' safety for the Paladins.  McGrath, who picked off four passes last season, is Furman's active career leader in that category with six-career picks.
With the graduation of two of the three starting linebackers, including SoCon leading tackler Kadarron Anderson in the middle of that defense, the Paladins have had a couple of new starters this season, with Matt Solomon (23 tackles, 0.5 TFL, 2 PBUs) starting in the middle of the Furman defense, while Gary Wilkins (22 tackles, 0.5 TFL, 1 PBU) is set to start at weakside LB on Saturday.
Solomon comes into the matchup as the SoCon's second leading tackler through the first two weeks, and though he will be making just his fourth start of his career on Saturday against the Tigers, the senior is one of the unquestioned leaders of this Furman defense. Wilkins is one of the best leapers and overall athletes on the Furman roster, and he could be a factor on special teams blocking field goals and punts.
The Paladins have found a majority of their struggles on the defensive side of the ball this season at the two cornerback positions, where the Paladins graduated one of the best to ever play the position off last year's squad, in Ryan Steed, who picked off 14 passes in his career, returning three of those for scores.
Expected to draw starts for Furman at the two cornerback spots will be seniors Derrick Murray (6 tackles) and Cortez Johnson (6 tackles), and the tandem will draw the unenviable task of trying to match up with Clemson's All-America caliber receivers Sammy Watkins
Sammy Watkins
So. Wide Receiver
#2 6-1, 205
Fort Myers, FL
View Full Profile and DeAndre Hopkins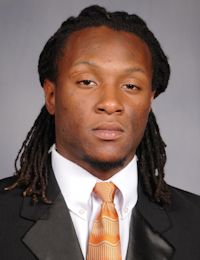 DeAndre Hopkins
Jr. Wide Receiver
#6 6-2, 205
Central, SC
View Full Profile .
Though both Murray and Johnson are both seniors, they have only a combined 11 starts (Murray-6, Johnson-5) between the two of them entering Saturday's matchup. Johnson is one of the fastest player on the Furman roster and is probably the player that will draw the task of trying to slow Watkins down in his first start of the season on Saturday.
One of Murray's biggest attributes is his size, and he at 6-3, he has the size to matchup with FBS wideouts, but struggled at times last Saturday and in the opener against Samford, yielding the big play.
Unlike its conservative play in the secondary in years prior to Fowler's arrival last fall, Furman has not been shy about playing man coverage.  However, the Paladins have shyed away from that as much this season and I would not expect the Paladins to try man coverage against Watkins, Hopkins and Charon Peake on Saturday. Instead, Furman will likely shade a cover-2 or 3 to one side with an extra safety in the middle of the 4-2-5, depending on down and distance of course.
Impressive true freshman Reggie Thomas (2 tackles, 1.0 TFL) and junior Austin Williams will also likely log significant action between the two of them on Saturday in reserve roles at cornerback, as it is a position that might not be set in stone for the two starters if they continue to struggle.  
Thomas, a product of Abbeville, S.C., is a real talent with excellent speed and athleticism, and he might play more of a role Saturday with his speed than he has in the previous two games this season, with Furman's obvious speed disadvantages.
The strength of the Furman secondary is its safety tandem of Greg Worthy (12 tackles, 1 PBU) and Nathan Wade (21 tackles, 1 PBU), who each entered the season as All-SoCon selections. Worthy was a preseason First-Team All-SoCon pick, while Wade was a preseason Second Team All-SoCon pick.
Of the 11 starters on the Paladin defense entering Saturday, Wade and Worthy both have a solid chance of continuing their respective careers in the National Football League in the very near future.
Wade and Worthy are both vicious hitters, and both have been solid at coming up and providing run support. Simply put, Worthy and Wade are both enforcers for receivers coming over the middle, and both are solid athletes, with Worthy displaying the more impressive speed of the two. Wade is one of the most experienced players on the Furman defense, having started 30 of the 32 games he has seen action in as a Paladin.
The strength of the Furman defense coming into the season was considered to be the defensive line, and the unit has looked like one of the best in the SoCon at times this season, while at others has failed to create effective pressure with its front four in the first couple of games.
The Paladins have two of the better defensive ends in the SoCon coming to Memorial Stadium on Saturday, in senior Josh Lynn (10 tackles, 1.0 TFL,  2 QBHs) and junior Shawn Boone (7 tackles, 2.0 TFL, 1.5 sacks).
Boone was explosive against the Chanticleers last Saturday, with 1.5 sacks in the loss. Lynn was a preseason First-Team All-SoCon selection and he led the Paladins with five sacks last season, while his 10.5 TFL were second on the club.
Starting at the respective defensive tackle positions will be Neal Rodgers (9 tackles, 0.5 TFL, 0.5 sack) and Colton Keig (13 tackles, 1.0TFL), who are both undersized, but quick and underrated among their SoCon brethren playing the same position.
Keig is having his best season so far as a Paladin, with 13 stops through the first two games this fall, which is more than one-third of the 32 stops he had through 11 games last season. He had a career-high seven stops in Furman's loss to Coastal Carolina last Saturday.
Special Teams
Special teams have not been a measure of consistency for the Paladins in head coach Bruce Fowler's 13 games at the helm of the program, however, one area that seems to have made a positive change, at least early on, is the kicking game.
Furman's place-kicking duties will be handled by junior Ray Early (2-for-3 FGs, 6-of-7 PATs), who was just 2-of-6 on field goal attempts last season after coming off a 2010 campaign.
As a punter, Early (40.7 YPP) has shared the duties with Ben Granger (42.7 YPP) this fall, as the two have combined for all 10 of Furman's punts through the first two weeks of the 2012 season. Granger had two punts in the opener against Samford, which included a 46-yarder that landed inside the 5-yard line.
Early will also handle the kickoff duties for Furman, and averaging 61.7 yards on nine kickoffs this season, with one touchback. Early successfully converted an on-sides kick in last week's loss to Coastal Carolina.
Set to handle the kick return responsibilities on Saturday will be Jairus Hollman, who is averaging 21.4 YPR on nine kick returns this season. He will be joined in that role by Paladin sophomore running back Hank McCloud. Hollman will also take over the punt return duties this Saturday, with Will King's struggles in the first two games, which saw him muff a pair of punts, which led to scores for Samford and Coastal Carolina.
The Brad Hughes All-State Insurance Agency
Prayer List
We have started a prayer list on the blog. Here are the guidelines:
If you are offended by prayer or prayer lists then I apologize in advance. The blog is free and the prayer list will be on the bottom of the page so you don't have to read it.
If you would like to add someone to the list please email me at mickeyplyler@hotmail.com
*Please let me know when it is appropriate to take the person off of the prayer list.
Those who need our prayers include:Finn Brookover, Mary-Louise Pawlowski (John's daughter), Jo Ann Bachman, Kenneth Bryant, Pruitt Martin, Got igers and his family, David Rowland, Leonard, Gillespie and his family, Jim S, Daniel Rosborough, The Huffman family, Nancy Winkler, John Reeve, Ethel Southard, Vinnie Brock, Kaitlyn L, Susan Miller, Joyce Harley, Steve Proveaux, Jeffrey Greene, the Hutto family, Sherl Drawdy, Caleb Kennedy, Teresa O'Connor, Matt Jacobs,Perrin Seigler, Candee Massee, Lindsey Jordan, Sam Catoe, Tyler Felch, the Nicolopulos family, "the Jacksonville, FL guys", Kim Sims, the Coyle family, Ryleigh Tedder, Steve Lee, Kelly Trakas, Jimmy Moore, the Thomas. V Family, Emary Claire Young, Kitty Bowers,Julie Locke, the Scheider family, Lauren Kittles' family, Frank Gentry, Joyce Bussey, Stacey McKeown, Dale Childs, Larry Lentz, Jr, Carl Sharperson, Scott Hannon, William Perry, Tyler Swaney, Lillian, Mark Feit, David Frame, Chad Berry, the family of Matthew M. Watson, the Dowis family, Shervin Messer, Alan Putnam, the Olivers, Lee Tate, Ronnie Abrams, Eddie Greene, the Jackson family, Bill Vader, Jim Taylor, Tina DeWitt, Rock Horne, Christopher Tuten, Bobby Wayne Thomas, Emma and Danielle Carothers, Robert Ditty, Mr. and Mrs. Murray Smith, Dot Cartee, Ayden Mills, Millie Heatley, Lynn Martin and family, Michael Pinson, Jake David family, Angie Crowley, Ira, Mike Tolson, Poly Wells, Dr. Muriel Bishop, Jack Cunningham, Emily Jefford Meister, Zachary Stoller, Aaron Clackum, Pat James, Cortney Moore, William Moore, Angelia and Savannah Anderson, William Ross, Meredith Legg, Scott Johns, Frank Carroll, Brandon Thompson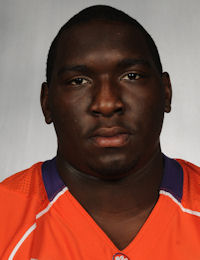 Brandon Thompson
Defensive Tackle
#98 6-2, 310
Thomasville, GA
View Full Profile , Alvin Sammons, Georgine McAlhaney, Glen Davis, Mike Price, Clay Childers, Aaron Knight, Danielle Johnston and family, Nicholas Abrams, Lana Kuykendall, Gary, Billy McLeroy, Gary G., William Huggins, Jim Bennett, Chantz Fowler, Ethel McElveen, Michele Gurganus, William Gentry, Lewis Usher and Tanya Sanders, Shon Cooper, Nick Collins, Travis Patterson, Nick Chrisley, Bud Long, Arthur R. Cressman Sr.

Upgrade Your Account
Unlock premium boards and exclusive features (e.g. ad-free) by upgrading your account today.
Upgrade Now