---
Friday Email Bag
Each Friday I publish your comments and answer your questions.  To submit a comment or questions please email me at mickeyplyler@hotmail.com.
Mickey,
Mickey hope Ryan an yourself are doing good.
I wanna get your take on a few things. First is with the outside of the field in the valley being turf do you see them going to a full turf field ever even though it seems to increase a injury it seems like it doesn't matter what surface you play on with the injury bug this yr. It seems to be to where these injuries are going up this year is that from a lack of work in the weight room on the legs or is that more of kids pushing harder to compete? I know kids wanna play right off but do they need to be more cautious an do you think knee braces need to be more involved in practice even though they can effect the play from practice to gameday? I don't know if I've ever seen this many knee injuries in a single year at Clemson.
Take care Mickey an lets push these white helmets on aways!
bjcPARKERdsc
bjcPARKERdsc,
Thanks for the kind words on Ryan. He is doing well.
The turf around the field is a good thing. This area wears down so much because of traffic and in the old days they would lay a tarp down. I always thought the tarp was more dangerous. Also the turf allows the players to work out during the entire year. With the weight room in the stadium now, the strength and conditioning staff go to those areas to get some running in. This turf allows them the ability to do that and not wear out the grass.
On the injury front, I think it is the exact opposite. I think the muscles are stronger and the bones, ligaments and cartilage can't handle the torque at times but that is an uneducated guess.
I am not sure if the skill players need the braces or not. Kelly and Cooper's injuries were in the spring game and I am not sure if they will ever wear them in a game.
Finally, I am not sure how I feel about white helmets. If it was a one time deal I would be OK with it but I like our orange helmets.
Mickey,
I owe a few folks some apologies.  It was 4 years ago I called Dabo during TigerCalls and asked him how we could be in such a predicament that we are relying on a freshman to kick and miss field goals.  If I am not mistaken, all but 1 or 2 of those losses that year were due to missed field goals, and I asked him to consider pulling somebody off the soccer team so we could pick up a few more wins the next year.  He replied as any good leader would that he had faith in Catanzaro, and that Catanzaro would continue to get better.  Not only did he respond this way because it was the right thing to do on the radio, but I believe he also knew he and his staff could maximize the potential of his kicker.  And let's also not take anything away from Catanzaro and how hard he has worked the last few years.  I admire his work ethic and his success, and I can't wait to feel like a complete fool as he breaks the scoring record this year.  Additionally, I made a few comments 3 years ago about Boyd's performance during trash time.  I questioned his accuracy and poise, and I questioned his ability to be our #1 guy.  I also fiercely criticized the strength and conditioning coaches for several years following the Alabama loss in Atlanta.  Those guys took a lot of heat from a lot of people, and I was one of them.  Now, I am eating crow for breakfast, lunch, dinner, and snacks.  I feel ashamed honestly.  I know it's human nature to second guess coaching decisions, criticize others when you feel a better decision could've been made, and I know a lot of fans did exactly what I did.  I guess we just feel invested, because we are to some extent, but not to the extent that these players and coaches are--especially the players who are the ones doing the work.  I remember a guy walking out of the stadium two years ago at halftime of the Wofford game yelling at his wife that they were going home and they were never coming back to another Clemson football game (it was not me--I stayed to make sure we took care of business).  I guess what I'm trying to say is, I am in awe of Dabo's coaching ability and leadership and the way this entire team has handled adversity the last few years to get to this point, and I hope the team will allow me to shed a little guilt as we celebrate and mow through some folks this year.  I think we all feel that something is a little different about this team.  Call it the "it" factor.  They have "it"--team chemistry, work ethic, toughness, skill.  We need a little luck to try to stay as injury free as possible, and I really believe in the potential of this team.  I just want to thank the team, especially Boyd, Catanzaro, Dabo, and the strength and conditioning coaches for staying the course and putting up with fans like me who criticized some of their efforts and decision-making, and I think we are in for a special season. Go Tigers!  
Michael
Michael,
Thanks for the great email. Anytime you make a hire it is a risk. As human resource people will tell you, the hardest thing to do is to project human performance. Also it is easy to see in hindsight that Coach Swinney is different today than when he first took the job. He has grown into the job.
I felt very comfortable with the hire because I liked who he was. I saw a great personality fit. I saw a good work ethic. I also saw a bright mind. What I did not know at the time was whether or not he could sell his vision and make it work in a short time. His short term success has given him time to implement his long term plan.
It is hard to admit we were wrong. I am glad you feel different today and I am very glad a lot of people were wrong about the hire. Thanks again.
Mickey,
I know it is way to early to be thinking about this, but nonetheless, it is something we will have the deal with.  Hearing all of issues with USC and especially Texas, how secure can we think Chad will be to remain at Clemson?  I teeter back and forth on this one.  Texas would appear to be the dream job for a lot of obvious reason, but would Texas actually hire an assistant coach for such a high profile program?  Would Chad be ready to take on a program of that caliber?  He has $1.3 million reasons to stay where he is and not have all of the headaches and pressure.  Not worried about USC, who would want to go to La-La land and follow Kiffin.  At any rate, it will be perennial question to speculate on the "special job" Chad is seeking.  Let's enjoy the season and worry when it is time. 
YABBA DABO DOO
Stuart
Stuart,
Chad Morris
Chad Morris
Offensive Coordinator / QBs
View Full Profile is going to be a head coach one day. When will that happen? No one knows for sure. My gut is that Texas will hire an experienced head coach with a big name. I would think Art Briles at Baylor, Gary Patterson and TCU or Chris Peterson at Boise State. Morris would have a better shot at the Baylor job if Briles left then he would the Texas job.
MP
What is status of Howard's Rock? Were the stolen chipped pieces recovered? Will Rock be repaired? Or will this last incident add to the lore and history of the Rock and it will be left as is?
Thx
William
William,
I have not heard any plans on Howard's Rock. I haven't heard anything about the missing pieces or any plans to repair it. My guess is that the rock will just go on and the latest incident is just another piece of its history.
The Brad Hughes All-State Insurance Agency
Prayer List
We have started a prayer list on the blog. Here are the guidelines:
If you are offended by prayer or prayer lists then I apologize in advance. The blog is free and the prayer list will be on the bottom of the page so you don't have to read it.
If you would like to add someone to the list please email me at mickeyplyler@hotmail.com
*Please let me know when it is appropriate to take the person off of the prayer list.
Those who need our prayers include:Finn Brookover, Jo Ann Bachman, Kenneth Bryant, Pruitt Martin, Got igers and his family, David Rowland, Leonard, Gillespie and his family, Jim S, Daniel Rosborough, The Huffman family, Nancy Winkler, John Reeve, Vinnie Brock, Kaitlyn L, Susan Miller, Joyce Harley, Steve Proveaux, Jeffrey Greene, the Hutto family, Sherl Drawdy, Caleb Kennedy, Teresa O'Connor, Matt Jacobs,Perrin Seigler, Candee Massee, Lindsey Jordan, Sam Catoe, Tyler Felch, the Nicolopulos family, "the Jacksonville, FL guys", Kim Sims, the Coyle family, Ryleigh Tedder, Steve Lee, Kelly Trakas, Jimmy Moore, the Thomas. V Family, Emary Claire Young, Kitty Bowers,Julie Locke, the Scheider family, Lauren Kittles' family, Frank Gentry, Joyce Bussey, Stacey McKeown, Dale Childs, Larry Lentz, Jr, Carl Sharperson, Scott Hannon, William Perry, Tyler Swaney, Lillian, Mark Feit, David Frame, Chad Berry, the family of Matthew M. Watson, the Dowis family, Shervin Messer, Alan Putnam, the Olivers, Lee Tate, Ronnie Abrams, Eddie Greene, the Jackson family, Bill Vader, Jim Taylor, Tina DeWitt, Rock Horne, Christopher Tuten, Bobby Wayne Thomas, Emma and Danielle Carothers, Robert Ditty, Mr. and Mrs. Murray Smith, Dot Cartee, Ayden Mills, Millie Heatley, Lynn Martin and family, Michael Pinson, Jake David family, Angie Crowley, Ira, Mike Tolson, Poly Wells, Dr. Muriel Bishop, Jack Cunningham, Emily Jefford Meister, Zachary Stoller, Aaron Clackum, Pat James, Cortney Moore, William Moore, Angelia and Savannah Anderson, William Ross, Meredith Legg, Scott Johns, Frank Carroll, Brandon Thompson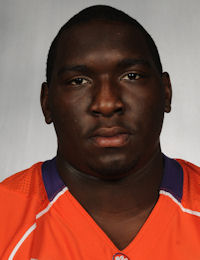 Brandon Thompson
Defensive Tackle
#98 6-2, 310
Thomasville, GA
View Full Profile , Alvin Sammons, Georgine McAlhaney, Glen Davis, Mike Price, Clay Childers, Aaron Knight, Danielle Johnston and family, Nicholas Abrams, Lana Kuykendall, Gary, Gary G, William Huggins, Jim Bennett, Chantz Fowler, Ethel McElveen, Michele Gurganus, William Gentry, Lewis Usher and Tanya Sanders, Shon Cooper, Nick Collins, Travis Patterson, Amanda Peake, Danny Hammond, Chip Turner, Nick Collins, Allen Steen, The Sturkey Family, Lance family, Nick Chrisley's family, Allison Williams, Lt. Kyle Walker, Summer and Joel Johnson, Nicole O'Donnell, James O. Johnson, Joy Pruett and family, Bill Schmidt, Jack Bailey, Gardner Family, Charles Turner, Kathy Bartholomew, Ray Sanders, David and Robin Blocker, J.R. Ray, Kenneth Kowe, Lauren Sielicki, Doug Bailey and family, Jenna, Mark Lawrence, Harlan Sullins, Peter Laboy, Kat and Carlisle Jones, Elizabeth Galloway and family, Anita McDonald, Willard Harryman, Liz Surratt, Molly Senn, Jackie Shearer, Richard Sellers, Tim Drisdelle, Edward Easterling, Dawson Bourne, Susan and Mike Brown, Julie Goodman Marshall, Willard and Dorothy Harryman, Justin Jernigan, Robert Summerville, Jack Cunningham, Mia Daughtery, Tee Senn, Jim Lanier, our great country and the men and women in uniform that protect and serve it every day plus their families.

Upgrade Your Account
Unlock premium boards and exclusive features (e.g. ad-free) by upgrading your account today.
Upgrade Now