---
| | | |
| --- | --- | --- |
| Friday, March 8, 2013, 10:08 AM | | |
Friday Email Bag
Each Friday I publish your comments and answer your questions.  To submit a comment or questions please email me at mickeyplyler@hotmail.com.
Mickey,
Here are a few facts about Clemson basketball.
1. Clemson has gotten worse each year under Coach Brownell.
2.  Clemson has gotten worse this year.
3.  Clemson is boring to watch.  We often score in the 40s, and there are 40 minutes on the clock.  I have seen many middle school teams score much more points, and they only play for 24 minutes.  Great players don't want to come play in that.
4.  Clemson is recruiting Southern Conference type of talent.
5.  Clemson's two best players are seniors.
6.  After this year, Clemson will have no scholarships to offer since we will have no seniors next year.
7.  Clemson is going to be worse next year.
I respect you for supporting Coach Brownell.  You have a lot of people that read your blog and that listen to you on the radio.  You can't be quick to want a coaching change, and I think that you are wise to give every coach the benefit of the doubt.  However, you and others can say over and over what a great x and o guy that he is, but facts are facts.  Clemson basketball is a sinking ship!
David 
David,
Thanks for the email. I will go over each of your points above.
1. I agree that they have digressed each year.
2. I agree they did not improve in the last half of this season.
3. I don't think this is the most exciting brand of basketball but I can also appreciate the style if they win.
4. Maybe not Southern Conference talent but I do agree they have to recruit better players.
5. Booker is the best player. I am not sure Jennings is the second best player but can understand the point.
6. I think they will still have some scholarships open up.
7. I am not sure if they will be worse but I am not expecting a great year either.
In summary, Brownell has a tough job and because of that, I am not ready to pull the plug. Clemson basketball requires more patience and I am willing to give him a full opportunity to build.
Mickey,
I always enjoy your blogs but I can't agree when you make it sound like Clemson is almost an impossible sell in basketball. If being in the sec enables programs like Ole Miss, Vandy and Scar to sign 15 to 25 good football recruits, being in the ACC and playing teams like UNC, Duke, N.C. State etc. should be a great selling point. There was a time when Gonzaga, Virginia commonwealth, and Butler, to name a few, weren't big name programs, but some coach went in, recruited well and laid the  groundwork. Back in the 70's and 80's  Bill foster signed and developed players like Larry Nance, Billy Williams, Moose Campbell and, later, Horace Grant. A very good UCLA team beat them to grab the last spot in the final four. Cliff Ellis won the regular season title (Can you believe it ?) with players like Elden Campbell, Dale Davis and Grayson Marshall. Rick Barnes was competitive for awhile. You don't have to sign five superstars in one year, just sign one or two ACC caliber players a year and add role players around them. I just think it's possible. Someone  needs to change the attitude and resignation that most, including you, have about Clemson basketball.         
Gerald
Gerald,
I think it is an extremely difficult sell but I agree with you in that it is not impossible. Clemson basketball has little history and tradition. It has little support. It has little in-state talent. It has below average facilities. This is one of the hardest jobs in the country. That is not an original thought. Many of the basketball coaches and people I talk to share that sentiment. Difficult? Yes. One of the most difficult in America? Yes. Impossible? No.
Mickey,
Why all heat on coaching in basketball. What has 20 yr coach Leggett done and he has the wealth of ALL talent Why no mention of a change it is needed
Jan
Jan,
I think Jack Leggett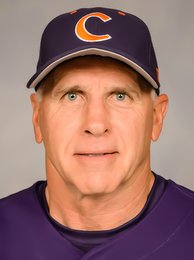 Jack Leggett
Baseball Head Coach
View Full Profile has built enough equity here at Clemson. He has deposited a bunch of big seasons and can afford a step back occasionally. With that said, I think Leggett knows the expectations are high and likes that aspect of his situation here. Because of a terrific recruiting class, I am encouraged about Clemson baseball for the first time in a few years. It may take a year or so, but I think this program is headed in the right direction again.
Mickey,
Apparently, many IPTAY members gave their basketball tickets to UNC fans when the 'Heels came to town. It was sickening to see people dressed in baby blue in prime seats throughout Littlejohn.  Then, attendance on Senior Night was both appalling and embarrassing.  It seems that what's wrong with Clemson basketball may be the so-called Clemson fans.  Let's keep Coach Brownell and get rid of fans, IPTAY members, and students who don't want to support Clemson.
David
David,
I am not sure how you replace 10,000 people. That is why you see a coach fired at the professional level. You can't fire all of the players and an easier fire is the coach. I agree that something is lacking in the area of excitement at Littlejohn. The atmosphere has disappeared.
Mickey:
Any word on if/when Kevin Pohle will be able to pitch?  I believe pitching will be the strength of the team this season, especially with the talented freshmen class, and Kevin's addition to the staff would make them even stronger.
Joe
Joe,
I asked Clemson assistant coach Bradley LeCroy that question on my radio show Thursday. He said Pohle has not progressed the way they were hoping. He said they have not given up on him at this point but have discussed alternative plans. He also said that there is a possibility that Pohle may have to take a medical red-shirt season this year if his arm does not improve in the next few weeks. It did sound encouraging to me.
The Brad Hughes All-State Insurance Agency
Prayer List
We have started a prayer list on the blog. Here are the guidelines:
If you are offended by prayer or prayer lists then I apologize in advance. The blog is free and the prayer list will be on the bottom of the page so you don't have to read it.
If you would like to add someone to the list please email me at mickeyplyler@hotmail.com
*Please let me know when it is appropriate to take the person off of the prayer list.
Those who need our prayers include:Finn Brookover, Jo Ann Bachman, Kenneth Bryant, Pruitt Martin, Got igers and his family, David Rowland, Leonard, Gillespie and his family, Jim S, Daniel Rosborough, The Huffman family, Nancy Winkler, John Reeve, Ethel Southard, Vinnie Brock, Kaitlyn L, Susan Miller, Joyce Harley, Steve Proveaux, Jeffrey Greene, the Hutto family, Sherl Drawdy, Caleb Kennedy, Teresa O'Connor, Matt Jacobs,Perrin Seigler, Candee Massee, Lindsey Jordan, Sam Catoe, Tyler Felch, the Nicolopulos family, "the Jacksonville, FL guys", Kim Sims, the Coyle family, Ryleigh Tedder, Steve Lee, Kelly Trakas, Jimmy Moore, the Thomas. V Family, Emary Claire Young, Kitty Bowers,Julie Locke, the Scheider family, Lauren Kittles' family, Frank Gentry, Joyce Bussey, Stacey McKeown, Dale Childs, Larry Lentz, Jr, Carl Sharperson, Scott Hannon, William Perry, Tyler Swaney, Lillian, Mark Feit, David Frame, Chad Berry, the family of Matthew M. Watson, the Dowis family, Shervin Messer, Alan Putnam, the Olivers, Lee Tate, Ronnie Abrams, Eddie Greene, the Jackson family, Bill Vader, Jim Taylor, Tina DeWitt, Rock Horne, Christopher Tuten, Bobby Wayne Thomas, Emma and Danielle Carothers, Robert Ditty, Mr. and Mrs. Murray Smith, Dot Cartee, Ayden Mills, Millie Heatley, Lynn Martin and family, Michael Pinson, Jake David family, Angie Crowley, Ira, Mike Tolson, Poly Wells, Dr. Muriel Bishop, Jack Cunningham, Emily Jefford Meister, Zachary Stoller, Aaron Clackum, Pat James, Cortney Moore, William Moore, Angelia and Savannah Anderson, William Ross, Meredith Legg, Scott Johns, Frank Carroll, Brandon Thompson, Alvin Sammons, Georgine McAlhaney, Glen Davis, Mike Price, Clay Childers, Aaron Knight, Danielle Johnston and family, Nicholas Abrams, Lana Kuykendall, Gary, Gary G, William Huggins, Jim Bennett, Chantz Fowler, Ethel McElveen, Michele Gurganus, William Gentry, Lewis Usher and Tanya Sanders, Shon Cooper, Nick Collins, Travis Patterson, Amanda Peake, Danny Hammond, Chip Turner, Nick Collins, Allen Steen, The Sturkey Family, Lance family, Marcus Lattimore, Nick Chrisley's family, Allison Williams, Lt. Kyle Walker, Summer and Joel Johnson, Nicole O'Donnell, James O. Johnson, Joy Pruett and family, Patrick Heher, Bill Schmidt, Jack Bailey, Bill Early, Gardner Family, Charles Turner, Kathy Bartholomew, Ray Sanders, David and Robin Blocker, J.R. Ray, Kenneth Kowe, Lauren Sielicki, Doug bailey and family, Johnnie Walker, Jenna Phipps, Mark Lawrence, Harlan Sullins, Peter Laboy, our great country and the men and women in uniform that protect and serve it every day plus their families.

Upgrade Your Account
Unlock premium boards and exclusive features (e.g. ad-free) by upgrading your account today.
Upgrade Now