---
| | | |
| --- | --- | --- |
| Friday, December 7, 2012, 12:36 PM | | |
Friday Email Bag
Each Friday I publish your comments and answer your questions.  To submit a comment or questions please email me at mickeyplyler@hotmail.com.
Mickey,
Is there some plan to improve the secondary unit?  The performance this year could not have pleased the coaches. From poor tackling, bad coverage schemes, inability to adjust to the ball in the air, numerous easy interception drops, susceptibility to being beaten deep this year was just not good for the unit.  What is the plan here?  Something different is needed here-  new coach, different approach, etc.  I think this goes much further than just letting guys get another year of experience.  I do think and extra year for young guys on the front will help with pass rush. 
Also please convey how unacceptable the present streak is versus the coots. I don't care who you beat or how many you win.  Losing that one annually is not going to cut it much longer.  Thanks and beat LSU,
74TIGER
74 TIGER,
I think the plan is to get better in every area. They need better players. They need more speed and more athleticism. They need to develop players better. They also need to play better technique and finally they need to be coached better. This unit has made every mistake that can be made. They bust assignments. They don't play the ball well. They don't tackle well. My guess is they want better players but they need to do more with them once they arrive, I am hopeful Blanks and Kearse will take over at safety. I think Breeland, Jenkins and maybe a couple of freshmen could help at corner.
Mickey,Friday Email Bag
I read your blog today, "Recruiting Capsule."  I was wondering what thoughts you had on Pinion being able to kick the ball into the end zone.  It seems many teams this season were able to use deep kicks to ensure the other team was not able to return the ball.   That seemed to be a missing weapon for the Tigers this year, especially late in the season.  Will Lakip have a role?  Is he the heir apparent for Catanzaro?
Best,
Kirk
Kirk,
I think Pinion will get the chance to handle kick off and punting duties. I don't know e long term plans for Lakip. I have not seen him enough and kickers are hard to project.
Mickey, I enjoyed listening to the playoff plans that you guys were discussing this morning. I have a suggestion of something I think you will find interesting: Print off an FCS playoff bracket, use the BCS standings BEFORE any conference championship games, in other words you do away with those and you can have co-champions such as ACC would be FSU and Clemson, SEC would be Alabama, Georgia and Florida. Plug teams into the FCS bracket by seeding and I think you will find the results fascinating. I would give 8 automatic bids for whatever 8 conferences you think are best and then the other 12 would be at large. Remember no conference championship game so for example Nebraska instead of Northwestern would have gotten automatic bid. Also, a team could be a higher seed than another team even if it is not a conference champion, for example Clemson would be a higher seed than Northern Illinois or Louisville.
Jim
Jim,
A 20 team playoff works at the FCS level so it could work here also. College football is the best sport but has the worst ending.
Mickey,
I like most of you ideas for creating a bowl game from among the existing bowls.  The key is to use capitalism to encourage bowls to bid on the playoff process.  Of course, I am sure some bowls will take exception to being left out of your playoff plan (e.g., Gator Bowl).   I think the idea of eliminating bowls is not very realistic regardless of how necessary it might be.Capitalism is the reason the other bowls would not go away.   Bowls are created to generate revenue.  We let people earn money in just about any manner imaginable so long as it does not break the law.  The bowl committees are not going to simply pack up and ignore whatever revenue they presently earn.  A bad bowl is likely in bad taste, but I doubt they are played unless someone is making money.   I do not believe your plan is perfect, but it is certainly a good starting point.  It would create a true playoff system in the only NCAA sport that does not have one. 
Best,
Kirk
Kirk,
The bowl system is a farce. They prey upon schools and force them to buy an allotment of tickets. Some are subsidized by their communities. You can't tell me that there is a high demand for many of these crappy bowls with awful teams in terrible locations.
Mickey,
There was a rumor up here that current Wright State coach Billy Donlan will rejoin Brownell as top assistant for Clemson after the 12-13 season. Have you heard anything? I listen to your station on Clementine.
David
David,
There is not an opening now but who knows after the season. I have not heard that rumor but will ask around. Thanks.
Hello Mickey,
In the "South Carolina Basketball Review", you stated, "I know many of you are not basketball fans. That is apparent to me after seeing attendance at Clemson basketball games through the years."  I think a more accurate assessment is that we are not fans of a mediocre basketball program or any sports program that is not among the very best.  It is hard to attend a Clemson basketball game knowing you cannot compete against teams like Purdue or Gonzaga, much less Duke or North Carolina.  I love Clemson, but there is a point when one must weigh their options: attend a game that will likely end in a loss and lost money for tickets and snacks or do something else.  I choose to do something else which often times includes watching the game on TV.  Of course, it probably is worth noting I live 4 hours away by car from Clemson, SC.
Best,
Kirk
Kirk,
Basketball is a hard sell. Few travel more than hour or two for the games. I just wish we could be relevant in basketball in my lifetime. I am not sure that will ever happen.
Hi Mickey,
I would like to get your thoughts on our secondary next year. With Jenkins returning, Blanks probably moving to safety, Breeland/Peters/Robinson with another year of experience, and maybe a little help from recruits, what's your prognosis? Please be very candid and not political; tell us how you really feel; what you would say while drinking a beer at a tailgate with your closest friends?
Also, your thoughts on moving to the Big 12 from last year are proving to be more and more true. The ACC ship has been sinking for a while now, and we're still on it. I do, however, disagree with you on routing for other ACC schools. I was the biggest Seminole fan when they played Florida; the same for Ga Tech against Georgia (for the first 10 minutes). Clemson's success is (unfortunately) tied to the success of the ACC to some degree. This is the nature of college football where perception (and ESPN) matters. This will only continue as we move to a four team playoff.
Regards,
Cody
Cody,
I ink Blanks and Kearse will take over at safety. I am hopeful they will be an upgrade. It can't be much worse. I am hopeful Breeland and Jenkins can produce at corner but also think a freshman or two may be able to make an impact. Alexander would really help.
I am not sure what will happen with expansion but I don't think it is over. I still think the Big 12 will eventually make a move. This may force the SEC's hand. But I don't know anyone who has a grasp on what will happen.
Mickey,
I am an alumnus of Clemson and have been a passionate football season ticket holder for well over 40 years since graduation.
I admit that I am not the most observant to everything that is occurring on the field, but during the USC game, I noticed something that I thought was odd and would like you to explain it to me.
It was fourth down, USC was kicking to us with their backs to the Hill, and I believe that Adam was back to receive the punt. What I thought was odd was that Sammy, Nuk, and Hot Rod were all at the line of scrimmage. I don't understand why these skill players were in harm's way.
Can you explain these three players involvement?
Is it possible that these were other players wearing the numbers 2, 6, and 25?
Thanks for all that you do to provide valuable insight on Clemson sports.
Lee
Lee,
Teams are spreading the punt formation out and putting better cover guys on the field. The punt return teams are countering by putting more athletic guys on the field. This is happening all across college football. The punt team formation is a big change over the past five years.
Hey Mickey,
Do you think Clemson is going to be able to keep the coaching staff together ? What do you think is the problem with Clemson secondary, we as fans all remember the days of Dawkins, Miller, Hill, Fudge and other more physical players in the secondary. Players or Coach ? Lastly Coach Dabo said that went it comes to uniform that he likes the Tradition look, but Traditionally Clemson wears all orange at home specially when we play vs the chickens ! So what's up with orange and white on solid orange day ?? By the way the school colors are orange and purple ! Traditionally Clemson wear all orange at home on unless they wear purple.
Go Tigers ! Love what Coach Dabo is building at Clemson.
Thank you
Graham
Graham,
I coaching stuff will continue through mid January as staff will begin to fill out. At this point it is hard to tell if Morris or Harbison will still be here but my guess is that they will be.
Clemson's secondary has issues on some many levels but I think athleticism and assignments are the top two issues.
I think Dabo likes to simplify the uniform stuff but I think he will loosen up on that at some point. I don't want to be Virginia Tech or Oregon but a little purple once a year would be cool.
The Brad Hughes All-State Insurance Agency
Prayer List
We have started a prayer list on the blog. Here are the guidelines:
If you are offended by prayer or prayer lists then I apologize in advance. The blog is free and the prayer list will be on the bottom of the page so you don't have to read it.
If you would like to add someone to the list please email me at mickeyplyler@hotmail.com
*Please let me know when it is appropriate to take the person off of the prayer list.
Those who need our prayers include:Finn Brookover, Jo Ann Bachman, Kenneth Bryant, Pruitt Martin, Got igers and his family, David Rowland, Leonard, Gillespie and his family, Jim S, Daniel Rosborough, The Huffman family, Nancy Winkler, John Reeve, Ethel Southard, Vinnie Brock, Kaitlyn L, Susan Miller, Joyce Harley, Steve Proveaux, Jeffrey Greene, the Hutto family, Sherl Drawdy, Caleb Kennedy, Teresa O'Connor, Matt Jacobs,Perrin Seigler, Candee Massee, Lindsey Jordan, Sam Catoe, Tyler Felch, the Nicolopulos family, "the Jacksonville, FL guys", Kim Sims, the Coyle family, Ryleigh Tedder, Steve Lee, Kelly Trakas, Jimmy Moore, the Thomas. V Family, Emary Claire Young, Kitty Bowers,Julie Locke, the Scheider family, Lauren Kittles' family, Frank Gentry, Joyce Bussey, Stacey McKeown, Dale Childs, Larry Lentz, Jr, Carl Sharperson, Scott Hannon, William Perry, Tyler Swaney, Lillian, Mark Feit, David Frame, Chad Berry, the family of Matthew M. Watson, the Dowis family, Shervin Messer, Alan Putnam, the Olivers, Lee Tate, Ronnie Abrams, Eddie Greene, the Jackson family, Bill Vader, Jim Taylor, Tina DeWitt, Rock Horne, Christopher Tuten, Bobby Wayne Thomas, Emma and Danielle Carothers, Robert Ditty, Mr. and Mrs. Murray Smith, Dot Cartee, Ayden Mills, Millie Heatley, Lynn Martin and family, Michael Pinson, Jake David family, Angie Crowley, Ira, Mike Tolson, Poly Wells, Dr. Muriel Bishop, Jack Cunningham, Emily Jefford Meister, Zachary Stoller, Aaron Clackum, Pat James, Cortney Moore, William Moore, Angelia and Savannah Anderson, William Ross, Meredith Legg, Scott Johns, Frank Carroll, Brandon Thompson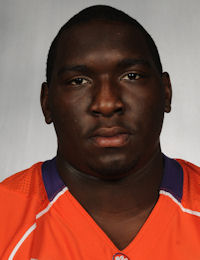 Brandon Thompson
Defensive Tackle
#98 6-2, 310
Thomasville, GA
View Full Profile , Alvin Sammons, Georgine McAlhaney, Glen Davis, Mike Price, Clay Childers, Aaron Knight, Danielle Johnston and family, Nicholas Abrams, Lana Kuykendall, Gary, Gary G, William Huggins, Jim Bennett, Chantz Fowler, Ethel McElveen, Michele Gurganus, William Gentry, Lewis Usher and Tanya Sanders, Shon Cooper, Nick Collins, Travis Patterson, Jennifer Chancy, Amanda Peake, Danny Hammond, Chip Turner, Nick Collins, Allen Steen, The Sturkey Family, James Caylor, Lance family, Marcus Lattimore, Nick Chrisley's family, Allison Williams, Lt. Kyle Walker, Summer and Joel Johnson, Nicole O'Donnell, Jennifer McManus, James O. Johnson, Joy Pruett and family, Patrick Heher, Bill Schmidt, Jack Bailey, Bill Early, Gardner Family, Charles Turner, our great country and the men and women in uniform that protect and serve it every day plus their families.