---
Friday Email Bag
Each Friday I publish your comments and answer your questions.  To submit a comment or questions please email me at mickeyplyler@hotmail.com.
Hey Mickey,
Long-time listener of the show on the way to work each day, and this morning I heard a bit of the discussion on banning the woohoo, of which I am a big fan of. I remember it becoming more pronounced back when I was a Clemson student, and I always thought it "sissified" our fight song and have wanted to get rid of it from the beginning.
I enjoyed hearing some of the suggestions to get rid of it, and I agree with your statement that the best way to make that happen is to replace it with something. I am aware of the idea to instead cheer "Goooo Tigers! Go Tigers Go!" While this works as a fine replacement I've always thought one of the easiest things to cheer would be "Fight Tigers, Fight Tigers, Fight Fight Fight!", in the same manner we cheer during the Cadence Count. It's already something people know, and it fits in seamlessly with the spot of the woohoo and right on into the spelling of C-L-E-M-S-O-N! What do you think?
I just wanted to pass my idea along to you, and perhaps someone else has already suggested it, but I thought I'd see what you thought. Whatever the solution, we've got to do something! And I know you've got a big voice in the community to make it happen.
Let's ban the woohoo,
Chris
Chris,
My voice is too small but the collective voice of the fans is not. I like your idea and like the Go Tigers, Go Tigers Go! Chant as well. I am for anything that we can use to get rid of the Woo Hoo. I also think that you can't stop some from doing it but you can drown it out with louder noises. Finally we have to stop it. The student body is the first place to start. At baseball games when the students are not here the Woo Hoo is not as prevalent. I think the Woo Hoo time has expired.
Mickey,
When it comes to promoting, raising $, motivating, communicating & encouraging & loves the TIGERS, I believe the right person is right here in our own backyard in Leighton Cubbage.  I could save the Search Committee  some time & effort. Does anyone have David Wilkins, Janie Hodge & Neill Cameron e-mail?  Just getting started.
Go Tigers,
David
David,
Leighton is a friend and a great guy. I don't know anyone who loves Clemson any more than Leighton. He is also a very successful businessman that understands branding in today's environment. I like the idea and think Clemson is better because of Leighton Cubbage. According to clemson.edu Neil Cameron's email address is cameron @clemson.edu and Janie Hodge's is hodge@clemson.edu. David Wilkins does not have an email address on clemson.edu listed but the phone number listed is 864-250-2231.
Mickey,
With Jerome Maybank
Jerome Maybank
RS So. Defensive Tackle
#96 6-4, 345
Pawleys Island, SC
View Full Profile moving to O Line, will he be changing numbers from #96.  I always got him and Dawson Zimmerman
Dawson Zimmerman
Punter / Kicker
#96 6-2, 205
Lawrenceville, GA
View Full Profile mixed up last year, since they have similar body types and were both #96. 
Tooter Town Tiger
Tooter Town Tiger,
Like you, I always got those two confused. Good one. I think Maybank will be wearing an offensive line number starting today.
Mickey,
Regarding TDP's resignation. I hope that Clemson will finally hire a true Clemson person - one who loves it when we win and gets really ticked off when we lose and shows it. We need someone who is visible to us common people and who will ensure us that plans are in place when frustrating losses begin to pile up - losses to USC in all sports comes to mind here. I want to hear and see the new hire on radio and TV. We need someone who will hold all coaches accountable for their team's performance and will not put up with mediocrity.
We need an AD that will beat the coaches to the microphone to express disgust when we play below our potential. We need this person to be "All-In", "All Clemson" and who expects and demands perfection.
Go Tigers..!!
Rick
Rick,
I think you make a lot of great points. It sounds like you want another George Steinbrenner. Can we put you on the search committee?
Hey Mickey,
Do you know if Clemson scrimmage Saturday or any of them for fall camp be open to the public?
Ryan
Ryan,
Unfortunately, all practices and scrimmages are closed to the public.
Mickey,
Got a wild idea for ya - Danny Ford for new AD - guess the thought would be shot down before take off & of course I have zero knowledge of what it takes to be an AD. Guess I am just an ole Danny hanger on but I remember even some media members saying how they would pay money just to hear him address a Clemson crowd.
Ray
Ray,
I like the idea. Like you, I am a Ford fan. His competitive spirit would be welcomed. Unfortunately, I am not sure how much interest he would have or how much the other side would have. He does lack administrative experience as well.
Mickey, 
I enjoyed this recent blog post. I agree wholeheartedly that the new AD needs to be more accessible and forward thinking in terms of creating a brand and new culture. 
I wanted to add a small point. Instead of giving all the credit to Ford regarding the accessibility (of which he deserves a great deal), I was always taught that (and even witnessed a few times) Bill McLellan was responsible for the accessibility culture in Jervey and at Clemson. Rather than the cold, reserved CEO types (Robinson and Phillips), McLellan was out with the fans, mingling in tailgates and shaking the hands of potential donors. In my mind, this is how you change the culture and simultaneously create better fundraising. People have to believe in the leadership. People believe when they shake someone's hand, look them in the eye and know that the leader cares enough to come by, get to know me and shake my hand. Thats someone that I and many other Tiger fans want to invest in and believe in. I agree with you that this is one reason why Dabo has been so successful. He gets it. He has embraced Clemson. Finally, in a era where media dominates people's social lives, I think we are going to see more of a "one-on-one, get to know you" style (along with the use of social media) of leadership emerge both in a university context as well as in the political, medical and business arenas as I think people are craving real human relationships. 
Anyway, I know there were many scandals that will taint McLellan's tenure, but the guy knew how to be with the people.  
Here's to the next AD "getting" that. 
Otis 
Otis,
McLellan had his critics but he was the best athletic director at Clemson in my lifetime. You made a great point that I did not consider. It was McLellan that helped Ford develop those skills. Great point. Give me a McLellan clone for Clemson's next AD.
Mickey,
I heard you mention the Thomas Green would he woohoo t-shirt this morning. I have seen a handful of people wearing these but have never been successful in finding one. Any idea where I could one..or two..?? Thanks!
Lynn
Lynn,
My good friend Elizabeth Bruner has these for sale. Her number is 864-506-4424. I own a short sleeve and a long sleeve shirt proudly. Call Mrs. Bruner and she will hook you up.
Mickey,
I heard about you talking about banning the woo hoo. We need to talk about this more. Now, I'm hearing they are teaching this at student orientation.
It is NOT a tradition. It's got to stop. As you know, we are replacing it with "Go Tigers, Go Tigers Go"
"Ban the woo hoo Mike"
Mike,
I have to give you and your crew credit for being the first to bring the ban to my attention. Your group is the best. We have to stop it and if it is being taught at orientation then that is where we will begin. Thanks and keep up the good work.
Mickey,
How about any of these guys? Pros and cons? Kyle Young, Jim Davis, Smythe McKissick.
Kevin
Kevin,
All three are Clemson men. All three have been successful in their fields. Kyle Young has athletic administrative experience. Jim Davis understands the relationship with coaches. Smythe McKissick has shown the ability to be a good fundraiser. On the con's side, I would say Kyle's youth, Jim's age and Smythe's lack of athletic experience.
Mickey,
I know we had the AD stuff this week but you missed the defensive linemen rankings this week. Can I get them? Thanks.
Rico
Rico,
Sorry for missing them. I got slammed yesterday but here is how I rank the ACC defensive line units:
1. FSU
2. Virginia Tech
3. Maryland
4. UNC
5. NC State
6. Miami
7. Clemson
8. Boston College
9. Wake Forest
10. Virginia
11. Georgia Tech
12. Duke
The Brad Hughes All-State Insurance Agency
Prayer List
We have started a prayer list on the blog. Here are the guidelines:
If you are offended by prayer or prayer lists then I apologize in advance. The blog is free and the prayer list will be on the bottom of the page so you don't have to read it.
If you would like to add someone to the list please email me at mickeyplyler@hotmail.com
*Please let me know when it is appropriate to take the person off of the prayer list.
Those who need our prayers include:Finn Brookover, Mary-Louise Pawlowski (John's daughter), Jo Ann Bachman, Kenneth Bryant, Pruitt Martin, Got igers and his family, David Rowland, Leonard, Gillespie and his family, Jim S, Daniel Rosborough, The Huffman family, Nancy Winkler, John Reeve, Ethel Southard, Vinnie Brock, Kaitlyn L, Susan Miller, Joyce Harley, Steve Proveaux, Jeffrey Greene, the Hutto family, Sherl Drawdy, Caleb Kennedy, Teresa O'Connor, Matt Jacobs,Perrin Seigler, Candee Massee, Lindsey Jordan, Sam Catoe, Tyler Felch, the Nicolopulos family, "the Jacksonville, FL guys", Kim Sims, the Coyle family, Ryleigh Tedder, Steve Lee, Kelly Trakas, Jimmy Moore, the Thomas. V Family, Emary Claire Young, Kitty Bowers,Julie Locke, the Scheider family, Lauren Kittles' family, Frank Gentry, Joyce Bussey, Stacey McKeown, Dale Childs, Larry Lentz, Jr, Carl Sharperson, Scott Hannon, William Perry, Tyler Swaney, Lillian, Mark Feit, David Frame, Chad Berry, the family of Matthew M. Watson, the Dowis family, Shervin Messer, Alan Putnam, the Olivers, Lee Tate, Ronnie Abrams, Eddie Greene, the Jackson family, Bill Vader, Jim Taylor, Tina DeWitt, Rock Horne, Christopher Tuten, Bobby Wayne Thomas, Emma and Danielle Carothers, Robert Ditty, Mr. and Mrs. Murray Smith, Dot Cartee, Ayden Mills, Millie Heatley, Lynn Martin and family, Michael Pinson, Jake David family, Angie Crowley, Ira, Mike Tolson, Poly Wells, Dr. Muriel Bishop, Jack Cunningham, Emily Jefford Meister, Zachary Stoller, Aaron Clackum, Pat James, Cortney Moore, William Moore, Angelia and Savannah Anderson, William Ross, Meredith Legg, Scott Johns, Frank Carroll, Brandon Thompson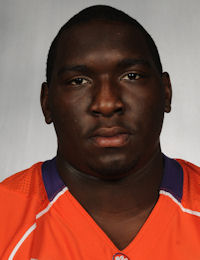 Brandon Thompson
Defensive Tackle
#98 6-2, 310
Thomasville, GA
View Full Profile , Alvin Sammons, Georgine McAlhaney, Glen Davis, Mike Price, Clay Childers, Aaron Knight, Danielle Johnston and family, Nicholas Abrams, Lana Kuykendall, Gary, Billy McLeroy, Gary G, William Huggins, Jim Bennett, Chantz Fowler, Ethel McElveen, Michele Gurganus, William Gentry, Lewis Usher and Tanya Sanders, Shon Cooper

Upgrade Your Account
Unlock premium boards and exclusive features (e.g. ad-free) by upgrading your account today.
Upgrade Now