---
| | | |
| --- | --- | --- |
| Wednesday, October 17, 2012, 11:05 AM | | |
Daniel's Big Day
I gave up the fight to ask students to get to the noon games early. I tried for years to convince them to go out hard on Thursdays and get some rest Friday before a home game at noon, but to no avail. I am a beaten man and I know I can't win that battle.
I gave up trying to get fans excited about noon games too. Some have to drive from long distances. Traffic is bad. Some love tailgating and noon seems to be too hard for some.
So I promise I will never again beat the dead horse of trying to convince some that noon games are not doom games.
However, this week is different. This is the last time I will ever mention getting to your seats early, but PLEASE TRY TO GET THERE EARLY THIS WEEK!
Saturday is Military Appreciation Day. It is always a great day thanks to the hard work of Jon Seketa who honors our military heroes with the best presentations each year. But this Saturday is something completely different. This Saturday is extra special.
Last year I loved seeing Mason Cloy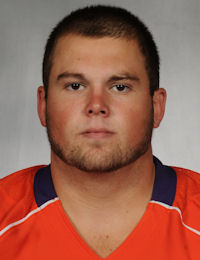 Mason Cloy
Offensive Line
#62 6-3, 310
Columbia, SC
View Full Profile at the top of the hill with the American Flag. He came from a military family and his accomplishments in ROTC cleared the way for his military career after he was finished playing. It was a special touch.
Seeing C.J. Spiller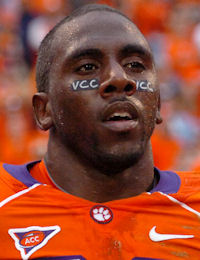 C.J. Spiller
Pro Running Back
#28 5-11, 195
Lake Butler, FL
View Full Profile at the top of the hill with the American flag was also very special.Daniel's Big Day
Clemson has a proud military history and she has given some of her best students and alumni to our country's greatest causes. But this Saturday will be another fitting honor to our heroes.
This Saturday Daniel Rodriguez will stand at the top of the hill with the American flag. The walk-on wide receiver and special teams player served 1½ years in Iraq and then a year-long tour in Afghanistan, during which he fought in the Battle of Kamdesh on Oct. 3, 2009. Rodriguez was one of 22 American soldiers wounded in that battle. He was awarded a Purple Heart and the Bronze Star Medal for valor.
This week a true hero will have a special honor that he will never forget. Saturday Clemson is playing Virginia Tech, the team he grew up pulling for, on his father's birthday. Saturday will be a fitting tribute to someone we look up to.
We have seen the Clemson people respond to Rodriguez when he comes into the game. They applaud when he has gotten a reception or when he gets a chance to return a punt. But Saturday will be his biggest ovation.
We have a chance to show our appreciation for all of our military heroes Saturday, especially number 83. So lets not let a noon start time do anything to take away from that.
Last night I read about 12 to 15 articles on the internet about Rodriguez and his service and I wanted to share one that vividly describes what he faced. Below is an article from Steve Yanda of the Washington Post. You find the entire piece at http://www.washingtonpost.com/sports/army-veteran-daniel-rodriguez-overcomes-battle-scars-to-play-football-for-clemson/2012/08/16/75e9b922-e6e1-11e1-8741-940e3f6dbf48_story.html.
A little after 5 a.m. on Oct. 3, 2009, Spec. Daniel Rodriguez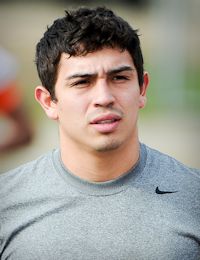 Daniel Rodriguez
RS Fr. Wide Receiver
#83 5-8, 175
Stafford, VA
View Full Profile went to the aid station at Combat Outpost Keating, a remote military base in the Kamdesh district of eastern Afghanistan, to fill out online forms. When he heard shots being fired outside, he figured another routine Taliban disturbance was at hand.
Armed with a 9mm pistol, Rodriguez left the aid station and ran to the end of the barracks. Keating is located in a valley, and when Rodriguez looked up at the surrounding mountain ridges, all he could see were muzzle flashes.
That day, more than 300 Taliban insurgents attacked the base, inhabited by 53 soldiers. Roughly 300 meters lay between Rodriguez and the machine gun he was supposed to man during such encounters. So Rodriguez, who starred at Brooke Point High as a slot receiver, defensive back and kickoff returner from 2003 to 2005, zigzagged as quickly as he could along an inclined dirt path while off-the-mark bullets kicked rocks at his ankles.  
Rodriguez arrived at his machine gun just as Kevin Thompson, another soldier, was coming outside. Rodriguez began to load the machine gun, and when he looked back, Thompson was struck in the head by a bullet. He was dead before he hit the ground.
Rodriguez spent the rest of the day killing as many Taliban insurgents as he could. Though just 5 feet 8 and 175 pounds, he twice tried to drag Thompson, who was 6-5 and close to 300 pounds, inside, and each time he was struck by shrapnel from a rocket-propelled grenade. The first time it struck his right leg. The second time it struck his neck. The metal shards were so hot that his wounds were instantly cauterized. Another soldier had to pull the shrapnel from Rodriguez's neck with a pair of pliers.
He is convinced that Thompson's body lying outside the post kept Taliban fighters from coming inside. Rodriguez shot them in the back as they walked past.
Homecoming was tough for Rodriguez. He struggled like many do after combat. But Rodriguez battled through his pain and dedicated himself to the next stage in his life, his next goal. College football was the driving force. He wanted a chance to put everything he had into something and his physical and mental toughness led him back to a sport he played in high school. Rodriguez ended up here at Clemson and now we are better off for knowing his story.
I can't wait for Saturday. I can't wait to show Daniel Rodriguez how much we love him and honor his service. I hope to see you early Saturday in your seats to give a small token of our appreciation to another hero.
The Brad Hughes All-State Insurance Agency
Prayer List
We have started a prayer list on the blog. Here are the guidelines:
If you are offended by prayer or prayer lists then I apologize in advance. The blog is free and the prayer list will be on the bottom of the page so you don't have to read it.
If you would like to add someone to the list please email me at mickeyplyler@hotmail.com
*Please let me know when it is appropriate to take the person off of the prayer list.
Those who need our prayers include:Finn Brookover, Mary-Louise Pawlowski (John's daughter), Jo Ann Bachman, Kenneth Bryant, Pruitt Martin, Got igers and his family, David Rowland, Leonard, Gillespie and his family, Jim S, Daniel Rosborough, The Huffman family, Nancy Winkler, John Reeve, Ethel Southard, Vinnie Brock, Kaitlyn L, Susan Miller, Joyce Harley, Steve Proveaux, Jeffrey Greene, the Hutto family, Sherl Drawdy, Caleb Kennedy, Teresa O'Connor, Matt Jacobs,Perrin Seigler, Candee Massee, Lindsey Jordan, Sam Catoe, Tyler Felch, the Nicolopulos family, "the Jacksonville, FL guys", Kim Sims, the Coyle family, Ryleigh Tedder, Steve Lee, Kelly Trakas, Jimmy Moore, the Thomas. V Family, Emary Claire Young, Kitty Bowers,Julie Locke, the Scheider family, Lauren Kittles' family, Frank Gentry, Joyce Bussey, Stacey McKeown, Dale Childs, Larry Lentz, Jr, Carl Sharperson, Scott Hannon, William Perry, Tyler Swaney, Lillian, Mark Feit, David Frame, Chad Berry, the family of Matthew M. Watson, the Dowis family, Shervin Messer, Alan Putnam, the Olivers, Lee Tate, Ronnie Abrams, Eddie Greene, the Jackson family, Bill Vader, Jim Taylor, Tina DeWitt, Rock Horne, Christopher Tuten, Bobby Wayne Thomas, Emma and Danielle Carothers, Robert Ditty, Mr. and Mrs. Murray Smith, Dot Cartee, Ayden Mills, Millie Heatley, Lynn Martin and family, Michael Pinson, Jake David family, Angie Crowley, Ira, Mike Tolson, Poly Wells, Dr. Muriel Bishop, Jack Cunningham, Emily Jefford Meister, Zachary Stoller, Aaron Clackum, Pat James, Cortney Moore, William Moore, Angelia and Savannah Anderson, William Ross, Meredith Legg, Scott Johns, Frank Carroll, Brandon Thompson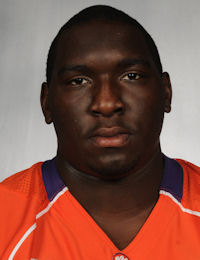 Brandon Thompson
Defensive Tackle
#98 6-2, 310
Thomasville, GA
View Full Profile , Alvin Sammons, Georgine McAlhaney, Glen Davis, Mike Price, Clay Childers, Aaron Knight, Danielle Johnston and family, Nicholas Abrams, Lana Kuykendall, Gary, Billy McLeroy, Gary G., William Huggins, Jim Bennett, Chantz Fowler, Ethel McElveen, Michele Gurganus, William Gentry, Lewis Usher and Tanya Sanders, Shon Cooper, Nick Collins, Travis Patterson, Nick Chrisley, Bud Long, Arthur R. Cressman Sr, Jennifer Chancy, Eden Chandler, Amanda Peake, Danny Hammond, Chip Turner, Nick Collins, Allen Steen.