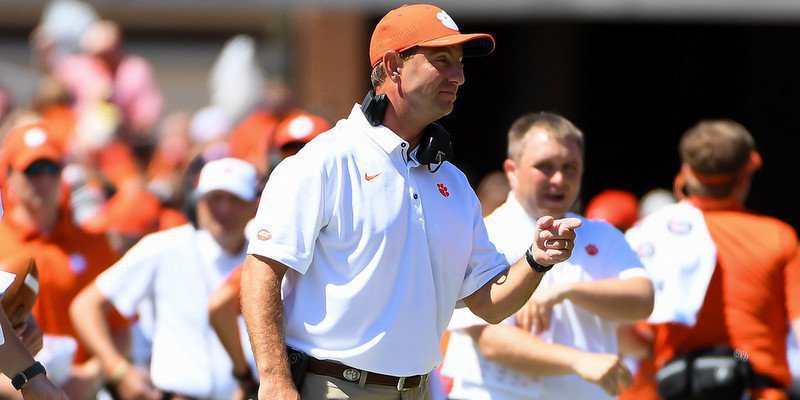 | | |
| --- | --- |
| Booing Injuries; Expectations | |
---
| | | |
| --- | --- | --- |
| Monday, September 16, 2019, 9:58 AM | | |
Email Bag
In this format, we will publish your comments and answer your questions. To submit a comment or questions, please email me at mickeyplyler@hotmail.com.
Mickey,
As Clemson fans, we like to think of ourselves as classy with a high football IQs. I was very disappointed on Saturday of the boo-ing of A&M players getting hurt. It's classless to boo injured players regardless of whether they faking it or not. There were a couple of instances where A&M players would have no reason to fake an injury. Right before the half we completed a 6 yard pass to Amari Rogers short of a 1st down and he's tackled in bounds. An A&M player is down and the crowd starts boo-ing. The pair of 20 somethings next to me were going nuts. I asked them why they were boo-ing to which they replied A&M is trying to kill our momentum. I explained to them we completed a 6 yard pass and the clock was running, that's not momentum. They were doing us a favor by giving us a free timeout. They didn't want to hear it and continued to boo. The next play we complete a pass to Dixon for 1 yard and he doesn't get out of bounds. We immediately call a time-out. Of course I look at the guys next to me who want nothing to do with me. On our last long drive when we have back ups in and are just trying to run some clock A&M has a player go down. Granted this time it was after a long run, but we are running clock, not going hurry-up. But of course the boo-birds come out. Why fake an injury in that situation? I was embarrassed and apologized to the Aggie fans sitting in front of me.
I'm a long time listener to your show but never call or email you. For some reason this bothered me on Saturday. I went out to College Station back in 04' and the people were incredible. Every Clemson fan I know had the same experience in 04' and last year. I truly believe that 04' game changed the way our fans started treating visiting fan bases. Maybe that's why this bothered me so much.
Anyway I wanted to get your thoughts and hoped you noticed too and would say something on your show. If "BEST IS THE STANDARD" for the team, it should be for the fans as well. I believe we need to do better as fans and not boo injuries, or at least have the football IQ to know when the time is to fake an injury.
Regards,
Matt
Matt,
I don't know of any fans that wants to see any player get hurt. I also don't know any fan that would boo if they thought a player was really hurt. The issue here is that it is hard to tell someone's intent. If a player is actually hurt, we should never boo. However, we have seen time and time again where a player is faking to slow down the offenses. I don't blame fans who get sick of seeing guys fake it. Again the hard part is we really don't know who is actually hurt and who is not.
Mickey,
I guess we are officially spoiled as a fan base. I have read more bitching on tigernet and twitter than I saw after losses in years past. I will never complain about a win. Go Tigers!
Brad
Brad,
I don't blame some fans for pointing out when the offense sputters at times. Dabo, Elliott and the players have said they are not playing at either highest level yet. However, it does bother me that some overlook the mountain of positives in order to complain about the few negatives. I always say praise fairly and criticize fairly.
This offense has not hit its stride and Trevor has looked human at times, but through three games Clemson is averaging more yards per game than any other offense in school history.
And there are other positives. Who would have thought that the defense would be THE story of the season? I think the special teams have been very good as well.
It is about perspective, but it's also about what you chose to focus on. Clemson is the only school to beat three Power 5 teams this season. Trevor had a career high in term of passing yards against Syracuse. Amari has had an amazing recovery. The offensive line has been dominant. There have been so many defensive players who are playing their best football like Davis, Henry, Rudolph, Skalski, Smith, Turner, Simmons, etc.
You can focus on the negative if you like, but be fair and point out that this team just broke the school record with 18 consecutive wins.
The Brad Hughes All-State Insurance Agency