---
| | | |
| --- | --- | --- |
| Wednesday, January 16, 2013, 1:57 PM | | |
2013 Road ACC Schedule
The Atlantic Coast Conference released the teams on each school's schedule on Friday for the 2013 football season. We will not get the dates of the games until February but we did learn the teams on each schedule. Yesterday we looked at a capsule of the ACC teams coming to Death Valley next season. Today we will take a capsule look at the upcoming ACC road games for the Tigers. Tomorrow we will preview the out of conference games on the 2013 schedule.
Team:Syracuse
2012 Record:8-4, Big East 4-2
2012 Wins:Stony Brook, Pittsburgh, UConn, South Florida, Louisville, Missouri, Temple, West Virginia
2012 Losses:Northwestern, Southern Cal, Rutgers, Cincinnati
2012 Scoring Offense:30.0 55th
2012 Total Offense:476 17th
2012 Rushing Offense:187 40th
2012 Passing Offense:289 29th
2012 Scoring Defense:24.77 46th
2012 Total Defense:378 48th
2012 Rushing Defense:144 43rd
2012 Passing Defense:234 62nd
Key Personnel Losses:Ryan Nassib (QB), Alec Lemon (WR), Marcus Sales (WR), Justin Pugh (OL), Shamarko Thomas (DB), Brandon Sharpe (DL)
Key Personnel Returners:Jerome Smith (RB), Prince-Tyson Gulley (RB), Jarrod West (WR), Dyshawn Davis (LB), Marquis Spruill (LB), Jeremi Wilkes (DB).
Notes:The Orange won eight games in two of the last three years under Doug Marrone but he recently left to go to the NFL. Defensive coordinator Scott Shaffer takes over. They will have to replace one of the best quarterback is in school history in Nassib. The two top receivers are gone as well but the two top rushers return. They won six of their last seven on the strength of a solid defense that returns eight starters.2013 Road ACC Schedule
Team:Virginia
2012 Record:4-8, ACC 2-6
2012 Wins:Richmond, Penn State, NC State, Miami
2012 Losses:Georgia Tech, TCU, La Tech, Duke, Maryland, Wake Forest, North Carolina, Virginia Tech
2012 Scoring Offense:22.75 93rd
2012 Total Offense:396 62nd
2012 Rushing Offense:128 96th
2012 Passing Offense:268 37th
2012 Scoring Defense:28.92 70th
2012 Total Defense:353 28th
2012 Rushing Defense:144 44th
2012 Passing Defense:208 33rd
Key Personnel Losses:Michael Rocco (QB), Perry Jones (RB), Oday Aboushi (OL), Steve Greer (LB), Larry Reynolds (LB)
Key Personnel Returners:Phillip Sims (QB), Kevin Parks (RB), Tim Smith (WR), Morgan Mosses (OL), Jake McGee (TE), Demetrius Nicholson (DB)
Notes:Year three under Mike London was a step backwards for the Cavs. Improving the running game will be a big priority in the spring and that will be tougher without Perry Jones. Virginia couldn't settle on a quarterback last year but Michael Rocco transferred out of the program so Phillip Sims inherits the full-time job. They lose Aboushi but return Moses on the OL. The biggest concern on defense will be replacing Greer and Reynolds at linebacker. The other major news was the staff turnover as London cleaned house after a 4-8 season.
Team:Maryland
2012 Record:4-8, ACC 2-6
2012 Wins:William and Mary, Temple, Wake Forest, Virginia
2012 Losses:UConn, West Virginia, NC State, Boston College, Georgia Tech, Clemson, Florida State, North Carolina
2012 Scoring Offense:20.08 107th
2012 Total Offense:284 120th
2012 Rushing Offense:103 112th
2012 Passing Offense:181 100th
2012 Scoring Defense:27.17 56th
2012 Total Defense:336 21st
2012 Rushing Defense:129 26th
2012 Passing Defense:207 30th
Key Personnel Losses:Matt Furstenburg (TE), Kenny Tate (LB), Demetrius Hartsfield (LB), Darin Drakeford (LB), Joe Vellano (DT), AJ Francis (DL)
Key Personnel Returners:CJ Brown (QB), Stephon Diggs (WR), Wes Brown (RB), Peyton Hills (QB)
Notes:Few teams could afford the injuries Maryland suffered last season. The Terps weren't that talented to begin with but were hit as hard as anyone with injuries. Brown will have to hold off the other QBs that gained some experience. Diggs is good enough at WR to build the offense around. Wes Brown had a solid freshman campaign at RB. The Terps played well on defense but have to replace several stars in the front seven.
Team:NC State
2012 Record:7-6, ACC 4-4
2012 Wins:UConn, South Alabama, The Citadel, Florida State, Maryland, Wake Forest, Boston College
2012 Losses:Tennessee, Miami, North Carolina, Virginia, Clemson, Vanderbilt
2012 Scoring Offense:28.08 69th
2012 Total Offense:421 48th
2012 Rushing Offense:111 108th
2012 Passing Offense:310 18th
2012 Scoring Defense:25.62 52nd
2012 Total Defense:404 68th
2012 Rushing Defense:154 52nd
2012 Passing Defense:249 83rd
Key Personnel Losses:Mike Glennon (QB), Tobias Palmer (WR), Camden Wentz (OL), Zach Allen (OL), RJ Mattes (OL), Brian Slay (DL), Sterling Lucas (LB), David Amerson (CB), Earl Wolfe (DB), Brandon Bishop (DB).
Key Personnel Returners:Shadrach Thornton (RB), Quinton Payton (WR), Bryan Underwood (WR), Robert Crisp (OL), Art Norman (DL), Daryl Bishop-Cato (DL).
Notes:Tom O'Brien never got over the hump in Raleigh so the pack start over with Dave Doeren. The new staff will have newcomers at QB and at three OL positions. Thornton was a pleasant surprise at RB. The defense was awful in 2012 and have to replace three starters in the secondary.
The Brad Hughes All-State Insurance Agency
Prayer List
We have started a prayer list on the blog. Here are the guidelines:
If you are offended by prayer or prayer lists then I apologize in advance. The blog is free and the prayer list will be on the bottom of the page so you don't have to read it.
If you would like to add someone to the list please email me at mickeyplyler@hotmail.com
*Please let me know when it is appropriate to take the person off of the prayer list.
Those who need our prayers include:Finn Brookover, Jo Ann Bachman, Kenneth Bryant, Pruitt Martin, Got igers and his family, David Rowland, Leonard, Gillespie and his family, Jim S, Daniel Rosborough, The Huffman family, Nancy Winkler, John Reeve, Ethel Southard, Vinnie Brock, Kaitlyn L, Susan Miller, Joyce Harley, Steve Proveaux, Jeffrey Greene, the Hutto family, Sherl Drawdy, Caleb Kennedy, Teresa O'Connor, Matt Jacobs,Perrin Seigler, Candee Massee, Lindsey Jordan, Sam Catoe, Tyler Felch, the Nicolopulos family, "the Jacksonville, FL guys", Kim Sims, the Coyle family, Ryleigh Tedder, Steve Lee, Kelly Trakas, Jimmy Moore, the Thomas. V Family, Emary Claire Young, Kitty Bowers,Julie Locke, the Scheider family, Lauren Kittles' family, Frank Gentry, Joyce Bussey, Stacey McKeown, Dale Childs, Larry Lentz, Jr, Carl Sharperson, Scott Hannon, William Perry, Tyler Swaney, Lillian, Mark Feit, David Frame, Chad Berry, the family of Matthew M. Watson, the Dowis family, Shervin Messer, Alan Putnam, the Olivers, Lee Tate, Ronnie Abrams, Eddie Greene, the Jackson family, Bill Vader, Jim Taylor, Tina DeWitt, Rock Horne, Christopher Tuten, Bobby Wayne Thomas, Emma and Danielle Carothers, Robert Ditty, Mr. and Mrs. Murray Smith, Dot Cartee, Ayden Mills, Millie Heatley, Lynn Martin and family, Michael Pinson, Jake David family, Angie Crowley, Ira, Mike Tolson, Poly Wells, Dr. Muriel Bishop, Jack Cunningham, Emily Jefford Meister, Zachary Stoller, Aaron Clackum, Pat James, Cortney Moore, William Moore, Angelia and Savannah Anderson, William Ross, Meredith Legg, Scott Johns, Frank Carroll, Brandon Thompson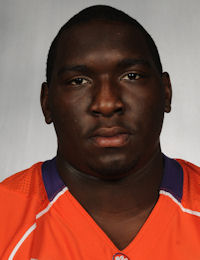 Brandon Thompson
Defensive Tackle
#98 6-2, 310
Thomasville, GA
View Full Profile , Alvin Sammons, Georgine McAlhaney, Glen Davis, Mike Price, Clay Childers, Aaron Knight, Danielle Johnston and family, Nicholas Abrams, Lana Kuykendall, Gary, Gary G., William Huggins, Jim Bennett, Chantz Fowler, Ethel McElveen, Michele Gurganus, William Gentry, Lewis Usher and Tanya Sanders, Shon Cooper, Nick Collins, Travis Patterson, Amanda Peake, Danny Hammond, Chip Turner, Nick Collins, Allen Steen, The Sturkey Family, the Lance family, Marcus Lattimore, Nick Chrisley's family, Allison Williams, Lt. Kyle Walker, Summer and Joel Johnson, Nicole O'Donnell, Jennifer McManus, James O. Johnson, Joy Pruett and family, Patrick Heher, Bill Schmidt, Jack Bailey, Bill Early, Gardner Family, Charles Turner, Kathy Bartholomew, Ray Sanders, David and Robin Blocker, J.R. Ray, Kenneth Kowe, Lauren Sielicki, our great country and the men and women in uniform that protect and serve it every day plus their families.