---
| | | |
| --- | --- | --- |
| Tuesday, January 15, 2013, 11:05 AM | | |
2013 Home ACC Schedule
The Atlantic Coast Conference released the teams on each school's schedule on Friday for the 2013 football season. We will not get the dates of the games until February but we did learn the teams on each schedule. Today we look at a capsule of the ACC teams coming to Death Valley next season. Tomorrow we will take a capsule look at the upcoming ACC road games for the Tigers. Thursday we will preview the out of conference games on the 2013 schedule.
Team:Florida State
2012 Record:12-2, 8-1 ACC
2012 Wins:Murray State, Savannah State, Wake Forest, Clemson, South Florida, Boston College, Miami, Duke, Virginia Tech, Maryland, Northern Illinois
2012 Losses:NC State, Florida
2012 Scoring Offense:39.29 10th
2012 Total Offense:471 19th
2012 Rushing Offense:206 24th
2012 Passing Offense:265 39th
2012 Scoring Defense:14.71 6th
2012 Total Defense:254 2nd
2012 Rushing Defense:92 3rd
2012 Passing Defense:161 1st
Key Personnel Losses:Xavier Rhodes (CB), Bjoern Werner (DE), Menelik Watson (OL), E.J. Manuel (QB), Rodney Smith (WR), Chris Thompson (RB), Lonnie Pryor (RB), Brandon Jenkins (DE), Anthony McCloud (DT), Everett Dawkins (DT), Nick Moody (LB), Vince Williams (LB)
Key Personnel Returners:Devonta Freeman (RB), James Wilder (RB), Rashad Greene (WR), Kevin Benjamin (WR), Nick O'Leary (TE), Four starting OL, Mario Edwards (DE), Timmy Jernigan (DT), Eddie Goldman (DT), Christian Jones (LB), Nick Waisome (CB), Ronald Darby (CB), Lamarcus Joyner (S). 2013 Home ACC Schedule
Notes:The Seminoles will look different next season on the sidelines with five new assistant coaches. Clint Trickett has the inside track on the starting QB job. The offense returns most of the stars at RB, TE, WR and four returners on the offensive line. The defenses loses a lot but still returns All-ACC candidates like Edwards, Jernigan, Goldman, Jones, Joyner, Waisome and Darby.
Team:Georgia Tech
2012 Record:7-7, ACC 5-4
2012 Wins:Presbyterian, Virginia, Boston College, Maryland, North Carolina, Duke, Southern Cal
2012 Losses:Virginia Tech, Miami, Middle Tennessee, Clemson, BYU, Georgia, Florida State
2012 Scoring Offense:33.57 34th
2012 Total Offense:441 35th
2012 Rushing Offense:331 4th
2012 Passing Offense:129 115th
2012 Scoring Defense:28.29 65th
2012 Total Defense:374 43rd
2012 Rushing Defense:141 41st
2012 Passing Defense:229 58th
Key Personnel Losses:Tevin Washington (QB), Omoregie Uzzi (OL), Orwin Smith (RB), Izaan Cross (DT), TJ Barnes (DT), Rod Sweeting (DB)
Key Personnel Returners:Vad Lee (QB), David Sims (RB), Jay Finch (C) and three other starting OL, Jeremiah Attaochu (LB), Louis Young (CB), Isaiah Johnson (DB), Jamea Thomas (DB).
Notes:Tech brings back Ted Roof to runs its defense that should be better. The secondary should be among the best in the league. On offense, Lee has the most experience among the candidates to replace Washington at quarterback, Uzzi will be missed but four returning starters are back on the OL.
Team:Wake Forest
2012 Record:5-7, ACC 3-5
2012 Wins:Liberty, North Carolina, Army, Virginia, Boston College
2012 Losses:Florida State, Duke, Maryland, Clemson, NC State, Notre Dame, Vanderbilt
2012 Scoring Offense:18.5 114th
2012 Total Offense:301 117th
2012 Rushing Offense:100 113th
2012 Passing Offense:200 91st
2012 Scoring Defense:31.83 91st
2012 Total Defense:432 88th
2012 Rushing Defense:166 68th
2012 Passing Defense:266 100th
Key Personnel Losses:Terrence Davis (WR), Jimmy Newman (K), Riley Haynes (LB), Scott Betros (LB).
Key Personnel Returners:Tanner Price (QB), Josh Harris (RB), Michael Campanaro (WR), Nikita Whitlock (DL), Bud Noel (CB).
Notes:The Deacs had a bad season last year and injuries and suspensions were part of the reason. The offense was not up to par but should be better with Tanner Price returning at quarterback for his senior season. Josh Harris returns at running back and Michael Campanaro is one of the best in the ACC at WR. On defense Nikita Whitlock was banged up much of the season but he returns for his senior season. Bud Noel is a star at corner.
Team:Boston College
2012 Record:2-10, ACC 1-7
2012 Wins:Maine, Maryland
2012 Losses:Miami, Northwestern, Clemson, Army, Florida State, Georgia Tech, Wake Forest, Notre Dame, Virginia Tech, NC State
2012 Scoring Offense:19.83 109th
2012 Total Offense:349 99th
2012 Rushing Offense:90 115th
2012 Passing Offense:258 45th
2012 Scoring Defense:29.67 74th
2012 Total Defense:456 100th
2012 Rushing Defense:2114 11th
2012 Passing Defense:242 75th
Key Personnel Losses:Chris Pantale (TE), John Wertz (OL), Kaleb Ramsey (DL), Dillon Quinn (DL), Jim Noel (DB).
Key Personnel Returners:Chase Rettig (QB), Alex Amidon (WR), Bobby Swygert (WR), Kevin Pierre-Louis (LB)
Notes:Steve Addazio takes over the head coaching position from Frank Spaziani. Addazio had a nice run at Temple and is noted as a good recruiter. The Eagles get Chase Rettig back at quarterback and two of his top targets in Alex Amindon and Bobby Swygert. They have to find improvement in the running game. The defense returns Pierre-Louis but also needs to improve in stoping the run.
The Brad Hughes All-State Insurance Agency
Prayer List
We have started a prayer list on the blog. Here are the guidelines:
If you are offended by prayer or prayer lists then I apologize in advance. The blog is free and the prayer list will be on the bottom of the page so you don't have to read it.
If you would like to add someone to the list please email me at mickeyplyler@hotmail.com
*Please let me know when it is appropriate to take the person off of the prayer list.
Those who need our prayers include:Finn Brookover, Jo Ann Bachman, Kenneth Bryant, Pruitt Martin, Got igers and his family, David Rowland, Leonard, Gillespie and his family, Jim S, Daniel Rosborough, The Huffman family, Nancy Winkler, John Reeve, Ethel Southard, Vinnie Brock, Kaitlyn L, Susan Miller, Joyce Harley, Steve Proveaux, Jeffrey Greene, the Hutto family, Sherl Drawdy, Caleb Kennedy, Teresa O'Connor, Matt Jacobs,Perrin Seigler, Candee Massee, Lindsey Jordan, Sam Catoe, Tyler Felch, the Nicolopulos family, "the Jacksonville, FL guys", Kim Sims, the Coyle family, Ryleigh Tedder, Steve Lee, Kelly Trakas, Jimmy Moore, the Thomas. V Family, Emary Claire Young, Kitty Bowers,Julie Locke, the Scheider family, Lauren Kittles' family, Frank Gentry, Joyce Bussey, Stacey McKeown, Dale Childs, Larry Lentz, Jr, Carl Sharperson, Scott Hannon, William Perry, Tyler Swaney, Lillian, Mark Feit, David Frame, Chad Berry, the family of Matthew M. Watson, the Dowis family, Shervin Messer, Alan Putnam, the Olivers, Lee Tate, Ronnie Abrams, Eddie Greene, the Jackson family, Bill Vader, Jim Taylor, Tina DeWitt, Rock Horne, Christopher Tuten, Bobby Wayne Thomas, Emma and Danielle Carothers, Robert Ditty, Mr. and Mrs. Murray Smith, Dot Cartee, Ayden Mills, Millie Heatley, Lynn Martin and family, Michael Pinson, Jake David family, Angie Crowley, Ira, Mike Tolson, Poly Wells, Dr. Muriel Bishop, Jack Cunningham, Emily Jefford Meister, Zachary Stoller, Aaron Clackum, Pat James, Cortney Moore, William Moore, Angelia and Savannah Anderson, William Ross, Meredith Legg, Scott Johns, Frank Carroll, Brandon Thompson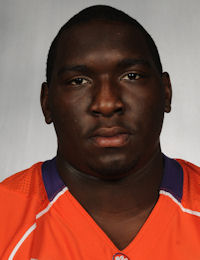 Brandon Thompson
Defensive Tackle
#98 6-2, 310
Thomasville, GA
View Full Profile , Alvin Sammons, Georgine McAlhaney, Glen Davis, Mike Price, Clay Childers, Aaron Knight, Danielle Johnston and family, Nicholas Abrams, Lana Kuykendall, Gary, Gary G., William Huggins, Jim Bennett, Chantz Fowler, Ethel McElveen, Michele Gurganus, William Gentry, Lewis Usher and Tanya Sanders, Shon Cooper, Nick Collins, Travis Patterson, Amanda Peake, Danny Hammond, Chip Turner, Nick Collins, Allen Steen, The Sturkey Family, the Lance family, Marcus Lattimore, Nick Chrisley's family, Allison Williams, Lt. Kyle Walker, Summer and Joel Johnson, Nicole O'Donnell, Jennifer McManus, James O. Johnson, Joy Pruett and family, Patrick Heher, Bill Schmidt, Jack Bailey, Bill Early, Gardner Family, Charles Turner, Kathy Bartholomew, Ray Sanders, David and Robin Blocker, J.R. Ray, Kenneth Kowe, Lauren Sielicki, our great country and the men and women in uniform that protect and serve it every day plus their families.