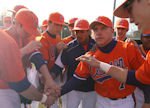 | | |
| --- | --- |
| Clemson and Auburn Postgame Quotes | |
---
| | | |
| --- | --- | --- |
| Sunday, June 6, 2010, 10:36 AM | | |
CLEMSON POST-GAME QUOTES

June 5, 2010
Clemson Head Coach Jack Leggett
Opening statement...

"We played a really good ballgame tonight, and it started right on the
mound with Casey Harman. He threw strikes, mixed his pitches and got
ahead of batters all night. We played really good defense behind
Casey all night as well. I thought the game changing defensive play
was Wilson Boyd's catch against the wall in right-center. We got the
runs we needed early in the game and competed the whole time."
On Harman finishing the 9th inning...

"He was pitching well for us. He came in after the eighth and said 'I
want the ball.' He was in a good rhythm and knew what to expect from
the hitters coming up. He hit a little bump with the leadoff home run
by Morris and the single by Caldwell, but the double play allowed him
to get out of the jam and finish this thing off."
On confidence in leading in Regionals right now...

"I'm never really very comfortable. The thing I really like tonight
is, as Casey mentioned, they hit a couple of home runs, but if they
hit solo home runs, you can let those things go a little bit easier.
He pitched very well with men on base. A couple of solo home runs
didn't hurt us.
When he had to make pitches, he made pitches. I was very pleased with
how we competed tonight. We had to come in here against a good
baseball team in a hostile environment. They've got some great fans,
and they've got great backing. There were people hanging off of
everything, the parking garage, everywhere. We knew we were going to
be in for a battle and they've had a great season. They're a good
baseball team and whether we see them or Southern Miss tomorrow, we're
going to see a good baseball team again. You never get really
comfortable. You've got to take care of your business. You have to be
focused and locked in. We were very focused tonight, very locked-in to
what we had to do. We had some people step up. Mike Freeman's home run
at the beginning of the game was a huge home run for us to break the
ice. We had a couple of good base hits to get the runs that we needed
to feel good about ourselves. It was one of those games where they
never let it get out of control, and we kept it under control. I
expect the same thing tomorrow against whoever we play."
On the starter tomorrow and pitching...

"We'll throw Will Lamb tomorrow as it stands right now. We'll go back
and talk tomorrow, but that's what we're thinking. Our pitching has
been good, it's been really good. Coach (Dan) Pepicelli's done a great
job with our pitchers, and they're in shape and prepared to win. They
called a good game tonight and followed the game plan and did what we
had to do against the hitters that we saw last night watching them
play. I think our pitching has been good against two good hitting
teams so far in this tournament. We just have to keep on maintaining
that and keep on working at it and keep on getting better."
On playing on the road in the postseason...

"We still have got a lot of baseball left to play. We have to go home
and collect ourselves and get our rest to come out here and play
tomorrow. That's what a coach has to say, but you always want to play
at home. We love to play in front of our fans and that kind of thing,
but when you go on the road you have to take a different mindset. You
have to be tougher. You don't have the pressure, you don't worry about
the weather or where do we have to be, when do we take batting
practice, who are we playing, are we the home team, the away team,
what color uniforms. That's what we're going to do, and then we go to
work. There is a little less burden on your mind. We've just come out
the last couple of days, and we've been very focused. Everybody's been
onto it.
Everybody's been on the bats. Everybody on the field has done what
they've had to do so far. We still have to win another ballgame."
Clemson Outfielder Wilson Boyd
Opening statement...

"Casey went out there and gave us max effort. It's easy to play
behind a guy and get inspired by a guy who is throwing strikes. It
was a total team effort tonight, and I really feel we are coming
together at the right time of the year."
On the catch against the wall...

"I'm not sure if the ball was out or if it would have hit off the
wall.
As soon as the ball was hit, I had a bead on it. When I got to the
track, I had to either go after it or play it off the wall and lose
momentum for our team. When you got a pitcher competing for you, you
want to give it everything you have, and I tried to do that on that
play."
Clemson Pitcher Casey Harman
Opening statement...

"The biggest thing for us was to go get some runs in the first inning.
That really got us going. It was one of those days where everything
was working for me, and I felt great."
On bouncing back from controversial call in the 8th...

"It was a questionable call that could have gone either way. We had
to let it go and move on. I went after the next two hitters and made
a few quality pitches to get us out of the jam."
On the approach versus Auburn...

"They came in here on a high with a very good reputation offensively.
I knew I had to make quality pitches and get ahead of the hitters to
be successful. Fortunately, I was able to hit my spots and make some
big pitches. I let my defense do work behind me and get us this
victory."
On allowing home runs from Auburn since they're leading the nation...
"It's not something that you want to happen, and it's not something
that you're OK with happening, but if it happens, it happens with any
team whether they're leading the nation or not."
On feeling better about this game than any previous ones...
"This is the best I've felt all the way through. I've had points in
games where I've felt maybe a little bit better, but this game was
just putting all the pieces together. Throwing with runners on base
was really important and just going after them the whole game. It was
a good night for me."
AUBURN POST-GAME QUOTES & NOTES

June 5, 2010
Auburn Head Coach John Pawlowski
Opening statement...

"You have to give credit to Clemson's pitcher Casey Harman. He did a
great job and certainly kept us off balance all day long and made some
big pitches. You can't say enough about the job that Grant Dayton did
. He gave us a chance, and that is what we ask of our starters. He was
outstanding today except for an error or two, but the bottom line is
that he gave us a chance to win, and unfortunately we could not get
anything going offensively. Against good teams you have to be able to
create some type of momentum or get something going and we certainly
didn't."
On Clemson pitcher Casey Harman's performance… "
He made big pitches
when he had to. He was outstanding and pitched a great ballgame. When
you get into championship play and regionals that is what it's about,
and he did exactly that. "
On Clemson holding the game momentum...

"We had a few opportunities, but not many. (Clemson) made the plays.
They took the double plays and made some nice plays in center field.
They did what they needed to do, not only to keep the momentum, but to
win the ballgame. Going back to Grant (Dayton), you look at the job
that he has done all year, and you can't say enough about the job he
did. I know he's disappointed, as we all are, but he did outstanding
for us.
I thought he did a great job today for us."
On tomorrow being a difficult game...

"We have another challenge ahead of us tomorrow. It's been done
before. We still have life and an opportunity to play tomorrow. We
will face a solid team, a very good team, in Southern Miss. We need to
be ready to play, and we need to come back. I challenged our guys, and
told them that we have some more opportunities to play. We have a
short memory. We'll put this behind us, come back and be ready to play
tomorrow."
On recent offensive struggles...

"In the SEC Tournament, I thought that we swung the ball well, but, at
times, the results were not there or what we were looking for.
Yesterday, I thought we did some good things. We regrouped and scored
nine runs yesterday, and I thought that was pretty good. Today,
(Casey)
Harmon was just outstanding. Against good pitchers, you have to have
quality at-bats, and we didn't have enough of them today."
Auburn Pitcher Grant Dayton
On getting on track after struggling early … "
Early in the game, I was
struggling with my fastball. I made a couple of mistakes in the first
inning, and it showed on the scoreboard.
After that, I settled in a little bit and was able to get my fastball
going. I started to throw some off speed and some strikes, and I was
good after that. It was just the first couple of innings that I
struggled, and that was the difference for me. "
On battling back after giving up three runs in the first inning...

"Every time I go out there, I try to give our team a chance to win.
After giving up three runs, I knew that I was going to have to settle
in. Otherwise, someone was going to have to come in and get the job
done. I wanted to pitch. Luckily, I found my fastball location, and I
settled it down a little bit. With two runs in the fourth inning, they
got on me a little bit, but after that, I felt great. My pitch count
was high. I think the results of that got me out of the game sooner
than I wanted, even though I went 7 2/3 innings. If it wasn't that
case, it would've been a different game, but it wasn't."
AUBURN NOTES
* Tony Caldwell's fifth-inning home run was his 10th of the season and
was Auburn's first hit of the night
* Hunter Morris' ninth inning home run was his 22nd of the season,
tying Todd Faulkner for the school record for home runs in a season
(2000). It was also the 46th of Morris' career
* Auburn's two home runs was its 35th multi-homer game of the year and
its third straight
* The loss was Auburn's first at home when an opponent starts a
left-handed pitcher ... Auburn was a perfect 16-0 against lefties at
home before the night and is now 19-4 overall against southpaws