| | |
| --- | --- |
| Sapp waits, finally gets call from the Eagles | |
---
| | |
| --- | --- |
| Saturday, April 24, 2010 3:36 PM | |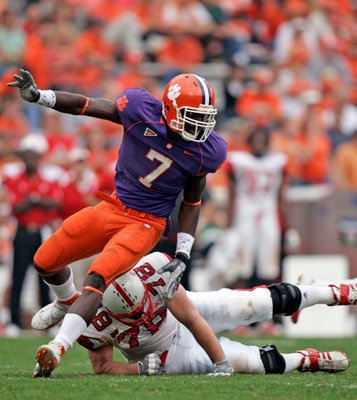 As the 2010 NFL Draft's second day concluded on Friday, former Clemson defensive end Ricky Sapp tried not to let the frustration of not being picked in either the second of third round get to him, and instead wanted to focus on the fact that on Saturday, some lucky NFL team would help him realize his dream of playing in the National Football League.
That patience was rewarded early Saturday when the Philadelphia Eagles selected Sapp with the 134th overall pick, the third pick of the fifth round, gaining a speedy linebacker that many draft experts had slated to go as early as the second round.
Sapp told TigerNet that the wait was frustrating to be sure, but definitely worth it.
"I'm ready to get to Philly," an excited Sapp said Saturday afternoon. "It was frustrating, because you see a lot of players go before you and you know that you are better than them. I was definitely expecting a call yesterday, and it was frustrating. But I am just thankful that the Eagles had faith in me, and now I am ready to go to work."
Sapp had actually gone back to his bedroom, away from all of the commotion, when the phone rang. It was an Eagles scout calling him to deliver the good news.
"My mom came into my room, and when she found out she started yelling and screaming and whooping and hollering," Sapp said. "I had to tell her to leave of course. It was a great moment."
One of the reasons that Sapp fell to the fifth was because of concerns over his knee, which he tore during his junior season. Sapp said he played at about 70 percent for most of last season, but feels the knee is 100 percent healthy again.
"You know what, I am not sure what scared them away," Sapp said. "I went to the combine and showed them pretty much that my knee was healthy. So I don't know what they are scared of, but I know the Eagles took a chance on me so I am out to prove everybody else wrong."
The Eagles are sending a playbook to the rookie immediately, and he will fly to Philadelphia on Thursday to meet with his new coaches, followed by practice on Friday.
"I am ready to go to mini-camp for the first time," he said. "We have a dinner on Thursday, and then start practice on Friday. This is like a dream come true, and it really hasn't set in yet. But I know when I put that helmet on, it will let me know that my dream has come true."