| | |
| --- | --- |
| Brownell to be named Clemson basketball coach | |
---
| | |
| --- | --- |
| Tuesday, April 13, 2010 8:37 AM | |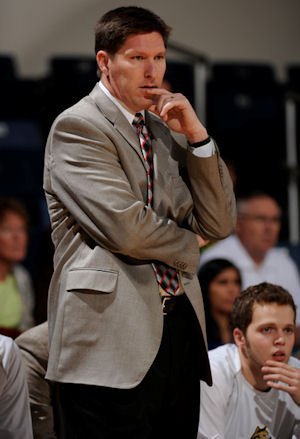 CLEMSON --- Clemson will hold a press conference today at 4:00 PM to announce Brad Brownell as its new men's basketball coach.
Brownwell guided Wright St. to a 20-12 record this past season and took the Raiders to the Horizon League Championship Game, where they dropped a 70-45 decision to then-No. 12 Butler, a team that eventually lost to Duke in the National Championship Game.
Brownell, 41, has a four-year record of 84-45 at Wright State, including a NCAA tournament trip in 2007.
More details coming soon.
Brownell Head coaching record


Season		Team		Overall	Conf	Standing	

UNC-Wilmington (Colonial Athletic Association) (2002–2006)

2002–2003	UNC-Wilmington	24-7	15-3	1st		

2003–2004	UNC-Wilmington	15-15	9-9	7th	

2004–2005	UNC-Wilmington	19-10	13-5	T-2nd	

2005–2006	UNC-Wilmington	25-8	15-3	T-1st		

                UNC-Wilmington:	83-40	52-20	

Wright State (Horizon League) (2006–present)

2006–2007	Wright State	23-10	13-3	T-1st		

2007–2008	Wright State	21-10	12-6	3rd	

2008–2009	Wright State	20-13	12-6	3rd	

2009–2010	Wright State	20-12	12-6	2nd	

                Wright State:	84-45	49-21	

Career Total:	167-85	
Official press release
Clemson, SC—Brad Brownell, who led Wright State to four consecutive 20-win seasons and has averaged nearly 21 wins per year in his eight years as a Division I head coach, has been named Head Basketball Coach at Clemson University.
Clemson Athletic Director Terry Don Phillips made the announcement on Tuesday. Brownell replaces Oliver Purnell, who resigned April 6 to become the head coach at DePaul.
He will be introduced at a 4:00 PM press conference at the McFadden Team Room on the Clemson campus.
Brownell has a career record of 167-85, and the .663 winning percentage is ranked in the top 30 nationally among active Division I coaches. The percentage is third among current active ACC coaches. Only Hall of Fame coaches Roy Williams of North Carolina and Mike Krzyzewski of Duke are higher.
"Brad Brownell is an unbelievable coach," said Butler Head Coach Brad Stevens, who coached against Brownell in the Horizon Conference. "He has been a winner every where he has been. I am happy to see Brad go to a great school and a great program like Clemson. He is a quality coach and a quality person. Clemson has hired a big time basketball coach."
The native of Evansville, IN served four years at UNC Wilmington from 2002-03 through the 2005-06 season and posted an 83-40 record, including a 52-20 mark against conference teams. In his four years at Wright State he posted an 84-45 record, including a 55-24 record against conference foes. That computes to a .663 winning percentage overall and a .708 percentage against conference teams. Fifty-three of his 167 career wins have been recorded on the opponent's home court, an average of 6.6 road wins per year.
In each of his two previous head coaching stops he has taken the program to a school record number of wins as a Division I program. He had a 25-win season at UNC Wilmington in 2005-06 and a 23-win season at Wright State in 2006-07.
The 1991 DePauw graduate has recorded six 20-win seasons in his eight years as a head coach and has taken three teams to the NCAA Tournament. He has a 15-5 record in conference postseason tournaments, including three postseason tournament titles.
Brownell took UNC Wilmington to the NCAA Tournament in 2003 and 2006 and Wright State to the NCAAs in 2007. He is one of the few active coaches to take two different programs to the NCAA Tournament in consecutive years. Seven of his eight teams have ranked in the final top 100 of the RPI, quite an accomplishment at the mid-major level, including a #28 final RPI ranking for the UNC Wilmington team of 2005-06.
Brownell was named the Colonial Athletic Association Coach of the Year in 2002-03 and 2005-06 and the Horizon League Coach of the Year in 2006-07. Additionally, Brownell was one of 15 finalists for the Hugh Durham Coach of the Year Award for mid-major programs in 2007 and was the NABC District 10 Coach of the Year. Foxsports.com also named him the Mid-Major Coach of the Year in 2006, his final year at UNC Wilmington.
Brownell was named the seventh head coach in Wright State history on March 31, 2006. His very first year, he led the Raiders to the NCAA Tournament for the first time since 1993. The team had a 23-10 final mark, and established a record for wins since the program became Division I in 1987.
That 2006-07 team finished with a 15-3 record against Horizon League competition, including two conference tournament wins that gave Wright State the league championship. The 23 wins included a pair of wins over a 27-7 Butler team that would reach the Sweet 16 of the NCAA Tournament. Brownell's first Wright State team reached the NCAA Tournament where it was defeated by third-seeded Pittsburgh.
In 2007-08 he guided Wright State to a 21-win season and a second-place finish in the Horizon League. The season featured a 12-6 conference record, including a victory over Butler in the regular season, one of just four losses for the Bulldogs in 34 games that year.
The 2007-08 team finished 14th in the nation in scoring defense and 30th in he nation in three-point shooting at 39 percent. That year, he coached the Horizon League Player of the Year, a first-team selection, an all-league defensive team member and two All-Newcomer members.
His 2008-09 Wright State team finished with a 20-13 overall record and a 12-6 league mark. His club won the San Juan Shootout and reached the championship game of the Horizon League Tournament. This past year Wright State was 20-12 with a third straight 12-6 Horizon League record. The team finished second to NCAA Finalist Butler during the regular season.
UNC Wilmington posted a 25-8 mark his final season, 2005-06, including a victory over Final Four participant George Mason, and won the CAA Tournament. The Seahawks lost in overtime to George Washington, 88-85, in the NCAA Tournament that year.
His first UNC Wilmington team (2002-03) won 24 games and won the CAA postseason tournament. His club lost in the first round of the NCAA Tournament to defending national champion Maryland on a shot at the buzzer, 75-73.
His four-year Colonial Athletic Association record was 61-22, the best league mark during the period. Brownell was twice named the CAA Coach of the Year (2003 and 2006). He coached five All-CAA performers, one CAA Player of the Year, four All-Defensive Team selections, one Defensive Player of the Year and seven CAA All-Academic honorees.
Brownell began his coaching career as a graduate assistant at Evansville under Jim Crews in 1991-92 and he helped that program to a 24-6 record. He served as an assistant at the University of Indianapolis in 1992-93 and 1993-94.
He then started a 12-year-run at UNC Wilmington, eight as an assistant or associate head coach, and four as the head coach. He was an assistant for the Seahawks from 1994-95 through 2001-02. His final year as an assistant under Jerry Wainwright, UNC Wilmington posted a 23-10 record, including a 17-4 mark vs. conference teams. That team defeated Southern California in the first round of the NCAA Tournament in overtime.
Brownell earned his Bachelor's Degree from DePauw University in 1991 and completed his Master's Degree at the University of Indianapolis in 1994. He is a graduate of Harrison High School in Evansville, IN where he was a high school teammate of Calbert Cheaney, who later became the National Player of the Year in 1993 at Indiana.
Brownell and his wife Paula have two daughters, Abby and Kaitlyn.