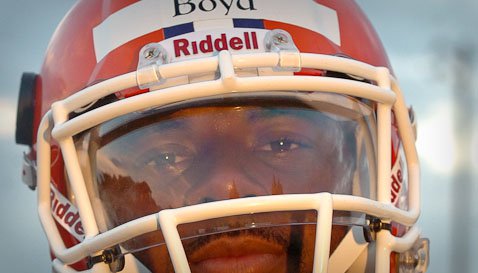 | | |
| --- | --- |
| Through the eyes of a quarterback | |
---
| | | |
| --- | --- | --- |
| Wednesday, August 29, 2012, 5:42 PM | | |
CLEMSON – A lot can happen in 21 seconds, especially if you are a quarterback working in Chad Morris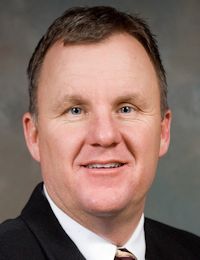 Chad Morris
Offensive Coordinator / QBs
View Full Profile ' offensive system.
As fans – and even sports writers – we watch plays unfold on the gridiron with rapt attention, and in the aftermath of a big gain, we take time out for high fives with fellow fans or to scream loudly. At home, the most rabid of fans might take time for a fist pump or a yell loud enough to disturb the neighbors.
And then, we settle back in and wait for the next play.
Not if you are Tajh Boyd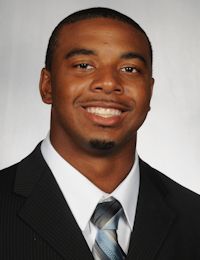 Tajh Boyd
RS Jr. Quarterback
#10 6-1, 225
Hampton, VA
View Full Profile , who has to utilize those precious seconds in between plays to make his way to the line of scrimmage, receive the next play from the sideline, get the team to the line of scrimmage, make a line call, scan the defense and snap the ball – all in the 17 to 21 seconds in between plays that Morris desires.

I spoke with Boyd about this on Tuesday, and he said that was just one of the little things he has worked on over the spring and summer in order to be a better quarterback in Morris' system.

"For me, that is where I have to keep growing," Boyd said Tuesday. "In a sense, I am doing what the fans are doing during and after a play – or at least that is what I want to do. When I get the ball out, I am looking to see what is going to happen. Half the time, I am trying to figure out what is going on. But I can't do that, because that is when it starts all over."

Boyd said that instead of sitting back and watching a play develop – say he completes a quick curl that turns into a 20-yard gain – he isn't allowed to stand back and admire his handiwork.

"For me, my job is to get the ball to these guys and then trail the play," Boyd said. "The tempo level we are at, I have to at least be close to the play, with my eyes locked in on the coach ready to get the next play. In this offense, there is no time to be celebrating a big play, but really, that is what we should be used to. That is the type of team we are. It is a constant growth thing for me and I am always learning in that aspect. But for us to be at our fastest, I always have to be around the ball, whether it is 20 yards down the field or 50 yards down the field, just so we can spot the ball and get rolling."

Morris wears a different style of shirt from the rest of the Clemson coaches so that Boyd can find him easier on the sideline – but it isn't always Morris who is calling the plays.

"I have to find Coach Morris or whoever is the signal caller," Boyd said. "They all have on different stuff, and it isn't always Coach Morris. Sometimes you get used to one person calling the signals or plays, but you have to have constant focus to make sure you have the right person so you can get the play quicker."

Once Boyd gets the call, he then has to make sure his receivers and offensive line get lined up correctly.

"I get the call – the offensive line doesn't have to do anything at that point except get lined up and get ready to snap the ball," he said. "The receivers get the play at the same time I do, so I don't have to do anything with them or explain anything. And then I call out the line protection and [center] Dalton [Freeman] takes over from there, and the line points out who should be blocked on a particular play."

However, Boyd still isn't ready for the ball to be snapped – he still has to look over the defense.

"I have to try and figure out what the defense is doing and look at their coverages," Boyd said. "I have to try and figure out in a short amount of time what would work best. You look at the safeties to see if they are shaded one way or another, or you look at the linebackers to see what they are doing. I look for tendencies that we have seen on film, to see if a guy is leaning this way or that way. We are always looking for tendencies so maybe that can tell us what the defense is going to do on a particular play."

Boyd said that one of the advantages of staying on campus over the summer is the chance to bond with his receivers and get a feel for what they might do once they see a particular look from the defense.

"That is actually the best part about it," he said. "Especially with a guy like Nuk Hopkins. That is what we work on over the summer – we get to the point that he sees what I see, and sometimes we know what the other one is going to do. That works out in case you see a safety starting to creep towards the line of scrimmage, and all we have to do is look at each other. We just know. And if I see the defense do something, then if I feel like a play won't work, I can check out of it."

Morris – and by extension Boyd – will be matching wits with new Auburn defensive coordinator Brian VanGorder, formerly of the NFL's Atlanta Falcons.

"I think he likes to play a two-high safety look," Boyd said. "But he really does a lot of different things, and he will try and disguise some of this looks. They will have a lot of stuff going on. We just have to continue to focus in and make sure we have the right play called when we get ready to snap the ball."

And do it all in 21 seconds or less.

Upgrade Your Account
Unlock premium boards and exclusive features (e.g. ad-free) by upgrading your account today.
Upgrade Now