| | |
| --- | --- |
| Mike Williams' NFL combine numbers | |
---
| | |
| --- | --- |
| Sunday, March 5, 2017 2:08 PM | |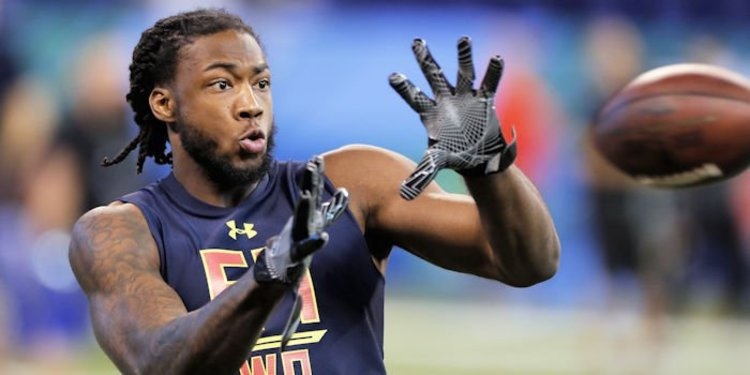 The 2017 NFL Scouting Combine had the wide receiver group go through the various football drills at Lucas Oil Stadium on Saturday afternoon as former Clemson star Mike Williams showed off his skills to various NFL scouts and coaches.
Here is a breakdown of his physical measurables and his times in various football drills.
Before Williams was able to go through any of the drills, he measured in at 6'3 5/8" tall, weighed 218 pounds with 9 3/8" hands and 79 7/8" wingspan.
Williams decided not to run the 40-yard dash event while his vertical jump was measured at 32.5 inches (tied for 30th among WRs) and he had a 121.0-inch broad jump (tied for 25th among WRs). He put up 15 reps of 225 pounds on the bench press.
Mike Williams @darealmike_dub pic.twitter.com/Y7CzMx9cT7

— ClemsonEditz (@ClemsonEditz_) March 4, 2017
During the passing gauntlet drill, Williams caught all the passes thrown to him.
#Clemson Mike Williams in the gauntlet. MAN HANDS. #NFLCombine pic.twitter.com/PB4vgH0kHl

— Cameron DaSilva (@camdasilva) March 4, 2017
Here is a video of Deshaun Watson throwing the football to Williams during the event.
#Clemson Deshaun Watson to Mike Williams -- just like old times #NFLCombine pic.twitter.com/il5yLWJYji

— Cameron DaSilva (@camdasilva) March 4, 2017
Thanks to @dhagan80 for getting me right for the NFL combine. I appreciate that #NFLCombine

— Mike Williams (@darealmike_dub) March 5, 2017