| | |
| --- | --- |
| Swinney opposes new downfield rule proposal | |
---
| | |
| --- | --- |
| Monday, February 23, 2015 9:42 AM | |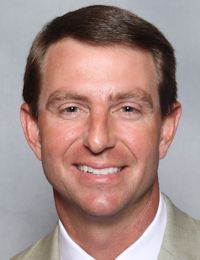 Dabo Swinney
Dabo Swinney
Head Coach
View Full Profile, Guz Malzahn, Hugh Freeze, Rich Rodriguez, Mark Helfrich, Art Briles and many other high-profile coaches are opposed to a new downfield rule proposal by the NCAA.
The new proposal would move the distance offensive lineman are allowed to move downfield from three yards to one yard before a thrown ball crosses the line of scrimmage. This could increase penalties and slow down contests if the change is implemented.
Swinney gave a common sense basketball comparison of the new proposal.
"It would be like if everybody was getting away with breaking the three-second rule in the lane all the time and you say, 'O.K., let's make it a one-second rule," Swinney told SI.com.
"That wouldn't make any sense," Swinney said.
Swinney went on to say that the current rule is fair, it is just not being enforced properly.
"They want to penalize everybody else because the refs haven't done their jobs," Swinney said. "The clips that they've studied to make this decision should have been penalties. That's just the bottom line. Call the dang penalty, because it was blatant."
Coaches can submit comments through a website until March 3 and then the NCAA Playing Rules Oversight Panel will discuss the proposal in a a teleconference on March 5.