| | |
| --- | --- |
| Report: Clemson QB Kelly Bryant to transfer | |
---
| | |
| --- | --- |
| Wednesday, September 26, 2018, 10:00 AM | |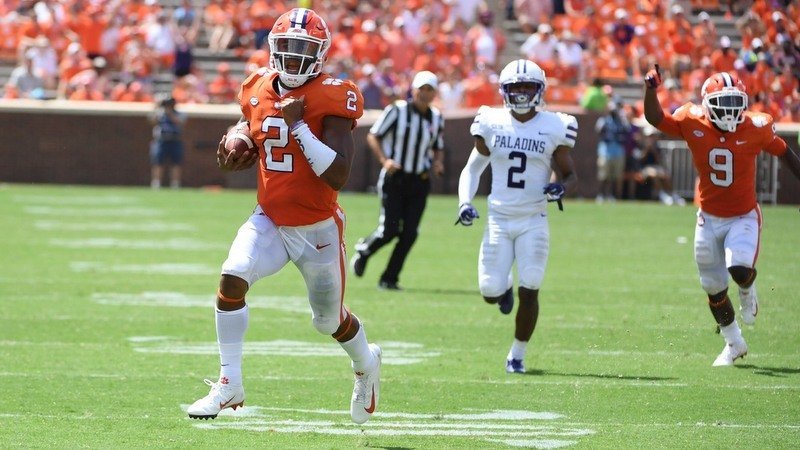 Clemson quarterback Kelly Bryant told the Greenville News on Wednesday that he intends to transfer.
Dabo Swinney is expected to address the news on the ACC coaches teleconference this morning.
Days after being moved to a backup role, Bryant was confirmed by the school to have missed a second-straight practice Tuesday. Per Swinney, he had been given Monday off shortly after an "emotional" meeting.
Swinney said that was "a rough afternoon."
"Streeter had already met with him on Sunday and talked through it," Swinney said. "I texted him and said, 'Hey let's sit down Monday.' We met yesterday afternoon and it was emotional. It was tough, tough because he has played well. There is not a guy that ever been here as long as I have been at Clemson that is more committed to this program than Kelly Bryant.
"There is not a better leader. This guy is the epitome of what you want. He is what you want your son to be like.
"I love him like a son. So it is a very difficult conversation. He's very disappointed, but I don't have any doubt he will show up and go back to work and respond. It was tough."
Bryant and Swinney discussed a possible transfer on Monday, but at the time Swinney indicated that Bryant wasn't planning to go that route.
"We talked about a lot of things," Swinney said. "I'm not going to get into the details of our conversation. We talked about a lot of things. Like I said it was emotional. A lot of things we talked about. If I was worried about that or I was deceitful in some way or something like that. I could have huddle the coaches and said hey let's make sure we start him for Syracuse that way he has got no options.
"That's not how I operate. I don't think like that. I don't operate that way. I'm just trying to do what's right. I'm not ever doing to apologize for that. We talked about lots of things. It was a deep, long, emotional conversation. It was something we needed to talk through and go from there.
"If he walked in here today and said, 'Hey, coach I don't want to play the rest of the year unless you got to have me.' 'Well, OK if that is what you want to do.' I love Kelly. I would be disappointed in that because we need him, but I wouldn't judge him on that."
Bryant started 18 games and Clemson won 16 of those and he had improved his passing efficiency numbers from last season, but Bryant faced stiff competition from the five-star freshman Trevor Lawrence, who is now in the top-10 nationally in passing efficiency and yards per attempt.
Bryant told the Greenville News he felt the move "was kind of a slap in the face."
The Upstate native is blazing a new trail of sorts in using the new redshirt rule, where a player can see action in up to four games and still redshirt. Bryant is a Clemson graduate and therefore is eligible to play immediately upon transfer.
Bryant would be a fourth Clemson quarterback to transfer since Lawrence has arrived on campus, joining Tucker Israel, Zerrick Cooper and Hunter Johnson.
Lawrence will make his first start in No. 2 Clemson's Saturday noon home kickoff (ABC) versus Syracuse (4-0).
Not a lot of coaches would of been honest and upfront with their QB's the way Dabo has been. Some would have waited another week (because of new redshirt rule) to insure they had a backup plan. That's why Dabo is one of the best. #clemson

— Danny Kanell (@dannykanell) September 26, 2018
Good on Dabo Swinney to have made his QB decision before #Clemson's 5th game. If he let this drag out another wk, it would've given his team more depth at a crucial spot but cost Kelly Bryant the season. Instead, he can transfer out & gets to play someplace else as a SR in 2019.

— Bruce Feldman (@BruceFeldmanCFB) September 26, 2018
You may not agree with his verbage but if that's what HE felt about the situation than that's how he felt. No need to disbar him from Clemson because of a decision that he made. When it's all said and done he has to be the one who looks in the mirror and live with it. Support him

— Tajh Boyd (@TajhB10) September 26, 2018