| | |
| --- | --- |
| Clemson athletics rank in lower tier of Power 5 average | |
---
| | |
| --- | --- |
| Thursday, July 5, 2018 1:15 PM | |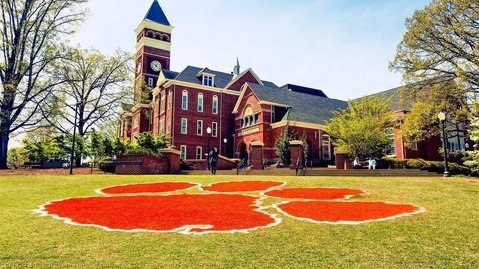 Yahoo Sports averaged the last five years of the all-sports Directors' Cup this week to judge the health of Power 5 programs nationally, where Clemson came in 50th.
Yahoo's Pat Forde judged the Tigers as being "steady" in their progression as a program, however.
"The grid-centric Tigers were 52nd for the second straight year," Forde said, referencing this year's Directors' Cup standings, "getting a rare contribution from men's basketball. Clemson was 25th in athletic expenditures in 2016-17, which says the school is not getting near enough all-sports bang for its buck."
This year's ranking was boosted mostly from the performance of men's programs with top-20 finishes in football, men's basketball and baseball in the same year for the first time since 1989-90.
Clemson men's soccer made its fifth-straight NCAA Tournament, while the women's side made its fourth-consecutive NCAAs bid, with both advancing to the second round.
Men's golf made the NCAA National Tournament led by regional coach of the year Larry Penley. The women's golf program reached the NCAAs for the fourth time in its first five years as a part of Clemson athletics.
Clemson also scored Directors' Cup points in women's tennis for making the second round in the NCAAs.
Stanford won a 24th-straight cup this year and obviously holds the No. 1 5-year average, followed by Florida, Southern Cal, UCLA, Texas, Ohio State, North Carolina, Michigan, Penn State and Virginia.