| | |
| --- | --- |
| Zingin' in the rain: After Notre Dame, we knew it could be special | |
---
| | |
| --- | --- |
| Saturday, January 23, 2016 7:01 AM | |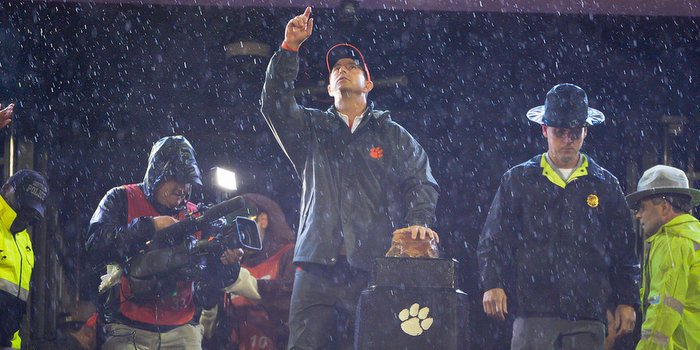 Clemson head coach Dabo Swinney peered into the camera, a heavy rain streaming off of his hat, as Clemson fans pressed in around him, hoping to get a glimpse of their rain-drenched coach and hear what he had to say to the nation following the Tigers' 24-22 victory over Notre Dame in early October.
It was a night for the ages. A historic storm had flooded much of the state and in the days leading up to the game itself, there had been debate about whether it would even be played.
It was played in a driving rainstorm in front of a sold-out Death Valley crowd. Cars that had been parked for tailgating earlier in the day were mired in the mud, ponchos had long-since stopped being water resistant and everyone in attendance was soaked from head-to-toe.
It didn't matter. The Tigers jumped out to a 14-0 lead and eventually led 21-3 before the Irish mounted a comeback, and the game was in doubt when Notre Dame quarterback DeShone Kizer tossed a one-yard scoring pass to wide receiver Torii Hunter, Jr. with seven seconds left on the game clock.
Trailing 24-22, Notre Dame went for the two-point conversion but Kizer was stopped well short of the endzone by defensive tackle Carlos Watkins. Clemson recovered the ensuing onside kick, setting off a rain-drenched celebration on the field in Memorial Stadium.
"It's was man versus man, heart versus heart. And he got there," Kizer told the media after the game. "I didn't lower my shoulder the way I should."
Swinney looked into the camera and said it was about more than just heart – it was about guts.
"Well, it makes us 4-0, and it keeps us on track for what we're trying to do and that's have a great season. Hats off to Notre Dame," Swinney said, tears mixing with the rain streaming down his face. "We had them down, and they fought back, and that's what great teams do. Well-coached. But man I am just so proud of our team. That's what it's all about. `It ain't always perfect. But what I told them tonight is, 'We give you scholarships. We give ya stipends and meals and a place to live. We give you nice uniforms. I can't give you guts. And I can't give you heart. And tonight, it was B.Y.O.G., bring your own guts. And they brought some guts and some heart and they never quit until the last play. And thank you to the Good Lord and my dad, who was with me tonight."
Swinney's father, Ervil Swinney, had passed away in early August, and Swinney still struggled with the raw emotion of the loss in the early parts of the season.
It's with the loss of his father where those of us close to the program began to sense something was different about the upcoming season. Swinney – always quick with a quote – was loose. He smiled more, even though inside he was dealing with the loss of his father. The quotes were more plentiful. He knew he had something special with the 2015 football team. He tried to convince everyone else that the Tigers would be good, but skeptics remained. "Clemsoning" was inexplicably still in vogue.
Early-season games against Wofford, Appalachian St. and Louisville didn't point to a special season. The Tigers were good, sure, but they hadn't shown they could be great.
That changed in the rain against Notre Dame.
What followed was a journey worth taking, and it ended with a somber locker room following the Tigers' 45-40 loss to Alabama in the College Football Playoff National Championship in Glendale, AZ, in mid-January.
It was a journey about heart, about perseverance and excitement. But most of all, it was about guts. The bring your own variety. Over the next few weeks, we'll take a look at some of the best moments from a season full of great moments. It will give us a chance to reflect on what was and perhaps take a look at what will be.
It didn't start in the rain against Notre Dame, but it was the point where we knew this team could be special. It also gave us a glimpse of the rest of the season – moments of great defense followed by moments of not-so-great defense; sometimes splendid and sometimes shaky special teams play; the defense making a play at the right time; and the excellence of Deshaun Watson.
That night ended in a torrential downpour, but it was the outpouring of emotion from an emotional coach that would set the tone for the next 11 games.