| | |
| --- | --- |
| Williams not short on talent | |
---
| | |
| --- | --- |
| Tuesday, January 28, 2014 9:02 AM | |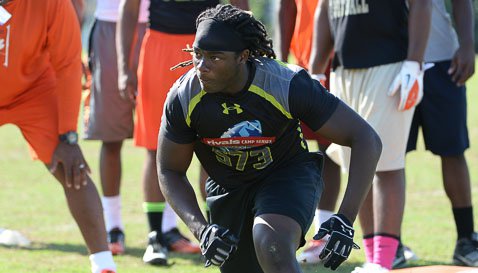 Jalen Williams

Jalen Williams
Linebacker
6-0, 215
Blythewood, SC
View Full Profile stands just a hair under six feet, and when coaches and spectators look at him, they see a running back or safety. However, if you look closer you will see a linebacker that is poised for a breakout college career.
As the Blythewood (SC) three-star linebacker made his way around the football camp circuit in ACC and SEC country this past summer, he kept hearing the same thing – his height is a liability.
However, it only took Clemson defensive coordinator Brent Venables

Brent Venables
Defensive Coordinator / Linebackers
View Full Profile one look at Williams to realize that he liked what he saw and that he wanted to see more. Venables asked Williams to stay for the duration of the camp,and after three days of grueling workouts, he left with his first Division I offer – a gray shirt offer from Clemson.
During Clemson head coach Dabo Swinney

Dabo Swinney
Head Coach
View Full Profile 's high school football camp last June, Williams was paired with several big-name, five-star prospects and he out-worked each and every one of them.
Was it because he was just over looked being from a small town like Blythewood? Maybe.
However, he will tell you it was because he played with fire and passion after being told "No" so many times. He was finally ready to hear "Yes."
Williams told TigerNet that after being told his height was a liability for most teams, he played with a chip on his shoulder to prove the naysayers wrong.
"I definitely have a chip on my shoulder," Williams told TigerNet Sunday night. "I'm not the cookie-cutter, typical linebacker. When most people see me, they don't think I'm a linebacker. When most people see me, they think I'm a running back or safety. A lot of other schools passed me up. I went to three other camps, and they all said that they liked me and liked the way I play, but the one thing that's holding them back from giving me the offer was my height. That kind of hurt me a little bit. I didn't want my height to be a factor."
After finally hearing yes from Venables and Clemson, Williams said there has never been any doubt in his mind that he will end up a Tiger.
"When I went to Clemson, Coach Venables told me that I will have my chance and at the end of the day that he will have his best 11 on the field," Williams said. "That is what ultimately helped me with my decision for Clemson. I am 100-percent solid. There is no room or mindset to decommit or anything like that."
When Williams committed in October, he knew that he was committing to a gray shirt, with the possibility of a scholarship opening up, but he said that he is okay with either outcome.
"I don't know right now. If I don't get a scholarship and have to gray shirt, that's what I committed to do," Williams said. "That's one thing that my grandfather told me – when you commit, commit to a gray shirt. Don't commit thinking that you are going to get a scholarship and be able to come straight it in, so that I'm not frustrated or disappointed.
"If it doesn't work out and I have to gray shirt, I will be happy because I committed to it. Coach Brad Scott- he broke it down for me when I had a meeting with him today and it's not a bad thing. I get to mature so that when I come in, I'll be a little more mature than all of the freshmen coming in. I also get two college credits while I'm taking classes – biology and English."
Venables will give Williams the opportunity to play each of the three linebacker spots; however, he must come to Clemson prepared to earn a starting role.
"We talked earlier today. He was telling me that I have to be a student of the game," Williams said. "If you put in the work in the meeting room, then it will show on the field. He just said that when I get here, I have to know the playbook inside and out, be confident, and not be afraid to ask questions. He told me that we don't know what's going to happen with the gray shirt or the scholarship. We are still waiting on the numbers."
While in town for his official visit this past weekend, Williams not only spent time learning what was expected from the coaching staff, but he also took the time to get to know current and future players.
"I had fun just hanging out with the players – current players, future players and players that are thinking about coming to Clemson," Williams said. "I had a great time with them. I had Dane Rogers and Dorian O'Daniel as my player hosts, but I wasn't ever really just with them. I was always with the defensive linemen. I was with Corey Crawford pretty much the whole trip. I was with Shaq Lawson, Ebo [Ebenezer Ogundeko], and I was with Tavaris [Barnes], Martin Aiken. I also spent a lot of time with Demarre Kitt

Demarre Kitt
Wide Receiver
6-1, 195
Tyrone, GA
ESPN:


View Full Profile . We all had a great time."