| | |
| --- | --- |
| Vic ain't stressing his draft decision | |
---
| | |
| --- | --- |
| Tuesday, December 31, 2013 11:06 AM | |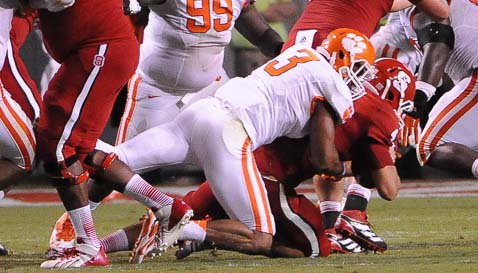 FORT LAUDERDALE, FL – Vic Beasley

Vic Beasley
RS Jr. Defensive End
#3 6-3, 225
Adairsville, GA
View Full Profile knows he has a tough decision to make in the next few weeks, but he isn't letting the stress of making that decision get in the way of his bowl preparation.
Beasley told reporters during Orange Bowl interview sessions Tuesday that he received a second-round draft grade from the NFL Draft Advisory board, which the Clemson coaches shared with Beasley last week in Clemson. Beasley said in early December if he received a first-round draft grade, he was certain he'd forego his senior year. But if it was a 2nd or 3rd round grade, he'd have a decision to make.
"It's been real tough. I am just trying to take it a day at a time and not stress out over it as much," Beasley told TigerNet Tuesday. "I am not going back and forth. My mind – I am not sure right now. I am just going to take a little more time and decide after the bowl game. "
Beasley said that he has sat down with the coaches and with his family, and both parties have given him the same advice.
"They just want what is best for me. Whatever I choose to do, he (head coach Dabo Swinney

Dabo Swinney
Head Coach
View Full Profile ) supports me in any way," Beasley said. "My family feels the same way – they just want me to do what is best for me and make the decision that I am happy with."
Beasley said that he hasn't spent any time this week worrying about the decision, even though it feels like the recruiting process he went through as a high school senior, just with higher stakes.
"I ain't stressing over it," he said. "I am just taking it a day at a time. I am just trying to get this victory here at the Orange Bowl, and then I will worry about it."
Beasley will have his hands full in Friday's Orange Bowl, facing up against senior left tackle Jack Mewhort (6-6, 308). Mewhort was recently named a first-team All-American by ESPN, and he has started 38 consecutive games for the Buckeyes.
As a result, Beasley knows a good showing against a player of Mewhort's caliber might help his draft status.
"It obviously can help a lot, especially going against an offensive tackle I have heard a lot about. It can benefit me in a majority of ways," he said.
Mewhort told reporters Tuesday morning that he is excited about the challenge of facing Beasley.
"Obviously, Vic Beasley is a tremendous player, defensive end," Mewhort said. "He's very quick off the edge, kind of a speed rush guy, but he can also give you a little bit of power too. I've been preparing for him since the bowls got drawn. I think it's going to be a great challenge for me. I'm really looking forward to it. I think it's going to be a lot of fun."
Mewhort said he hasn't faced a player like Beasley this season.
"He's a little bit more unique than any D end I've played against in the Big Ten so far," he said. "Like you said, it's a little bit of a unique challenge. I'm preparing for him just as hard or harder than anybody I've played against this year. I guess I'm excited, and it's going to be a good matchup."
Beasley ended his interview session by saying that Friday's contest will be an emotional one.
"There will be a lot of emotion, especially because of all the hype in this game and then what happened two years ago," he said. "And if I do come out, then I want to leave my team on a good note."