| | |
| --- | --- |
| Venables talks negatives and draftable freaks | |
---
| | |
| --- | --- |
| Tuesday, November 19, 2013 9:24 PM | |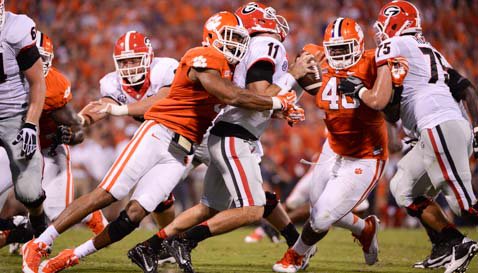 CLEMSON – Brent Venables

Brent Venables
Defensive Coordinator / Linebackers
View Full Profile has had a chance to look at the Georgia Tech game film, and while he would like to look at all of the positives out of Clemson's 55-31 victory, he feels like can't afford to accept anything less than perfection.
"I like to look at the negatives," Venables said Tuesday in the WestZone. "And that doesn't always come out the right way."
Venables said Thursday's effort had a chance to be special, but breakdowns keep him from being completely happy with what he saw.
"We've congratulated our players, pleased with their effort, pleased with their work, pleased with the leadership, pleased with the toughness, there's a lot to be pleased with, " he said. "But that had an opportunity to be a real special performance."
Georgia Tech wound up with 440 yards of total offense - 248 on the ground and 192 through the air, and Venables said there were enough breakdowns that no one should be satisfied with the performance.
"It was a solid performance, don't get me wrong, but it had a chance to be a special performance," Venables said. "With a couple of third-down conversions, getting off the field when we had the opportunities where I didn't feel like we were out-executed as much as we just made some very fundamental mistakes. A couple of third-downs on drives, particularly in the second half, which led to touchdowns, each and every one. They had three touchdown drives in the second half. One was a 65-yarder. The last drive, they had 60 yards."
The Tigers gave up three touchdown drives in the second half, including a 65-yard scoring run to open up the half and then a 60-yard drive at the end of the game. Take away those 125 yards, and the defensive effort looks a little better, but Venables was having none of that.
"You look at 120-plus yards the rest of the night, that's really pretty good. But those plays did happen," Venables said. "So we've worked hard at trying to find why and make the improvement. If you want to be an elite defense and a great defense, you can't have those breakdowns during the course of the game."
Venables did point out the positives he took away from the game.
"I thought we played on the perimeter better," Venables said. "We did not play bad last year. They were not wearing us out inside last year. They wore us out because they continued to capture the edge. Listen, those guys were a bunch of War Daddy's last Thursday night. Don't get me wrong - they played outstanding. But leveraging of the football was much better outside of the big glaring ones like the toss sweep where they got out of the gate and they blocked it just right. But the difference was outside, and we didn't allow that to happen this year."
Other notes
Venables was asked when he thinks a player should declare for the draft, and he said only if they are a "slam dunk first rounder."
"Listen, I know what these guys are being told," he said. "I tell them they aren't really there, and they tell me we've talked to these guys or those people, and I am a second round pick at the worst. And then they don't get drafted."
Venables said that former Oklahoma defensive back Tony Jefferson was a perfect example of a player who listened to the wrong people. Jefferson, a safety, played for Venables his first two seasons at Oklahoma. Last winter, he decided to forego his senior season and declare for the draft. He wound up not being drafted and signed a free agent with the Arizona Cardinals.
"I've had the All-American that didn't get drafted, and I am still answering calls from a year ago," he said. "They are like, 'What do I do?' They gave up something that was so pure and innocent and you are never able to get that back. You better be sure. As coaches, people think we aren't neutral but what we want is best for the kids because we have lifelong relationships with them."
That exchange led Venables to say that only "freaks" should consider leaving.
"Listen, you better be a freak," he said. "A freak? That's Adrian Peterson."
He then looked over at wide receiver Sammy Watkins

Sammy Watkins
Jr. Wide Receiver
#2 6-1, 205
Fort Myers, FL
View Full Profile , who had just walked into the interview area, and pointed out his definition of a freak athlete.
"A freak is probably that guy over here," Venables said laughing and looking at Watkins. "A freak is over at South Carolina (Jadeveon Clowney). Those guys are freaks. If you're not the freak, then it's a no-brainer. I've had plenty of guys that have filled out the paperwork and then made this big announcement and said, 'I am coming back.' And I am like, 'Where did you go? Are you kidding me?' I've only had one guy surprise me where he went."