| | |
| --- | --- |
| Venables takes an early look at the Fighting Irish | |
---
| | |
| --- | --- |
| Wednesday, September 23, 2015 7:01 AM | |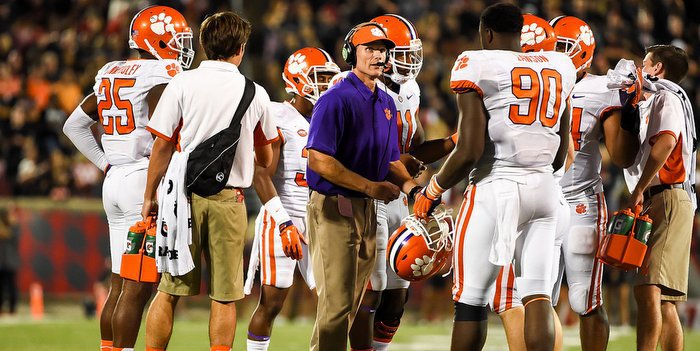 CLEMSON – Brent Venables

Brent Venables
Def. Coordinator / Linebackers
View Full Profile learned a lot about his defense in last Thursday night's 20-17 victory over Louisville, but for the Tigers to remain undefeated the defense will once again have to step up its game.
Clemson has seen a rise in competition each week beginning with Wofford and then Appalachian State and Louisville, but the test they will face on October 3rd may be the stiffest they see all season.
The Tigers and Notre Dame square off in a primetime matchup on Oct. 3 in Death Valley, and Venables told the media Tuesday that the Fighting Irish will stress every level of the defense.
"They're really, really good offensively," Venables told the media Tuesday in the WestZone. "They put them in very successful situations, and it's stressful for you defensively - their ability to run the ball, the play-action game, on early downs they can max protect it and run routes that take a long time to develop, but they're hard, stressful routes to cover. They really force you to defend the whole field."
Venables said that Notre Dame is very capable of running of the ball and has one of the best wide receivers in the country in Will Fuller.
"Just the experience up front and in the running game. No. 7 (Will Fuller) gets behind a lot of people. No. 88 (Corey Robinson) is big on the other side," Venables said. "Corey Robinson comes in and backs him up. I think he led their team in receptions last week. They've got some guys they can go to in crunch time, and premier run and pass guys. 20 (C.J. Prosise) and 7 are terrific players. They've got a terrific offensive line. I know they lost the starting tight end, but they've got a three tight end package that they put in in the Georgia Tech game, so that tells you what they think about their tight ends despite losing a starter. They've recruited well there. They're very multiple in what they do. The quarterback came in and did a great job in his first start."
Fuller already has 18 catches for 397 yards – a 22.1 yards per catch clip – and five touchdowns. Venables said he has already told Mackensie Alexander

Mackensie Alexander
RS So. Cornerback
#2 5-10, 189
Immokalee, FL
View Full Profile that he will have his toughest challenge to date in the 6-0 recevier.
"They've got probably the best receiver in America. I haven't watched a bunch of people, but I've watched some football," Venables said of Fuller. "He might be the best there is. He gets my vote for the guys I've watched on tape by a landslide. Fuller is very dynamic. He's big and really fast. He can go up and high-point the ball. He runs very good routes and gets in and out of his breaks extremely well. I told Mackensie, 'This will be the best one you've seen.' He won't be the only guy on him."
At running back, Prosise is filling in for the injured Tarean Folston, and is averaging 7.6 yards per carry and four touchdowns.
"Great athlete. Instincts," Venables said of the Irish running back. "Can accelerate. Very patient runner. Very fast. Strong. Breaks a lot of tackles. Runs through trash well. You can't arm tackle this guy."
Clemson has an unprecedented 16 days in between games, and Venables said the defense will spend a lot of time on Notre Dame, but they will also focus on getting healthy.
"I'm sure it helps, but they're not a bunch of dummies," he said. "They know you're zeroing in on this tendency or that tendency and they'll break their tendencies. That's why they've been successful. They have a lot to what they do. It's beneficial to us for what we do in terms of getting physically and mentally healthy."