| | |
| --- | --- |
| Venables pleased with the effort of the defense Saturday | |
---
| | |
| --- | --- |
| Monday, April 14, 2014 3:20 PM | |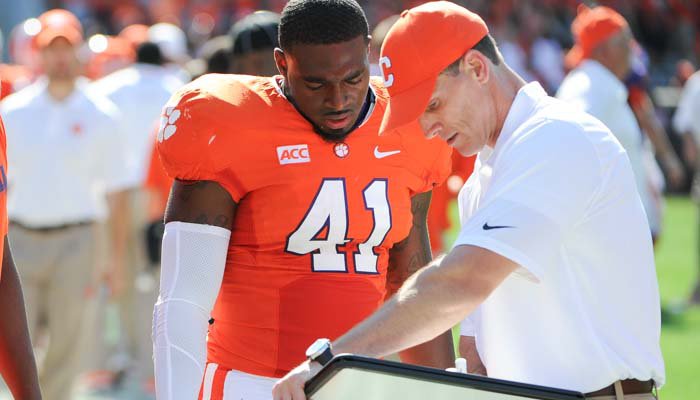 CLEMSON – Any reporter who tries to get Brent Venables

Brent Venables
Defensive Coordinator / Linebackers
View Full Profile to speak in glowing terms about his defense will usually go away empty-handed.
However, Clemson's defensive coordinator broke down a little bit late Saturday and admitted that he was pleased with the overall effort of his group during the Orange and White Game – the White squad allowed just a field goal while the Orange allowed 24 points to an offense led by Cole Stoudt

Cole Stoudt
Sr. Quarterback
#18 6-4, 205
Dublin, OH
View Full Profile .
"It was a pretty good effort. I thought it was solid," Venables said. "Spring games are hard because I don't think we had great emotion out there. They were dragging around, basically. It was kind of that time. It was a hot day out there and some guys were taking every rep, so I thought it was pretty good."
Venables then said that he thinks the defense has a chance to get even better over the summer.
"I think it is good competition going into the summer," he said. "I think guys should feel good about it. Our goal is obviously to be better when we come back than what we are right now through hard work and being consistent in the workouts and film study, things of that nature. But our guys up front, we have healthy competition out there. I think we have some proven quality depth."
He was asked what caught his eye on Saturday, and he was quick to answer.
"I like our situation at linebacker. There are a few parts that weren't there in the spring, but I like the group of guys," he said. "I think that we'll have a chance to be really strong there in the back end. I thought Mackensie (Alexander) really played pretty consistent, and he did some really good things all spring. Ryan Carter

Ryan Carter
RS Fr. Defensive Back
#31 5-10, 175
Grayson, GA
View Full Profile kind of came along. Marcus Edmond

Marcus Edmond
RS Fr. Defensive Back
#29 6-1, 180
Hopkins, SC
View Full Profile and Adrian Baker

Adrian Baker
RS Fr. Cornerback
#21 6-1, 170
Hollywood, FL
View Full Profile were the same thing. They both had opportunities and made some plays out there today. Safety Robert Smith

Robert Smith
Sr. Safety
#27 5-10, 210
St. George, SC
View Full Profile has been really consistent there. T.J. (Green), Jadar (Johnson) and Jayron Kearse

Jayron Kearse
So. Safety
#20 6-4, 205
Fort Myers, FL
View Full Profile , those three guys have had a great competition going on."
He said he was happiest with how much some of the younger players improved.
"I think a number of guys made marked improvements, some guys made small improvement and some guys need to make more improvement both in understanding, fundamentals, technique, being able to get out and execute 'under the lights' so to speak, because it's a good opportunity," he said. "We'll be able to go back and look at the entire body in the spring and see what things we need to do both schematically and personnel-wise to put us in a position to be better when we start up in the fall."
Clemson's defense managed 14 sacks on Saturday, and part of that was because the quarterbacks only had to be touched by a defender in order to be ruled down. However, Venables said it wasn't about the numbers.
"I like the end result," he said. "It's not necessarily to say that they wouldn't have made the play either, but that's an advantage for the defense when you can go by and blow on the guy and he's down, so it's just the nature of a spring game where there are a lot of quick whistles. But I thought the pass rush was pretty good. You could kind of feel the energy. It wasn't that fever pitched. Guys are ready for the spring to be done. It's probably the hottest day we've had all spring."
Senior Tavaris Barnes
Tavaris Barnes
RS Sr. Defensive End
#9 6-3, 270
Jacksonville, FL
View Full Profile had eight tackles and five sacks in the game, and Venables said that Barnes' entire demeanor has been different this spring.
"Everything has been different," he said. "His fundamentals, technique, pad level, aggressiveness, he has more intensity all the time. He's practicing a lot harder and tougher, and he's practicing and playing with a little bit of an edge."